Description
beLAUNCH is one of Asia's biggest annual events for the tech and Entrepreneurship ecosystem, hosted by beSUCCESS, Korea's top tech startup media. In 2014, its third year, the event will be accommodated in the brand new Dongdaemun Design Plaza in Seoul, a futuristic conference venue that suitably captures the mood of excitement and growth in the domestic startup ecosystem. We expect over 3,000 entrepreneurs, investors, media personalities and tech luminaries to join us for this momentous festival of tech and entrepreneurship.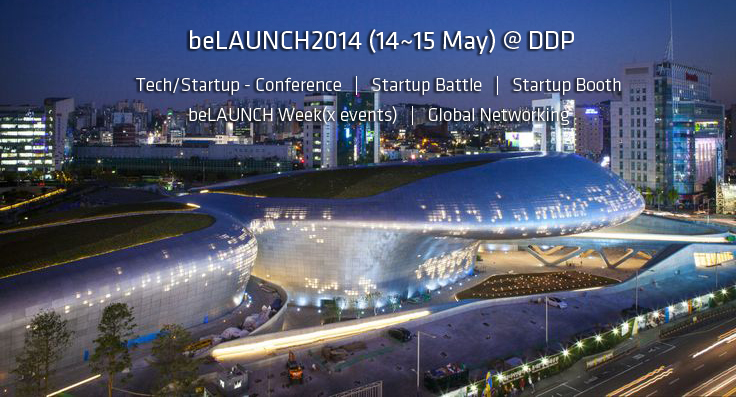 Key Facts
Theme:

The Next Seven Years in Tech & Entrepreneurship

Dates

: May 14 - 15, 2014

Location

: Dongdaemun Design Plaza, Seoul

Attendees

: 3,000+ (developers, entrepreneurs, tech, media, VCs)

Speakers

:

Naval Ravikant (Angel List)

Peter Vesterbacka (Rovio)

Eric Mikigovsky (Pebble)

Sonny Vu (MisFit)

Joe Lonsdale (Formation 8)

Cameron Winklevoss (Winklevoss Capital)

Tyler Winklevoss (Winklevoss Capital)

Ben Huh (Cheezburger)

Sirgoo Lee (KakaoTalk)

Bom Kim (Coupang)

Mike Cannon-Brookes (Atlassian)

David Lee (SV Angel)

Tim Chang (Mayfield Fund)

Eric Alexander (FlipBoard)

Eric Kim (Maverick Capital)

Yasuhiko Yurimoto (Global Brain)

And many more...
Apply for a Startup Booth above ($1,200)
Corporate Booths

: 15 - 20

Startup Battle

: 20 startups showcasing

Concept:

Premium Grunge

Other:

VIP Party / Corporate introductions / After Party / Much More
Our Previous Events on YouTube:
Key contact for beLAUNCH 2014: Nathan Millard, Global Director (nathan@besuccess.com)
Language
Most sessions will be conducted in English. For those that are not, there will be free, expert translation available through headsets provided to all attendees.
Agenda
TIME
SESSION TITLE (LIVE INTERPRETATION PROVIDED FOR ALL SESSIONS – 모든 세션 동시통역 제공됨)
8:30am-9:10am
Registration / Booths
9:10am-9:20am
Day 1 Opening
(한글 / in Korean):
James Jung 정현욱 대표(Founder/CEO of beSUCCESS/beLAUNCH/beGLOBAL)
9:20am-9:40am
Founder Story 1
:
Eric Migicovsky (CEO/Founder of Pebble)
9:40am-10:00am
Founder Story 2
:
Sonny Vu (CEO/Founder of Misfit Wearables)
10:00am-10:10am
Welcome & Salutatory Remarks from the Korean Government
(한글 / in Korean) 10:10am-10:30am
The Wearables Revolution
Eric Migicovsky (CEO/Founder of Pebble)
Sonny Vu (CEO/Founder of Misfit Wearables)
Moderator: TBA
10:30am-10:50am
Break / Booths
10:50am-12:00pm
Startup Battle – Session 1
Startups TBA
Judges:

Dan Chen (Managing Director of Siemer Ventures)
Jai Choi (Founder/Managing Director of Tekton Ventures)
Hiro Mashita (Founder/Director of M&S Partners)
Rich Jun (Managing Partner of BAM Ventures)
12:00pm-1:30pm
Lunch / Booths
1:30pm-2:00pm
Asian Corporate VCs Panel
David Eun (EVP of Samsung Open Innovation Center)
Saemin Ahn (Managing Partner of Rakuten Ventures)
Taka Tsujiguchi (Director of DeNA Strategic Investment Office)
Moderator: Jay Eum (Co-Founder/Managing Director of Translink Capital)
2:00pm-3:10pm
Startup Battle – Session 2
Startups TBA
Judges:

David Eun (EVP of Samsung Open Innovation Center)
Saemin Ahn (Managing Partner of Rakuten Ventures)
Taka Tsujiguchi (Director of DeNA Strategic Investment Office)
Jay Eum (Co-Founder/Managing Director of Translink Capital)
3:10pm-3:30pm
Break / Booths
3:30pm-4:00pm
Game-Changing the Game Panel
Peter Vesterbacka (CMO of Rovio)
Fabien Siouffi (VP Asia of Take 2)
Moderator: TBA
4:00pm-4:30pm
Top Silicon Valley VCs Panel
Tim Chang (Managing Director of Mayfield Fund)
Joe Lonsdale (Founding Partner of Formation8)
Moderator: Kihong Bae (Managing Director of Strong Ventures)
4:30pm-5:00pm
Korean Founders: Beyond the Exit Panel
(한글 / in Korean)
Byung-gyu Jang 장병규 대표 (Founder/Partner of BonAngels)
Gilyun Kim 김길연 대표 (Founder/CEO, Enswers, acquired by KT)
Moderator: Junghee Ryu 류중희 대표, (Founder/CEO of Olaworks, acquired by Intel)
5:00pm-5:30pm
The Tipping Point of Bitcoin Panel
Naval Ravikant (Co-Founder of AngelList)
Cameron Winklevoss (Principal of Winklevoss Capital)
Tyler Winklevoss (Principal of Winklevoss Capital)
Moderator: TBA
5:30pm-6:00pm
Booths
Day 2
TIME
SESSION TITLE (LIVE INTERPRETATION PROVIDED FOR ALL SESSIONS – 모든 세션 동시통역 제공됨)
8:00am-9:20am
Registration & Booths
9:20am-9:30am
Day 2 Opening
:
Nathan Millard (Global Director of beSUCCESS)
9:30am-9:50am
Kakao Story:
Sirgoo Lee (CEO of Kakao)
9:50am-10:10am
Coupang Story:
Bom Kim (CEO/Founder of Coupang)
10:10am-10:30am
Korean Unicorns Panel
Sirgoo Lee (CEO of Kakao)
Bom Kim (CEO of Coupang)
Moderator: Eric Kim (Managing Director of Maverick Capital)
10:30am-11:40am
Startup Battle – Session 3
<li style="box-sizing: border-box; margin: 0px 0px 6px 1em; padding: 3px 0px; border: 0px #e1e1e1; font-family: inherit; font-size: inherit; font-style: inherit; font-
Organizer of beLAUNCH 2014 - Asia's Top Tech & Startup Event in Seoul