Description
Please join us for our Annual Dealer Day event.
Dealer Day features over 80 companies exhibiting and showcasing their products and morning and afternoon seminars.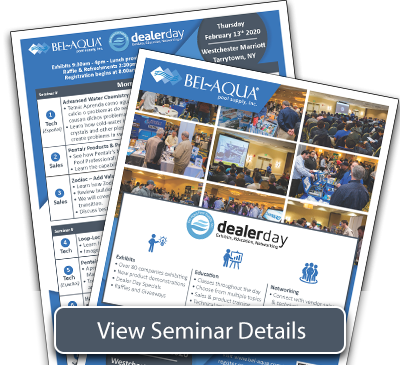 Bel-Aqua Dealer Day

Thursday, February 13th, 2020
at the Westchester Marriott
Exhibits 9:30am - 4:00pm
8:00am: Seminar Registration Opens
9:00- 11:00am: Morning Seminars
1:00pm - 2:30pm: Afternoon Seminars

Seminar Start & End times vary
Check individual seminars for exact seminar times
Exhibits will remain open during seminars
12:00 pm - Lunch will be served
2:30 pm - R & R (Raffles and Refreshments)
*

PRO TIP

:

Split up your employees into different seminars to maximize your learning experience!

*
Limited seating is available for each seminar so please sign up today. Please fill out a registration form for

each

attendee separately. Only register

each

attendee for one morning and/or one-afternoon seminar. We ask that you limit your registrations to 4-5 people/per class per company. If your first seminar choice is closed and filled we ask that you choose another interesting topic.
If you have any questions during the registration process, please contact the customer service team or you can send us an email at dealerday@bel-aqua.com and someone will assist you.
Thank you for joining us and we look forward to a great day!