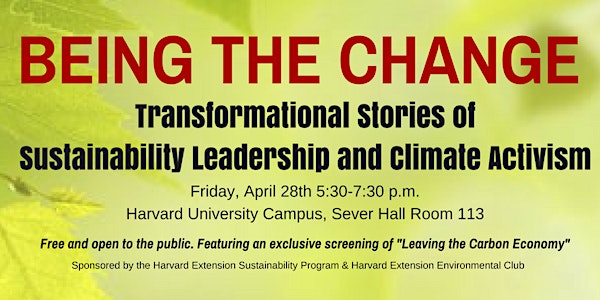 Being the Change: Stories of Sustainability Leadership and Climate Activism
Location
Sever Hall
Room 113
Harvard Yard
Cambridge, MA 02138
Description

Being the Change: Transformational Stories of Sustainability Leadership and Climate Activism
Friday, April 28th, 5:30-7:30 p.m., Sever Hall 113, Harvard Yard, Harvard University campus
Many of us aspire to be the change we wish to see in the world. Our panelists have actually gone out and done it! As the finale of Harvard University's Climate Week, on the eve of the People's Climate March, we invite you to come get inspired and fired up to transform your mission into action! This exciting event will highlight the work of current and former students sharing how their passion for sustainability empowered them to spearhead new initiatives, tackle game-changing projects, and take bold steps to make a positive difference in their organizations and communities.
To kick off our storytelling showcase, we invite you to join us for an exclusive screening of the short film Leaving the Carbon Economy featuring local climate activist Sue Butler, followed by stories from:
Quentin Prideaux, Chief Operating Officer, SaveOhno, "SaveOhno.org and How To Act Yourself Into Thinking Differently"
Zeyneb Magavi, Co-Coordinator, Cambridge Mothers Out Front, "Building Power with Mothers Out Front"
Harjot Kaur, Social Development Specialist, Ganga Rejuvenation Project, "Rejuvenating the Ganges River for Sustainable Livelihoods and Better Health"
Sophie Robinson, Executive Producer, The Age of Consequences, "From Climate Activist to Climate Filmmaker"
Mariano Deguzman, Co-Founder, Nimbly, "Becoming Nimble: Catalyzing a Fashion Revolution"
Paulette Laurent Caire, SULITEST contributor, "Developing Global Literacy in Sustainability: A Common Language for Citizens of Earth"
We'll close out the evening with an interactive Q&A session and encourage you to join us afterwards for some casual mingling at John Harvard's Brewery & Ale House.
This event is free and open to the public.
Questions? Contact Lacey Klingensmith at lklingensmith@fas.harvard.edu