A weeklong morning improv camp for middle-school-aged kids Experience a new form of events held safely at various venues around Seattle.
About this event
Abbey Arts and Bandit Theater present:
Being Silly and Saving the World
(IMPROV CAMP)
---------------------------------------------------
Safe, distanced, very small arts experiences
See COVID Safety Info at the bottom of this page under Abbey Arts Presents
Thanks for helping keep our community safe!
---------------------------------------------------
ABOUT THE WEEK:
ATTENTION. This is a special news bulletin. The world is in peril and only you can save it. Temperatures are rising, we can't breathe the air, and evil masterminds are on the loose! We need your creativity, imagination, and laughs now more than ever! Will you rise to the occasion? Will you triumph over evil? Will you be silly and save the world?
Being Silly and Saving the World is a weeklong morning improv camp for middle-school-aged kids. Together we'll explore introductory concepts of improvisational comedy in a joyful, collaborative, and judgment-free environment. Over the course of the week, we'll invent zany characters, imagine new worlds, and weave together fully improvised comedy shows based on the theme of saving the world from climate change. No experience necessary! This camp is all about imagination and a desire to play.
While improv comedy is a ton of fun, it's also a great tool for developing practical skills too! Improvisation helps to build confidence and self-worth, develop comfort with ambiguity, and quell fears of public speaking. (Not to mention a great way to make new friends!) Whether your child is the silly theater type or not, improv is a great way to engage their energy and imaginations with a friendly group setting.
This improv camp will meet for five mornings, Monday, June 21st through Friday, June 25th, from 9 am to 11 am at The Ballard Homestead. At the end of camp on Friday, we will hold a small showcase where we invite interested families to sit outdoors and watch their children perform.
OUTSIDE @ Ballard Homestead, 6541 Jones Ave NW, Seattle
5 day Camp June 21-25, from 9-11a
Performance June 25 from 10:30-11a (parents welcome!)
Best suited for middle-school range, roughly ages 10-14.
------
Interested, but not sure if it's for you?
PREVIEW DAY 6/17 10-11am
Venue Preview: https://www.instagram.com/seattlewellnessevents/
Note: Your email will be shared with Bandit Theater to inform you of upcoming Bandit events and will not be sold. You may also be added to the Abbey Arts email list which has an easy single click opt-out option.
COVID-19 precautions:
Being Silly and Saving the World will take place outdoors in the yard of Ballard Homestead. We will have access to the indoor space and bathrooms for handwashing. Doorknobs and bathrooms at Ballard Homestead will be disinfected prior to the start of each day.
All participants will be required to have their temperature checked and wash their hands at the start of each day's activities. Masks must be worn by all participants for the duration of each day's activities.
Both instructors, Annie Barry and Celia Gurney, have been fully vaccinated against COVID-19.
About Your Teachers
Annie Barry
Annie Barry is a teacher, improviser, director, and imagination wrangler. Annie was a teacher at Imagination Stage in Bethesda, Maryland specializing in Improv and Sketch Comedy for all ages. She was also a counselor at the California Shakespeare Camp where she taught Stage Combat. During her time at Washington Improv Theater, she traveled to different elementary schools bringing programming to the classroom. Annie has also spent a portion of her career as a full-time Nanny. Annie has been working with young people for almost 20 years and loves the moment when they discover how to speak their truth.
Celia Gurney
Celia Gurney is an Upright Citizens Brigade-trained improviser and UW Program on the Environment alum. She spent the last few years at a climate change communications nonprofit, where she used her comedy chops to lead workshops, write tweets and produce videos. She cannot WAIT to solve climate change with the hilarious kids that sign up for this camp!
--------------------------------------------------------------------------
About Seattle Wellness Events
Creative Spark (Experiences & Classes to boost creativity) brings you all new events adapted to historic spaces, and presented with all public health safety in mind.
Audience size will be in the 30 person range to start (below 25% capacity), in large spaces rated for 180-260 people normally. Various creative activities will be included in the lobby. Some shows may be hosted outdoors when noted and weather permitting.
Pods will be spaced out in chairs & benches.
More info via www.instagram.com/seattlewellnessevents
--------------------------------------------------------------------------
EVENT & VENUE INFO:
Please refrain from talking or texting during the show.
Please enter quietly if the show has already begun.
Please leave quietly, it's a very quiet neighborhood.
For ADA information at Ballard Homestead, please see www.ballardhomestead.org/rent or email arts(at)fremontabbey.org
--------------------------------------------------------------------------
BANDIT THEATER IS
A 501(c)(3) organization of Seattle comedians and performers creating new works and supportive spaces centered upon the joyful art of comedy.
There are so many ways to get involved! Laugh with us at our many shows across Seattle, meet new friends and get reps in at our jams, support your neighbors by joining our community outreach programs, and stretch your creative muscles in our series of improv classes. We can't wait to meet you!
--------------------------------------------------------------------------
ABOUT ABBEY ARTS, SEATTLE:
NONPROFIT 501C3, NON-RELIGIOUS, EST. 2005
Presenting welcoming music, arts & cultural experiences for people of all ages & incomes.
Home Venue: Fremont Abbey, 4272 Fremont Ave North, Seattle, WA 98103 / 206-414-8325 Ballard Homestead: 6541 Jones Ave NW, Seattle | + UHeights Auditorium, St Mark's Cathedral, & more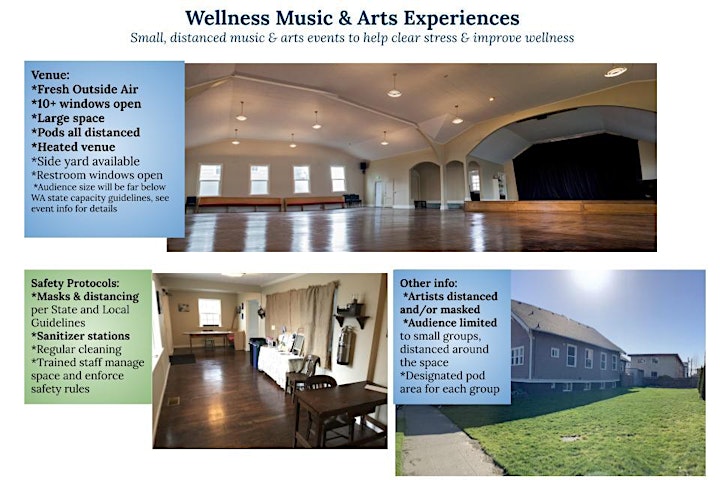 Organizer of Being Silly and Saving the World (IN-PERSON, DISTANCED IMPROV CAMP)
COVID Safety Info:
As of July 30, 2021
As we reopen the doors to our venues, rest assured that we will be welcoming our patrons back in to an environment that prioritizes wellness and health. We are working with local officials to ensure current health and safety protocols are in place at Abbey Arts events, while being mindful that flexibility will be required as those guidelines will likely continue to evolve.
JULY Onwards
All current state and local health guidelines must be followed, https://coronavirus.wa.gov/
Windows will be open and lots of fresh air flowing wherever possible.
Events are at limited capacity until noted.
Vaccination Requirements:
GUESTS AGE 16+ must provide proof of full vaccination at time of entry
Full vaccination is defined as having received a final vaccination dose at least two weeks prior to the event date.
Acceptable forms of proof of vaccination include: an official CDC COVID-19 Vaccination Record Card or a picture of your vaccination card; a digital or printed WA State Certificate of COVID-19 Vaccination; a WA State Immunization Information System printout; or a verified medical record printout from a medical provider.

GUESTS AGE 2-15 must provide proof of negative COVID-19 test within 72 hours of admission
GUESTS UNDER 2 no requirements
Individual events may have additional safety measures in place, see Ticketing pages for details.
-----------------------
ABBEY ARTS, SEATTLE:
NONPROFIT 501C3, NON-RELIGIOUS, EST. 2005
Fremont Abbey | Ballard Homestead | South Park Hall | St Mark's Capitol Hill | The Auditorium @ UHeights |  & more
Independent nonprofit, non-religious, all ages/incomes. 
Low Fee Tickets! No hidden high fees like Ticktmstr. :-)
  (Note: Comedy shows may have different ticketing fees)
[ Click here to subscribe to our optional text messages. ]
[The views and opinions expressed at events are those of the artists and performers and do not necessarily reflect Abbey Arts. About Page | Respect Policy.]
Refunds may be available per event settings.
No refunds due to support act changes.
Tickets for rental events may be via their website.