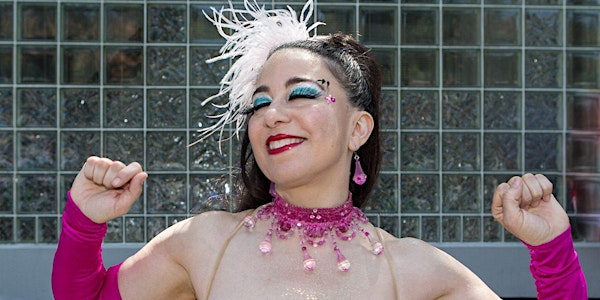 Being SEEN on yr own terms: Burlesque as PsychoSpiritual practice (+ show)
3-hour Online Introductory Workshop + Mini-Show: Move from Frozen, Invisible + Collapsing to Embodied, Seen + Sovereign
About this event
So many of the sensitive, kind, visionary and over-giving women who reach out to me, deeply desire to feel more comfortable in their own skin, yet it is something that eludes them. And whether or not they directly articulate it, they dearly desire to simply experience and express their true nature, in other words, to be themselves, their authentic selves.
They understand the connection between feeling uncomfortable in their own skin and how they procrastinate, hide, and freeze when it comes to sharing their work and creations with others. They desire to embody and express themselves and their gifts.
Ironically, these same women often inspire others to fully embody and express themselves and their gifts. It is often a main tenet of their profession, but they find themselves in a cycle of over-giving.
These women are not new to personal development and spiritual growth. They've done the therapy, they've attended the yoga classes, they've tried meditation, they've self-cared up the wazoo. They also feel drawn to creative expression such as dance, improv, as well as embodied movement-based practices.
Despite their efforts to transform, a sense of shame remains at their core. On some level they are apologizing for simply existing.
They find themselves at the crossroads that Anais Nin so beautifully articulated last century, "And the day came when the risk to remain tight in a bud was more painful than the risk it took to blossom."
It is possible to be SEEN and known as our true radiant essence – our true nature – and still belong.
The Awakening Showgirl walks this path: from Alarmed Aloneness, Invisibility and Collapse to Authentic Embodiment, Sovereignty and Belonging.
This path is not about trying harder; it's about feeling genuinely safer. It is an alternative route to creating a deeply satisfying life.
My greatest joy is to witness women step into their authentic presence, radiance, power and sha-ZAM, and truly share themselves – with themselves, others and the world.
Which is why I'm offering this mini-class/mini-show.
What you'll get from this 3-hour workshop + mini-show:
You'll learn the 3 pillars of Showgirl Awakening and how they are key to living a deeply satisfying embodied life.
You'll discover why feeling safer, rather than trying harder, is often the missing ingredient when it comes to trusting yourself, feeling like yourself, and sharing of yourself as you desire.
You'll learn a few movement practices to ground yourself in any moment and gently exfoliate what's been masking your radiant essence.
You'll be introduced to the 9 Showgirl Awakening Archetypes (the Vixe, the Muse, the Diva, etc), and even more importantly, will learn to discern when each of your Archetypes are Collapsing, Posturing or Alive & Well.
You'll leave with a full cup from witnessing 3 Awakening Showgirls perform the conscious burlesque acts they have created in the Burlesque from the Inside Out creation program.
I am currently offering this workshop at no charge.
It is open to all woman-identifying folks.
I'm limiting the number of seats to create an in-person feel, so please only book a place if you intend on attending.
I warmly invite you to join me!
With Love and Shimmies,
Kellita
PS This is not one of those 'free events' where, when you arrive, you discover it's actually a sales pitch. My intention is to facilitate an engaging and healing mini-class and mini-show with tangible take-aways, practices + perspectives.
Towards the end of the workshop, for no more than 5 minutes, I will let you know about my current offerings.