Learn how to be bold from world-class transformational leaders. Network with ambitious managers from different sectors and organisations.
About this Event
Alison Rose, NatWest Group CEO, will share her management and leadership experiences from over 27 years of working for the bank, having joined as a graduate. Alison will then be joined for a panel discussion by our own CEO, Ann Francke, and CMI Women Chair, Heather Melville, to discuss the bold actions required to achieve gender balance at all levels.
You will have the opportunity to interact with the panel virtually and then network with other attendees who are committed to better, bolder management and leadership.
Paul Polman KBE, co-founder of IMAGINE and former Unilever CEO, will then present his experiences of driving transformational change in business and society. A further panel discussion will see Paul joined by Lord Mark Price CVO, CMI President, Dr Heather Melville OBE, CMI Women Chair; Director of People Networks & Client Relationship Programmes, PwC, and Ann Francke to discuss how men can be bolder, better allies for women and why this will result in a brighter future.
Established in 1969 as 'Women in Management' by Eleanor MacDonald – one of the first women to break into UK boardrooms – CMI Women was created to develop a strong pipeline of female managers and leaders. We are celebrating 50 years of CMI Women at this event, join us to find out how being bold for gender balance will allow businesses to make more effective, well-rounded decisions going forward.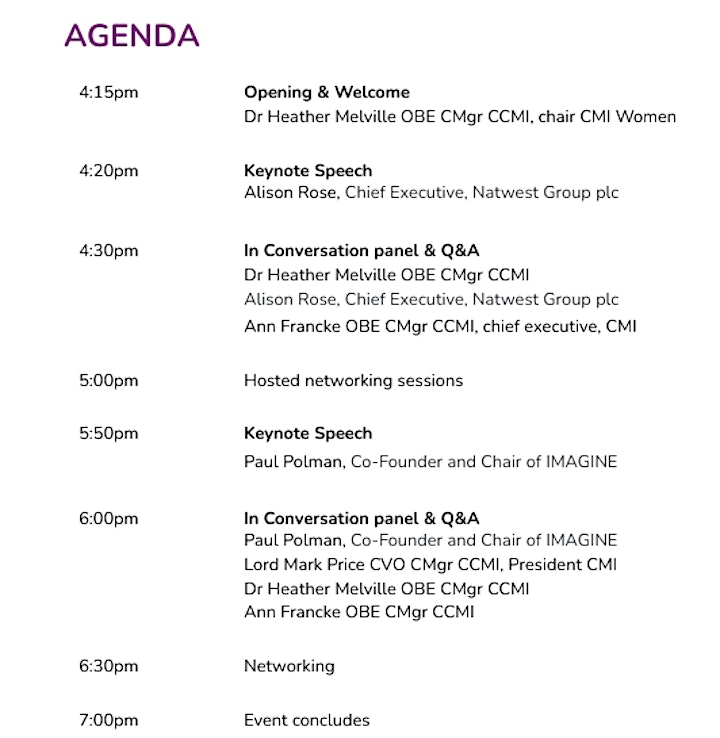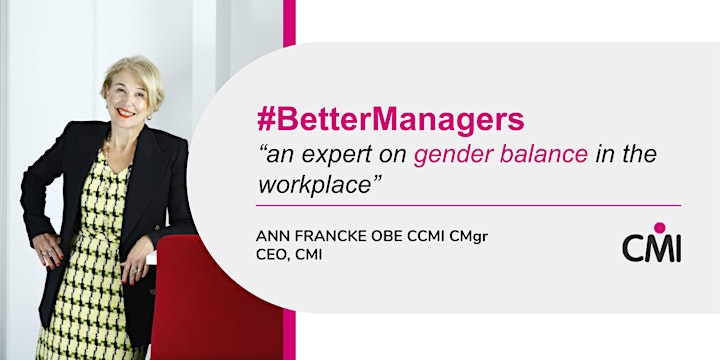 Ann Francke is Chief Executive of the Chartered Management Institute. She started her career at Procter & Gamble and has held senior executive positions at Mars, Boots, Yell and BSI. In 2020, Ann was awarded an OBE for services to workplace equality.
Ann is an expert on gender balance in the workplace and speaks frequently in the media and conferences on this and other management topics. Her book on gender balance - Create a Gender-balanced Workplace, published in September 2019. Ann also authored the 'Financial Times Guide to Management' and has been named in the top 100 women to watch in the 2015 Female FTSE Cranfield report. She was awarded the MemCom award for outstanding leadership of a UK professional body in 2016.
Ann holds several Board positions and five Honorary Doctorates for her work in management and leadership.
Ann and her husband live in West London; she has one daughter.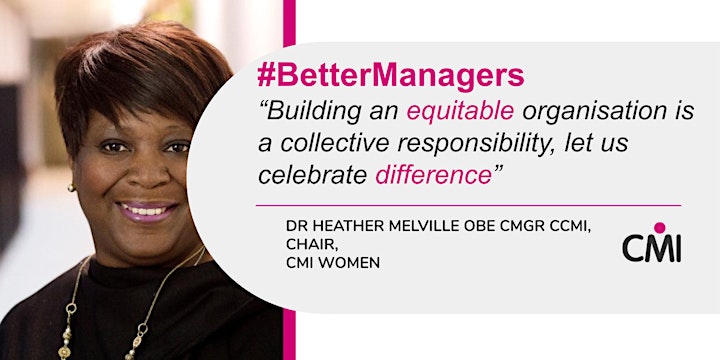 Having held a number of senior positions across a range of high profile organisations (RBS/NatWest, IBM, Daiwa Europe Bank and, most recently PwC), Heather has established a purpose values-driven reputation, together with a gentle, focused yet persuasive style that is known for supporting both individuals and businesses to be successful.
Her most recent appointment as Director of Client Relationship Programmes (a programme specifically designed for C-Suite clients) and Head of People Business Networks, has provided the firm with a strong foundation to continue to engage with our 65,000 clients, 22,00 alumni and 22,000 employees through a clear vision and strategy that brings them together to solve critical business problems.
Heather is also very passionate about the progression of both female and BAME talent from the early entrance into the education system, right through to that very first role they may have secured in the corporate workplace.
In 2017 Heather was awarded an OBE for her services to female entrepreneurs, diversity in business and gender equality. In July 2019 she was awarded with an Honorary Doctorate by the University of Portsmouth for her contribution to Diversity in Business.
She is the Chair of CMI Women, Trustee and board member of Enfield Enterprise, Patron of Women In Banking & Finance and in a personal capacity has contributed to ongoing independent reviews for the Labour Government re creating an inclusive culture. In 2020 Heather became a member of the PwC Colour Brave Charity Committee.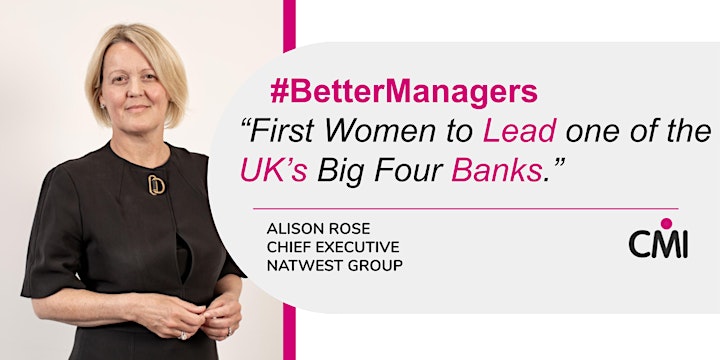 Alison is Chief Executive of NatWest Group plc having worked at the bank for more than 27 years. She joined as a graduate and was most recently Deputy CEO of NatWest Holdings and CEO of RBS's Commercial & Private Banking business.
Alison sits on the Board of Directors for the Institute of International Finance and is a member of the International Business Council for the World Economic Forum. She is also a Trustee of Business in the Community (BITC) and Chairs the Scottish BITC Advisory Board. Alison is a Non-Executive Director of Great Portland Estates plc and sits on the board of the Coutts Charitable Foundation.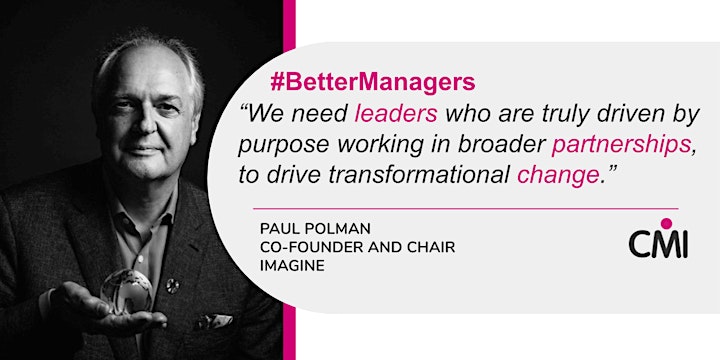 Paul Polman is Co-founder and Chair of IMAGINE, a social venture which mobilises business leaders around tackling climate change and global inequality. Paul is the Honorary Chair of the International Chamber of Commerce, Chair of The B Team and Saïd Business School and Vice-Chair of the UN Global Compact. A leading proponent that business should be a force for good, he has been described by the Financial Times as "a standout CEO of the past decade". As CEO of Unilever (2009-2019), he demonstrated that a long-term, multi-stakeholder model goes hand-in-hand with excellent financial performance. Paul was a member of the UN Secretary General's High-Level Panel which developed the Sustainable Development Goals, and as an active SDG Advocate he continues to work with global organisations and across industry to push the 2030 development agenda.
After reading Archaeology and Ancient History Mark started his career at the John Lewis partnership as a graduate trainee in 1982 progressing to become Branch manager in High Wycombe and Cheadle. In 2005 he joined the John Lewis Partnership Board taking on responsibility for strategy and IT as Development Director. In April 2007 he was appointed as Managing Director of Waitrose. At the time Waitrose had 183 stores but had increased to 346 when he retired in 2016 after 10 fulfilling years in the role.
In 2013 in addition to his position at Waitrose Mark became Deputy Chairman of the John Lewis Partnership. He was Chairman of Business in the Community from 2011-2015 and The Prince's Countryside Fund from 2010–2016. He also sat on the Board of Directors of Channel 4 TV latterly as Deputy Chairman from 2013-16.
He was appointed Commander of the Royal Victorian Order in the 2014 New Year's Honours for his work with Business in the Community and The Prince's Countryside Fund. He is also Life Patron of GroceryAid. In February 2016 Lord Price was appointed the United Kingdom Minister of State for Trade and Investment and was made a life peer. He left the Government in September 2017 to pursue his writing and business interests and remains a member of the House of Lords. To date he has published 5 books on business, food and for children.
In the meantime…
Looking for, or want to share resources to support women in their career, or help organisations tackle their gender diversity gaps?
Our innovative, open-source Blueprint for Balance portal is rich with practical tools and information to boost, benchmark and balance out gender diversity in the workplace.
Click here to take a look and upload your own resources to share.
Not yet subscribed?
From free newsletters packed with the latest trends, insights and tips for managers and leaders, to the full suite of invaluable tools and benefits that come with being a CMI member, we've got something for everyone.
Visit our website to find out more.