Being and Time

Multiple Dates
Event Details
proudly presents
BEING & TIME
CLOSING 14 March 7p-Midnight
A primordial mode of temporalizing ecstatic temporality itself must make the ecstatic project of being in general possible. Is there a way leading from primordial time to the meaning of being? Does time reveal itself as the horizon of being?
MARTIN HEIDEGGER

In the revolutionary book by Heidegger, Being and Time (1927),
questions about the fundamental truth of existence are brought forth:
how is it that this truth is able to manifest itself?

Though the questions remain, it's made clear that an interpretation of the meaning of being can only proceed in stages. The idea of deeper understanding establishes a connection to art, and art's intrinsic capacity to reflect universal aspects of existence.

It is the soulful resonance within, as well as the reflection of the context in time, that the artist addresses in resonance with Being and Time. It is this ability to transform and give new life to that which is perceived that gives extra dimension to this reversibility. As in Heidegger's philosophical quest, in the process of artistic creation what lies beyond the artwork is made manifest.

Heidegger's philosophy brings up concepts and ideas such as: layers of self, deconstruction, opening, awareness, attunement and mood. He guides one through thresholds into deeper explorations, thoughts, and ideas of being in the world.

Being and Time (2014) offers passage to these ever present questions, muddled and blurred by our obsessive sprint towards the future.
featuring artwork by
TIM BARTLETT, ZACK HELWA,CHARLES HEPPNER, JOANNE LEAH, OSAIRA MUYALE, LISA PARK, ANDRES PRADA, KEVIN SCHUIT & FERNANDA URIBE
with performance by
DJMR., ANDRES PRADA & KEVIN SCHUIT
curated by
GOWANUS LOFT  61 9th Street 11215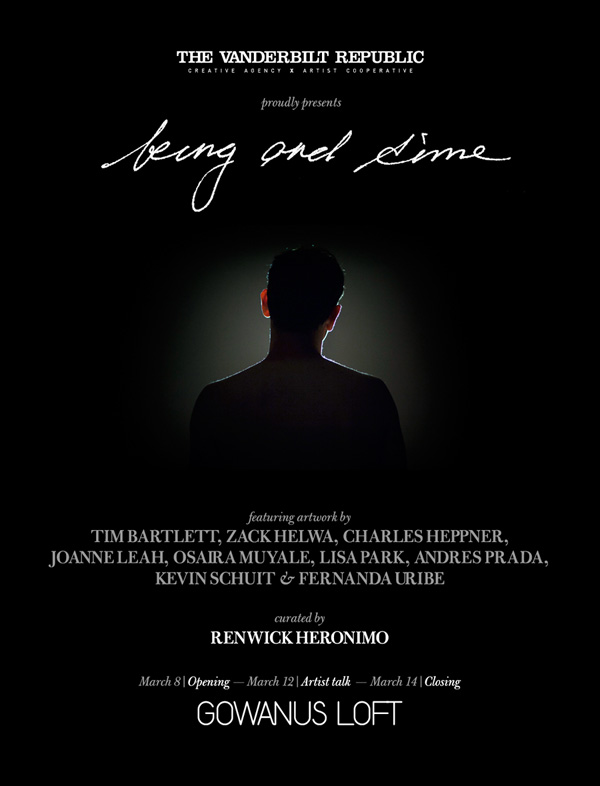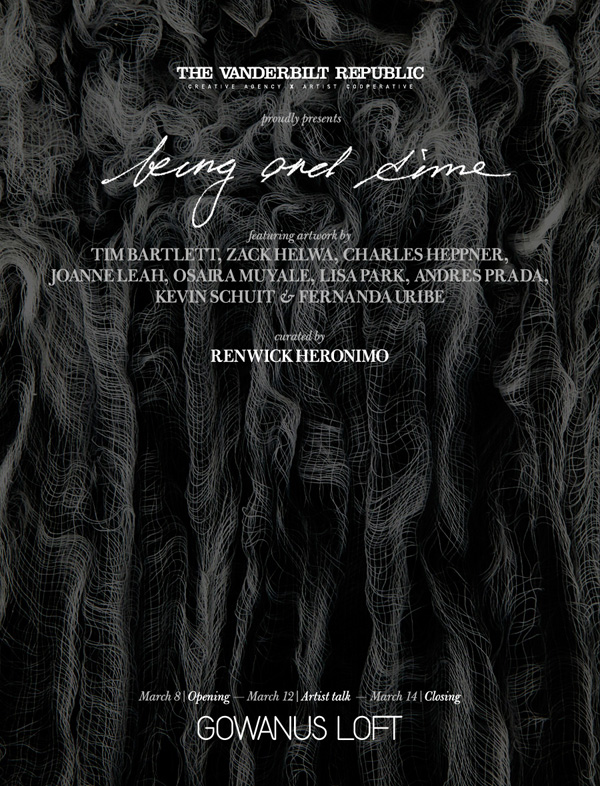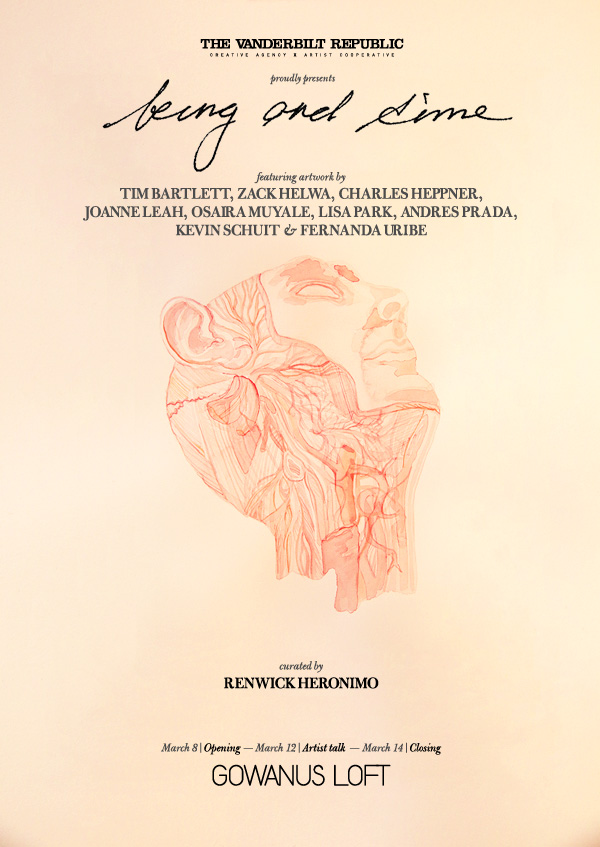 SHIFTING PARADIGMS SINCE 2009 THE VANDERBILT REPUBLIC
Organizer
The Vanderbilt Republic

An agency formed to catalyze the impact of creative expression in all modes.
We see artists as leaders, builders; our output as a coördinated group valuable —

www.vanderbiltrepublic.com