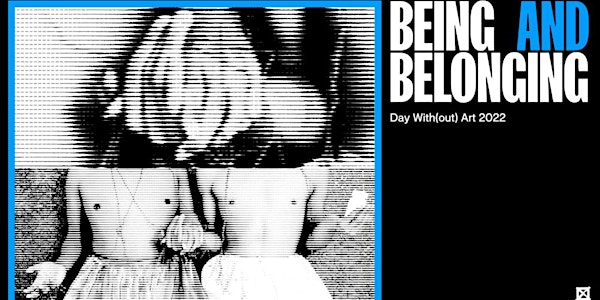 Being and Belonging | VisualAIDS Day With(out) Art DC Premiere
Seven short videos highlighting under-told stories of HIV and AIDS from the perspective of artists living with HIV followed by discussion.
When and where
Location
David Bethuel Jamieson Studio House at Walbridge 3229 Walbridge Place Northwest Washington, DC 20010
About this event
The Studio House at Walbridge is proud to partner with Visual AIDS http://www.visualaids.org for Day With(out) Art 2022 by presenting Being & Belonging, a program of seven short videos highlighting under-told stories of HIV and AIDS from the perspective of artists living with HIV across the world.
The program features newly commissioned work by Camila Arce (Argentina), Davina "Dee" Conner and Karin Hayes (USA), Jaewon Kim (South Korea), Clifford Prince King (USA), Santiago Lemus and Camilo Acosta Huntertexas (Colombia), Mikiki (Canada), and Jhoel Zempoalteca and La Jerry (México).
From navigating sex and intimacy to confronting stigma and isolation, Being & Belonging centers the emotional realities of living with HIV today. How does living with HIV shift the ways that a person experiences, asks for, or provides love, support, and belonging? The seven videos are a call for belonging from those that have been stigmatized within their communities or left out of mainstream HIV/AIDS narratives.
This Washington, DC premiere will be screened from American University's Humanities Truck at the Charles N. Mason, Jr. Walbridge Trust David Bethuel Jamieson Studio House and Archive located at 3229 Walbridge Place, NW in Mount Pleasant, DC (Studio House at Walbridge). The Humanities Truck, an experimental mobile platform for collecting, exhibiting, preserving, and expanding dialogue invites the community to come together for Being & Belonging. The studio house will be open for DBJamieson: 1991-92 REDUX, a look back at the African American artist's last year before succumbing to AIDS-related causes in a loft in New York City, July 30, 1992. The post-screening will be led by Peter Stebbins. Special guests include Cathy Fink and Marcy Marxer, performing Names and other songs, written for the AIDS memorial quilt; and, Puppeteer Reverend Dr. Julianne Robertson, Esq. who will open with Gina P. Puppet, who lives beyond grief for the loss of her dear Uncle Ken by holding joy and agony in the same sacred space of her heart.
Supported by the Lily and Earle M. Pilgrim Art Foundation, the Walbridge Trust is dedicated to the display of David Bethuel Jamieson's artwork through the lifetimes of co-grantees Peter Stebbins and Maureen Leak. World Grandmother Hilda Mason looks out from the front porch.
Visual AIDS is a New York-based non-profit that utilizes art to fight AIDS by provoking dialogue, supporting HIV+ artists, and preserving a legacy because AIDS is not over.
Video Synopses
Camila Arce, Memoria Vertical
Camila Arce presents a poem about the experience of being born with HIV and growing up as part of the first generation with access to antiretroviral medication in South America.
Davina "Dee" Conner and Karin Hayes, Here We Are: Voices of Black Women Who Live with HIV
Davina "Dee" Conner was diagnosed with HIV in 1997. For 18 years she knew no one else who lived with HIV. As she emerged from isolation and internalized stigma, Davina sought to understand the journeys of other Black women living with HIV. Here they are. Listen to their voices.
Jaewon Kim, Nuance
Through an unfolding collection of images,Nuance reflects the thoughts and feelings exchanged between the artist, who is living with HIV, and his HIV-negative partner.
Clifford Prince King, Kiss of Life
In Kiss of Life, four Black people describe their experiences living with HIV. Raw conversations surrounding disclosure, rejection and self love are expressed through visual poetry and dreamscapes.
Santiago Lemus and Camilo Acosta Huntertexas, Los Amarillos
In Colombia, many people living with HIV experience jaundice–the yellowing of the eyes and skin–as a side effect of the low cost antiretroviral drugs supplied by the government. Los Amarillos is an experimental video addressing the alienation and hypervisibility that the artists have faced as a result of this side effect.
Mikiki, Red Flags, a Love Letter
Through a cacophony of limbs, members, and sounds drawn from the party and play scene, Mikiki speaks with other drug users about the possibilities of representing the pleasure of substance use beyond the framework of harm.
Jhoel Zempoalteca and La Jerry, Lxs dxs bichudas
Lxs dxs bichudas offers a poetic dance dialogue in Zapotec and Spanish that explores the ways in which race, gender, and geography shapes the lives and bodies of people living with HIV in Mexico, a country marked by the ideological project of mestizaje.