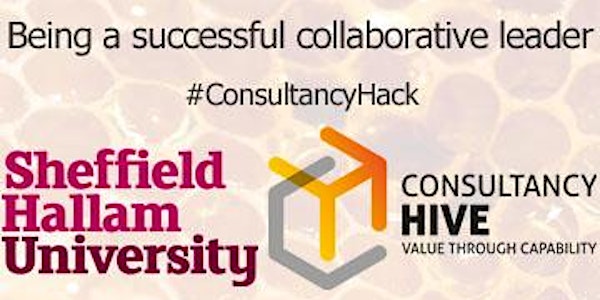 Being a successful collaborative leader: an Unconference
When and where
Location
Cantor Building (Room 9135) 53 Arundel St Sheffield S1 2NT United Kingdom
Refund Policy
Contact the organiser to request a refund.
Description
A diverse community of business executives, consultants and academics are looking to explore how collaboration benefits you as a leader, and the value it brings in and between organisations.
On the day, we will explore questions such as:
How does collaboration benefit and differentiate successful leaders?

How does collaboration add value to organisations?

What encourages a collaborative organisational culture?

What skills and behaviours define individual collaboration?
As this is an unconference, please bring your own challenges, questions and topics for discussion
Logistics:
Drinks and light refreshments will be supplied on arrival and throughout the day. Lunch will also be provided.
The event is taking place at Sheffield Hallam University's Cantor Building, which is an accessible building.
The Cantor Building is a short walk's distance from Sheffield Train Station and the centre of town.
Frequently Asked Questions (FAQs)
Where's the agenda?
This is an unconference, which means that there is no specific schedule of speakers. You are the speakers, you are the contributors. Unconferences are designed to be participator-led, interactive and collaborative. So the more you bring in, the more you (and others) are likely to take away.
The day is about leading (and following) and collaborating with other individuals about collaborative leadership practices and how they benefit people, teams and organisations.
Why come? And why this unconference? (there are so many!)
Can we honestly guarantee that you will have a life-changing experience? We probably can't, but you just might. Can we guarantee that you will leave with good value for your time and money? We can.
The day will have two sessions: in the morning we will be exploring issues about leadership and collaboration, and in the afternoon we will be sharing insightful nuggets leading to some actions or strategies. Of course it's an Unconference, so anything could happen.
What else do I need to know?
We are a bunch of value-laden individuals, and one of the things we believe in is being honest and open. We call it "on the table, all the time".
So you should know that we are looking forward to hearing what your thoughts are about leadership and collaboration. Where things have been successful, and where less so. We are looking forward to hearing what challenges you've been facing and how you've overcome them.
You should also know that 'We', the folks behind this unconference, are ConsultancyHive and Sheffield Hallam University.
I still have some questions…
Please contact Shani. She's available on email and Twitter, mostly.