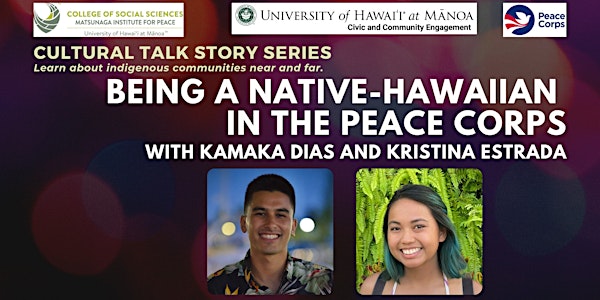 Being a Native-Hawaiian in the Peace Corps
CTSS "Being a Native-Hawaiian in the Peace Corps with Kamaka Dias"
By Matsunaga Institute for Peace
Date and time
Tuesday, February 22, 2022 · 6 - 7pm PST
About this event
Cultural Talk Story Series
"Being a Native-Hawaiian in the Peace Corps"
with Kamaka Dias and Kristina Estrada
Learn about indigenous communities near and far.
The Story
Join us for a talk story session with RPCV Kamaka Dias, where he shares his perspectives on being a Native-Hawaiian living abroad and working for the American Government. Find out what it's like to be a Peace Corps Volunteer from Hawai'i trying to navigate between promoting Hawaiian culture and American culture, while also figuring out the difference between both.
About Kamaka Dias
Kamaka Dias, Peace Corps Recruiter at the Univesity of Hawai'i at Mānoa (UHM), is a native Hawaiian from the Big Island of Hawai'i. He grew up in Hilo attending Hawaiian immersion schools all of his life until moving to Kaiser High School on O'ahu his senior year. Before leaving to Madagascar to serve in the Peace Corps for three years, Kamaka attended the UHM and graduated with a B.A. in Communications and a minor in Spanish. Having studied abroad twice, in Spain and then Argentina, he started to fall in love with different cultures, travel, and learning new languages, which led him to join the Peace Corps. He hopes to share his unique perspective and experiences with others to encourage them to step out of their comfort zone and possibly even join the Peace Corps.
About Kristina Estrada
Kristina Estrada was an agriculture volunteer working with the next generation of farmers in Paraguay from 2018 until 2020 when she was evacuated, which led to her service as an AmeriCorps volunteer in 2020. Currently, she studies in the Department of Natural Resources and Environmental Management at the University of Hawai'i at Mānoa, where she research's human disturbances and their effects on soil health and plant communities.
Peace Corps
The Peace Corps is a service opportunity for motivated changemakers to immerse themselves in a community abroad, working side by side with local leaders to tackle the most pressing challenges of our generation. Learn more about the Peace Corps at https://www.peacecorps.gov.
University of Hawai'i at Mānoa Office of Civic and Community Engagement
The University of Hawai'i at Mānoa Office of Civic and Community Engagement is the Service Learning Program (SLP) at the University of Hawai'i Mānoa. Since 1994, the office has worked with students, faculty, and members of the community. The SLP provides students with the opportunity to volunteer in their community in meaningful ways while furthering their education. Learn more at https://manoa.hawaii.edu/undergrad/civic-engage/.
Co-Sponsors:
Matsunaga Institute for Peace
Peace Corps
University of Hawai'i at Mānoa Office of Civic and Community Engagement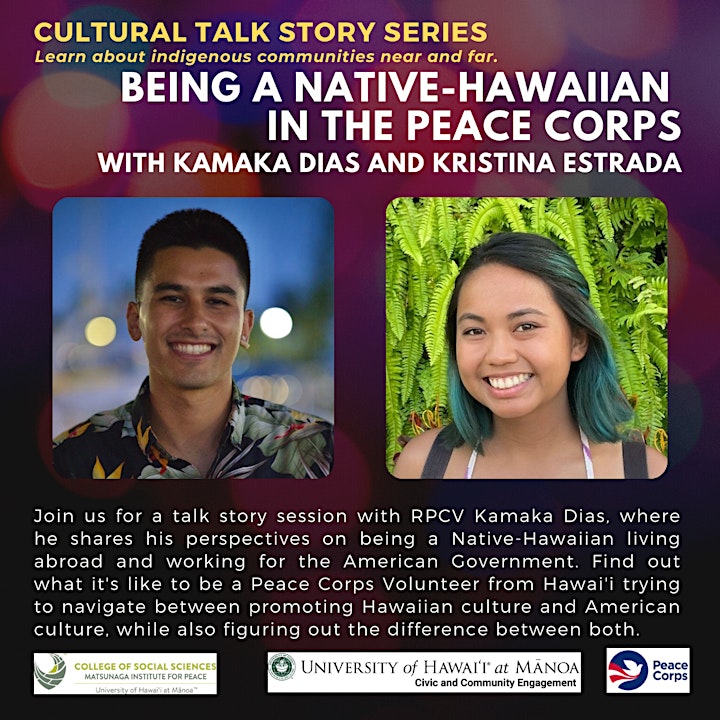 About the organizer
The Matsunaga Institute promotes cross-cultural understanding, collaborative problem-solving, critical thinking, and lifelong skills to groom leaders to address contemporary and complex issues near and far. Equipped with these skills, students are better able to address issues of war, injustice, human rights, cross-cultural conflict, and collaborative governance through facilitation, mediation and negotiation.