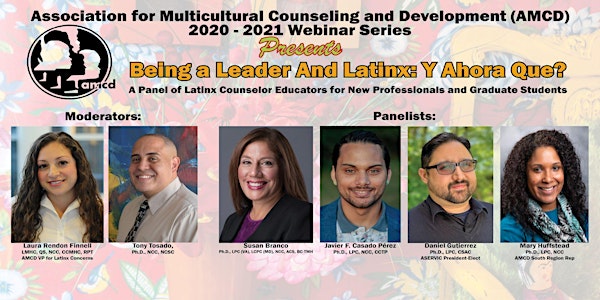 Being a Leader And Latinx: Y Ahora Que?
This webinar will cover mentorship and advice provided by leading Latinx professionals in Counseling Education.
Refund Policy
Contact the organizer to request a refund.
Eventbrite's fee is nonrefundable.
About this event
Being a Leader And Latinx: Y Ahora Que?: A Panel of Latinx Counselor Educators for New Professionals and Graduate Students
Summary:
This webinar will cover mentorship and advice provided by leading Latinx professionals in Counseling Education. This will be a great panel for new Latinx Counselor Educators, Master level students, Masters level professionals and Doctoral students hoping to learn from Counselors with similar cultural identities. A Latinx Leadership panel of experts from diverse Latinx representation in our profession!
Learning Objectives:
1. Latinx Counselor Educators will share their journey from doctoral student to professor with new Latinx professionals.
2. Latinx Counselor Educators will explain ways to navigate the professional field.
3. Latinx Counselor Educators how they chose and advanced in their expertise/field of client work.
Presenters:
Moderators: Laura Rendon Finnell, LMHC, QS, NCC, CCMHC, Registered Play Therapist & Tony (Luis) Tosado, Ph.D., NCC, NCSC
Panelists:Susan Branco, PhD, LPC (VA), LCPC (MD), NCC, ACS, BC-TMH ; Javier F. Casado Pérez, PhD LPC NCC CCTP; Daniel Gutierrez, PhD, LPC CSAC; President-Elect, ASERVIC; & Mary Huffstead, Ph.D., LPC, NCC
Laura Rendon Finnell is a compassionate, bilingual counselor with a success record in helping individuals and families for over a decade in a variety of settings. She is a licensed mental health counselor in the State of Florida, is a registered play therapist through the Association for Play Therapy, and has additional coursework, training, and experience in school-based counseling. She also holds the board certified credentials of national certified counselor and certified clinical mental health counselor. She is most passionate about working with children and engaging their caregivers, particularly those that identify in the Latinx population. Laura has one book chapter and five peer-reviewed publications in print, and has presented over twenty papers/posters at national, regional, state, and local conferences, including presenting as an invited keynote speaker at the 4th Annual Undergrad Psychology Conference at the University of Central Florida. She is an active member of the American Counseling Association (ACA), the Association for Counselor Education and Supervision (ACES), the Association for Child and Adolescent Counseling (ACAC), the Association for Multicultural Counseling & Development (AMCD), the Southern Association for Counselor Education and Supervision, and the Florida Counseling Association. She was selected as a 2016 SACES Emerging Leader, served as the Florida Association of Multicultural Counseling & Development's (FAMCD) minority concerns chairperson for Latino/Latina concerns and has been nominated for AMCD Vice President of Latino/a Concerns. It is her passion to train counselors to work with children in a variety of settings, as well as to develop bilingual counseling and play therapy competencies in Spanish that are culturally responsive and developmentally appropriate, and to promote education and research related to these areas.
Dr. Luis Antonio Tosado, NCC, NCSC, from Panama, is a clinical assistant professor at the University at Buffalo, SUNY. His interests are related to the college readiness of Latino youth and English Language Learners, and the leadership role of school counselors in the context of school reform in urban school districts. His professional school counseling experiences have been in urban middle schools and high schools, in both Texas and Maryland. Before beginning his professional school counseling career Dr. Tosado served as an elementary teacher in a small suburban school district. He is also a veteran and has served in the United States Marine Corp Reserves and Army National Guard.
Dr. Branco earned her BA in Human Services and MA in Rehabilitation Counseling from the George Washington University. She earned a post-master's certificate in Marriage and Family Therapy and a doctorate in Counselor Education and Supervision from Virginia Tech. For fourteen years she maintained an independent clinical practice specializing in working with adults, children, and families connected to adoption and foster care. In addition, she has professional experience working in community mental health, pre natal care clinics, and with immigrant populations. She is an active member of the American Counseling Association and the Maryland Counseling Association. Currently, she serves as a Clinical Assistant Professor with the Clinical Mental Health Counseling program at the Family Institute at Northwestern University.
Dr. Casado Pérez serves as Assistant Professor of Counselor Education, Director of the Community Counseling Clinic, and Coordinator of the Marriage, Couples, and Family Counseling Program at Portland State University. Dr. Casado Pérez earned their doctorate in counselor education and supervision from The Pennsylvania State University, with specialty in teaching and higher education. They received their master's in mental health counseling from Monmouth University. Dr. Casado Pérez sits on the editorial boards for the Journal of Multicultural Counseling and Development and Journal for Specialists in Group Work, and serves as a co-chair for ACES' CEQUIN Critical Methodologies Taskforce and CSJ's Social Justice Certificates Taskforce. Dr. Casado Pérez scholarship focuses on equity and justice in higher education, with special emphasis on faculty diversification and minoritized faculty life, child welfare systems and family socioemotional health, mental health justice and social activism, and teaching and learning in counselor education and clinical supervision.
Daniel Gutierrez is Vera W. Barkley Associate Professor of Education in the Counselor Education program at William & Mary, the coordinator of the addictions emphasis for the Clinical Mental Health Counseling program, and one of the founding directors of the Thrive Research and Intervention Center. He is also a Licensed Professional Counselor and a Certified Substance Abuse Counselor in Virginia, and North Carolina, and formerly in Florida. He clinical experiences include working with individuals and couples in community mental health, private practice, and inpatient hospitals and intensive outpatient programs. The focus of Dr. Gutierrez's research and professional counseling efforts has been on serving vulnerable populations. As a mental health researcher, he is most interested in improving the quality of life of marginalized individuals and preventing the spread of mental health and behavioral health disorders. The core of his professional efforts has been in developing the capacity for mental health and behavioral healthcare services for underserved populations, and testing evidence-based treatment approaches and preventative interventions in mental health and addiction counseling, with an emphasis on developing culturally adapted counseling interventions and community engaged programming. In his most recent work, he and an interdisciplinary team of medical and social work professionals developed a bilingual mental health counseling treatment program at a chronic health management free clinic using an integrated behavioral healthcare model. Additionally, he currently directing an addictions training clinic (The New Leaf Clinic) that utilizes a motivational interviewing approach to reduce college drinking with at-risk students and is working with an interdisciplinary team at Virginia Commonwealth University on a funded project providing a motivational interviewing intervention for Latino youth tobacco prevention.Dr. Gutierrez also has a special interest in examining the influence of spirituality, contemplative practices, and related existential factors (e.g., meaning in life, hope, purpose) on mental health and addiction recovery. He believes that the ethical integration of spirituality and spiritual practices into counseling and clinical treatment can, in many cases, improve counseling outcomes and counselor effectiveness. He is the President-Elect for the Association for Spiritual, Ethical, and Religious Values in Counseling (ASERVIC) and serves as the Associate Editor for Theory and Practice for their peer-reviewed journal Counseling and Values. He also serves as the Associate Editor for quantitative research for the Journal of Counseling & Development, the flagship journal of the American Counseling Association, and the Co-Chair for the American Counseling Association's Human Rights Committee along with serving as a reviewer for several other journals.
Dr. Mary Huffstead is a wife, mother, therapist, counselor educator, and "Blaxican" (biracial: Black and Mexican) woman. She is an Assistant Professor at the University of West Georgia. Dr. Huffstead is the Southern Region Representative for the Association for Multicultural Counseling and Development a division within the American Counseling Association. She completed her doctoral degree in the Counselor Education and Practice program at Georgia State University. Mary is a 2018 NBCC Minority Fellowship Program doctoral fellow. She is a licensed professional counselor in Georgia whose clinical work focuses on providing therapy/play therapy to women and children who experienced domestic violence, sexual assault and/or home insecurity. Her research interest encompasses multicultural training, clinically serving the Multiracial population, and issues concerning those identifying as LGBTQI+ and living with a chronic illness and/or disability. Her master's in Clinical Mental Health Counseling from Auburn University and bachelor's degree in Psychology from Indiana State University. As Biracial woman, Dr. Huffstead has the lived experience of oppression and privilege, which she offers as a lens to students, colleagues, faculty, and clients.
**Disclaimer**
The zoom link for this webinar will be emailed approximately 24 hours before the scheduled event to the email you used to register for a ticket. Please kindly add the Event Brite platform to your safe sender list or check your junk mail. This is a recorded webinar for future AMCD use. As such, we remind you to kindly mute your devices as you are joining our meeting. The presenter will allocate time towards the end of the webinar for any questions guest might have. Guests are welcome to type their questions into the chat box or ask questions verbally. By asking questions verbally, you agree to AMCD's media recording rights and understand that your voice, as well as your video, will be recorded as well. Moreover, the AMCD Professional Development Committee holds the rights to dismiss guests, mute guests, and moderate guests as needed.
Warmly,
Kristy Christopher-Holloway, EdD, LPC, NCC, BC-TMH, CPCS, ACS , PMH-C
AMCD Chair of Communications/Social Media, Public Relations and Professional Development