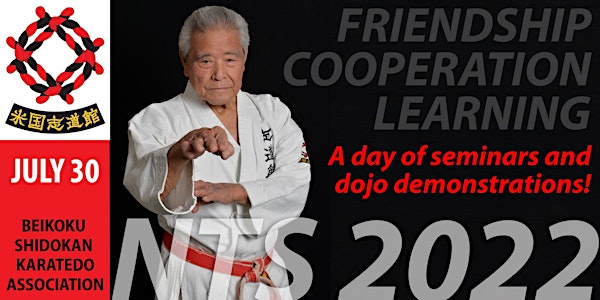 Beikoku Shidokan Karatedo Virtual National Training Seminar (NTS 2022)
Sales Have Ended
Registrations are closed
We're sorry, but registration for NTS 2022 has ended.
Beikoku Shidokan Karatedo Virtual National Training Seminar (NTS 2022)
About this event
Growing Karate & Friendships!
NTS 2022 will be an exceptional opportunity for beginning to advanced Shidokan practitioners to learn from senior Shidokan instructors. Dojo members from many locations will also be presenting live karate demos throughout the afternoon!
Register now and be a part of this memorable karate day to be held on July 30, 2022!
Saturday Morning Keynote Sessions
During the morning sessions, students (ages 13 and up) of all ranks and levels of experience will have opportunities to improve knowledge and skills in the fundamental techniques of Shidokan karate as well as to learn more about Shidokan history.
Keynote sessions will feature:
Seikichi Iha, Hanshi, 10th Dan, Beikoku Shidokan Karatedo
Other esteemed Shidokan Senior Instructors (TBA)
Saturday Afternoon Live Dojo Demos & Friendship Celebration
Throughout the afternoon, Shidokan dojos from many locations will be presenting live demonstrations broadcast via Zoom.
Following the demos there will be Friendship Celebration via Zoom where everyone can share greetings with Sensei Iha and fellow participants.
How to access the virtual NTS-22 Zoom meeting:
1. Register for the NTS 2022 event (Click on the "Register" button and it will take you to the registration page).
2. You will receive a confirmation message and a link to the NTS 2022 Event Page which will contain a Link to the Zoom Webinar and Password.
3. During the seminar times on the day of the event, you'll use the Zoom link and Password to login to all sessions.