Beikoku Shido-kan Karate-do Association National Training Seminar (NTS-17)

Friday, July 21, 2017 at 10:00 AM

-

Sunday, July 23, 2017 at 11:00 AM (EDT)
Event Details
Shido-kan Training Seminar
(NTS-17)

July 21-23, 2017 
Lansing Center | Lansing, Michigan USA
This is the annual summer conference to attend for all Shido-kan karate practitioners!
Instruction is led by head master teacher, Seikichi Iha, Hanshi, 10th Dan, with Shido-kan senior teachers from throughout the Association.
Throughout the seminar weekend, you will have the opportunity to improve your knowledge and skills in the fundamental techniques of Shido-kan karate as well as deepen your understanding of kata, kumite and one-on-one partnership drills and bunkai (group application of kata).
Youth are invited to attend an action-packed Saturday seminar with Sensei Iha followed by the exciting youth and teen kata tournament.
Who Should Attend?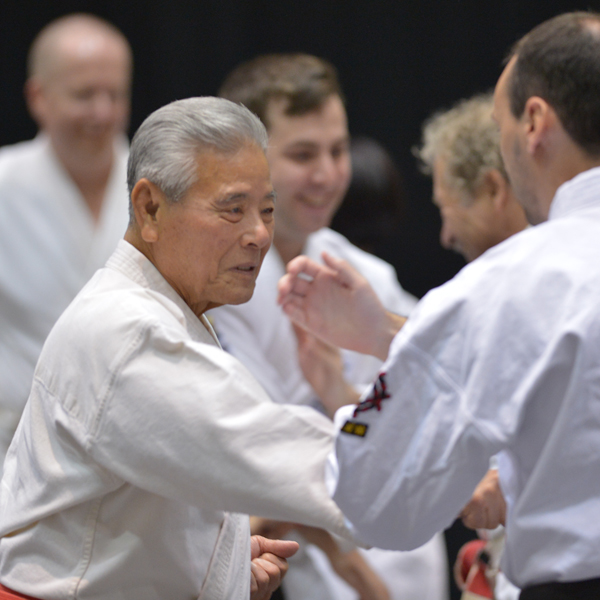 There will be training opportunities for all ranks -- age 7 and above. Options include:
Friday - Sunday adult seminars for ages 14 and above
Friday - Saturday youth seminars and youth kata tournament for ages 7-13
Saturday youth seminar with Iha Sensei for ages 7-13
Saturday afternoon youth and teen tournament for ages 7-19
Seminar sessions are designed so that people of all ranks can benefit and learn. Throughout the weekend you have the chance to meet, train with, share information and renew contacts with fellow students and teachers. After training there will be opportunities to socialize and enjoy friendships - old and new. 
Accommodations & Parking
The weekend events will be held in the Lansing Center - a spacious conference facility connected to the Radission Hotel by a skywalk. Features include:
Spacious, air-conditioned and carpeted training areas in the ground floor conference center.
Easy access to Radisson Hotel.
Double rooms at a reduced conference flat rate that can be split by multiple people.
Delicious meals in the hotel restaurant. There are also many restaurants within walking distance from the hotel and conference center. (Saturday evening banquet is included in the "Seminar and Events" conference rate.)
Plenty of close-by parking.
Family activity areas in the hotel (pool, whirlpool, fitness room in hotel).
Complementary hotel shuttle to the airport.
Bus access from the hotel and conference center to MSU campus, Michigan Capitol, museums. restaurants and entertainment. "Entertainment Express" trolley service is available every 30 minutes from Thurs. through Saturday nights on Michigan Ave from MSU to the downtown area.
Visit the Radisson Lansing web site at http://m.radisson.com/mweb/lansing-hotel-mi-48933/lansing for photos of rooms and map.
If you wish to stay at the conference location, you may place your room reservations directly through the hotel at discounted conference room rates. Book early while rooms are available in the discounted reservation block! Conference fixed double room rates may be split between multiple occupants. Pre-book a room by calling (517) 482-0188 and mention you are attending the karate "National Training Seminar" at the Lansing Center to receive the discount. When booking a room through the Radisson's online web service, use the discount code "OOK717".
When & Where

Lansing Center
333 E. Michigan Ave.
Lansing, MI 48933


Friday, July 21, 2017 at 10:00 AM

-

Sunday, July 23, 2017 at 11:00 AM (EDT)
Add to my calendar
Organizer
The Beikoku Shidokan Karatedo Association encompasses members training in affiliated dojos located throughout North America, as well as overseas.
Headquartered in Lansing, Michigan USA, the Association is overseen by Seikichi Iha, Hanshi 10th Dan. Iha Sensei's goal is the continuous promotion of friendship and cooperation among all students of karate do.