Beijing: Creativity and Inquiry in the Chinese Foreign Language Classroom 中...
Actions and Detail Panel
Beijing: Creativity and Inquiry in the Chinese Foreign Language Classroom 中...
Sat, Sep 9, 2017, 8:30 AM – Sun, Sep 10, 2017, 1:00 PM CST
Description
Workshop Descriptor:
This workshop is designed for Chinese teachers who teach Chinese as an additional language to non-native speakers. Teaching Chinese as an additional language requires an understanding of different students, different language profiles and different settings. It is our challenge to design an inquired –based and conceptual driven Chinese curriculum, and to implement into our classroom. We will inquire into this area in this workshop by hands on activities, professional readings and discussions.
本此培训研讨会是针对国际学校的汉语老师而设计的。在学校里把汉语作为附加语言来组织教学时就意味着我们面对的学生的背景不同了,学生的语言经验不同了,学校的配套也不同了。 怎么样把我们的课程设计成以探究为本,概念驱动教学的模式是困惑着我们的问题。在本次培训研讨会中,我们会以这个问题为探究的方向,透过实际的操作,专业的阅读及与会者之间的讨论来协助参加的老师建构自己的理解,掌握一些方法来更有效地进行教与学。
Participants will:
Develop a perspective on what is inquiry in learning Chinese as a foreign language
观点-探究在中文教学的运用
Understand of how to design and implement inquiry-based and conceptual understanding in Chinese classroom
理解与运用- 中文课程的探究教与学
Develop strategies for effective teaching in Chinese that promote inquiry
技巧-促进探究教学活动的教学法
Develop a network of peers through ongoing discussions, collaboration and reflection
群体-和参与老师互相切磋
Audience:
G1-8 Chinese/Mandarin teachers
What to Bring:
Your Growth mindset 成长性思维
Your questions 探讨问题
Your Laptops 笔记本电脑
Your inquiry based practice 探究教学实践
Presenter: Yan Ping
Yan Ping currently works at Discovery College in Hong Kong as a Chinese teacher. She is also an IBPYP workshop leader, consultant and school visitor. Yan Ping has developed Chinese teaching through homeroom and additional language teacher roles in China, Thailand and Singapore.
Yan Ping graduated from Nanjing Xiao Zhuang College, received Bachelor Degree in Primary Education, and then later completed her Master's Degree in Multidisciplinary Studies from the State University of New York (SUNY), Buffalo.
Yan Ping is passionate about teaching and learning Chinese language and culture at international schools. She also finds it exciting, both as a teacher and learner, to keep updated with new technologies and creative ideas.
Conference Schedule:
Saturday 9 September
0830-0900 Welcome
0900-1030 Session one
1030-1100 Break (snacks provided)
1100-1300 Session two
1300-1345 Lunch (lunch provided)
1345-1545 Session three
Sunday 10 September
0830-1030 Session one
1030-1100 Break (snacks provided)
1100-1300 Session two (conclusion of workshop)
Certificates
All participants will receive a certificate of participation for the workshop.
Registration Fees
Early Bird Fee: US$300.00
Registration fee after the 9 July 2017: US$330.00
Registration fee after the 9 August 2017: US$360.00
Cancellation Policy
Please note that each workshop will proceed based on participant registration. Innovative Global Education will inform you by 9 August, 2017 if the workshop is to be cancelled. If the workshop is cancelled your full payment will be reimbursed. If the workshop is proceeding you will not receive an email.
Workshop Participation
If Innovative Global Education is informed by by 9 August, 2017 that a participant is unable to attend the workshop, a full refund will be given. If notification of not being able to participate is after 9 August, 2017 IGE will be unable to refund the registration fee.
If, for any reason, a school needs to either transfer a registered participant to another workshop from the workshop registered or change the name of the participant attending a workshop, Innovative Global Education can make these changes on request from school or participant at any time.
Accommodation:
GuangMing Hotel
650rmb/night for single occupancy
Includes breakfast and internet
sales@guangminghotelbeijing.com
Getting There:
The school is a very short walk from the hotel. See direction on the map below.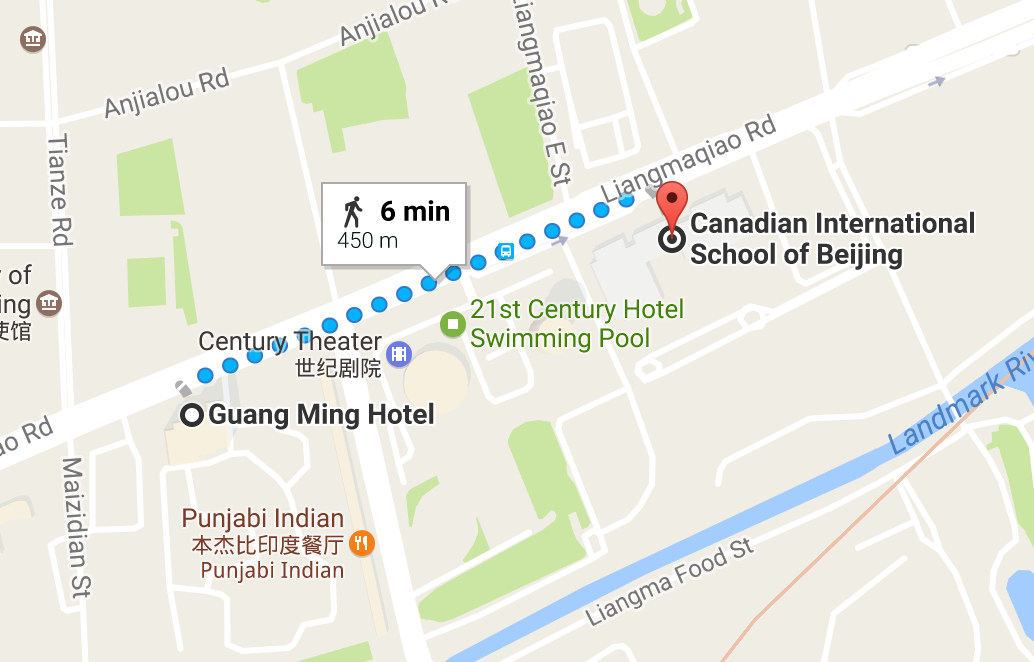 Date and Time
Location
Canadian International School of Beijing
8 Liangmaqiao Rd, SanYuan Qiao, Chaoyang Qu
Beijing, Beijing Shi 100125
China