Description
Workshop Descriptor:
Please note the majority of this workshop will be delivered in Mandarin
This workshop focus on the practice of assessment in the Chinese classrooms. Through professional readings, sharing of the research findings and discuss practical ideas, teachers will enhance their understanding of assessment and strengthen skills on how to design and use the assessment for learning. Teachers will have the opportunity to share ideas and develop assessments.
本次培训以中文教室里的评估为重点。透过专业的阅读,相关研究的解读和实际操作方法的讨论,我们旨在协助教师们强化对教学评估的认识,提高评估设计及使用方式的水平,从而更有效地促进教室里的教与学。
Audience:
Mandarin Teachers Elemenatry and MIddle School
Workshop Presenter: Lilian Wong
Lilian Wong is a Chinese teacher, who in 2001 began her teaching journey as an international teacher. In the past decade, Lilian has developed herself as an educational leader through various roles she has played and continues to play in her professional journey. These include being a Chinese head teacher, International Baccalaureate (IB) Primary Years Programme (PYP) workshop leader, an IBPYP committee member (school representative), an IBPYP visiting team leader and a school consultant.
As a Chinese teacher, Lilian is always keen to reflect and develop strategies to enhance teaching and learning in her class in order to promote creativity and inquiry. Teaching through language, she believes it is important to make connections between cultures in order to enhance international mindedness in the students she teaches as well as the school community as a whole that she belongs to.
王老师从2001年起开始接触国际教育。在过去的十年中,王老师在工作上涉猎了多个教学领导的领域如:在校内担当小学项目中文主任;在校外担当国际文凭组织小学项目的培训导师;小学项目委员会委员(学校代表);小学项目授权访问组长;学校小学项目实施顾问。
Conference Schedule:
Saturday 9 September
0830-0900 Welcome
0900-1030 Session one
1030-1100 Break (snacks provided)
1100-1300 Session two
1300-1345 Lunch (lunch provided)
1345-1545 Session three
Sunday 10 September
0830-1030 Session one
1030-1100 Break (snacks provided)
1100-1300 Session two (conclusion of workshop)
Certificates
All participants will receive a certificate of participation for the workshop.
Registration Fees
Early Bird Fee: US$300.00
Registration fee after the 9 July 2017: US$330.00
Registration fee after the 9 August 2017: US$360.00
Cancellation Policy
Please note that each workshop will proceed based on participant registration. Innovative Global Education will inform you by 9 August, 2017 if the workshop is to be cancelled. If the workshop is cancelled your full payment will be reimbursed. If the workshop is proceeding you will not receive an email.
Workshop Participation
If Innovative Global Education is informed by by 9 August, 2017 that a participant is unable to attend the workshop, a full refund will be given. If notification of not being able to participate is after 9 August, 2017 IGE will be unable to refund the registration fee.
If, for any reason, a school needs to either transfer a registered participant to another workshop from the workshop registered or change the name of the participant attending a workshop, Innovative Global Education can make these changes on request from school or participant at any time.
Accommodation:
GuangMing Hotel
650rmb/night for single occupancy
Includes breakfast and internet
sales@guangminghotelbeijing.com
Getting There:
The school is a very short walk from the hotel. See direction on the map below.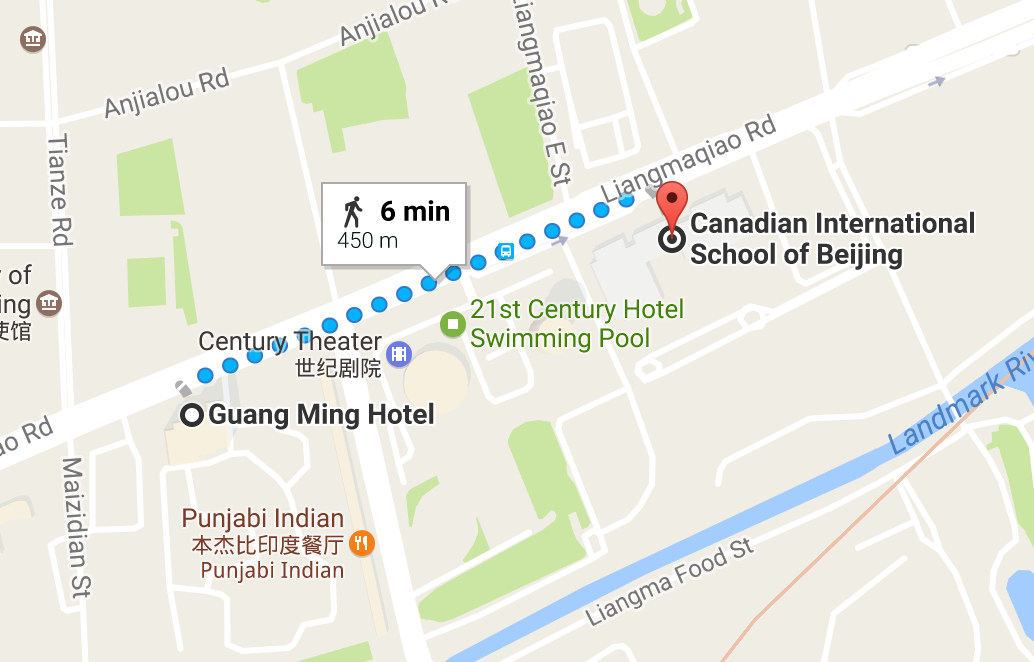 Date and Time
Location
Canadian International School of Beijing
8 Liangmaqiao Rd, SanYuan Qiao, Chaoyang Qu
Beijing, Beijing Shi 100125
China