Join us for D.C.'s first, women's self-worth conference! Two days of workshops to develop your confidence and relationship building!
About this event
INTRODUCTIONS
As women, we're taught to worry about others. All.The.Time. And when we're not doing that, we're focused on the external – developing our business, maintaining our appearance, attaining equal pay, and making sure we're safe wherever we are. Most of us are struggling to give ourselves the attention we deserve on a daily basis while making ends meet.
The BEHOLD.HER series has provided an expressive space for women in Washington D.C. to find acceptance, beauty, depth, empathy, and validation within. We are hosting D.C.'s first, women's self-worth conference.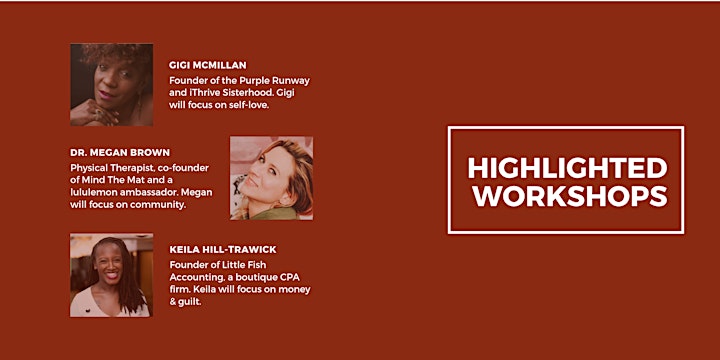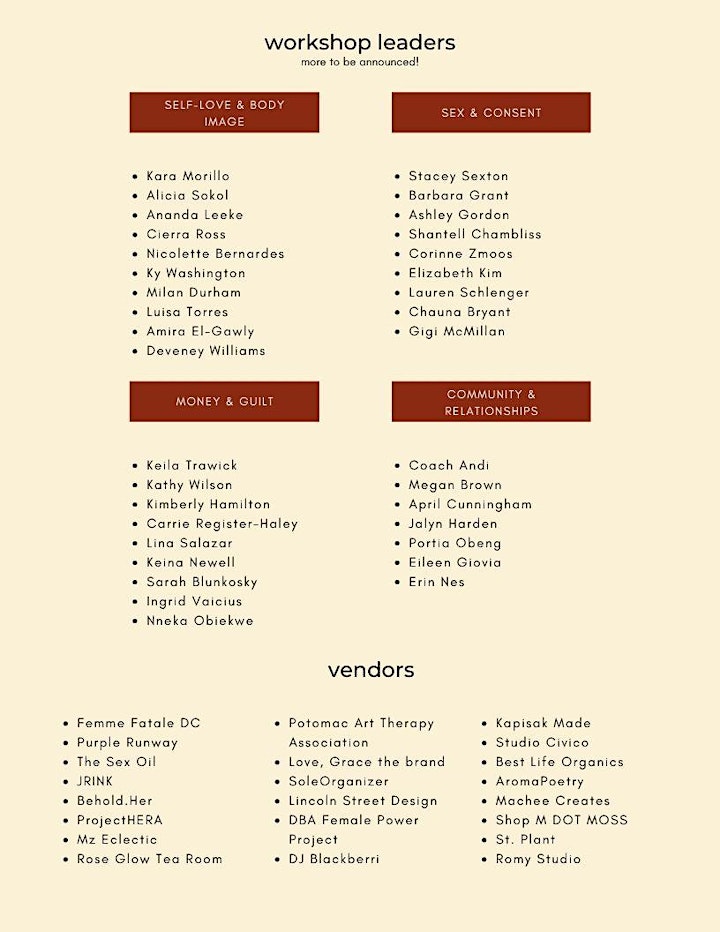 WORKSHOP INFO
Workshop Descriptions and Leaders are released! Please find all the information about classes below!
GENERAL INFORMATION
Our mission is to engage women to lead their lives instead of feeling lost, paralyzed, silenced, depressed, or frustrated. In defining a personal concept of self-worth, we believe in providing women the opportunity to live happier, healthier, and more productive lives, either at home or in the workplace. During the 2019 Behold.Her Self-Worth Conference, attendees will deeply engage in the inner work needed to deepen connections, build power, and accelerate change by challenging themselves to listen more and put themselves first.
The 2019 Behold.her Self-Worth Conference will be held on November 16 – 17, 2019 in Washington, D.C. The conference's program encompasses four main themes: Self-Love & Body Image; Sex & Consent; Money & Guilt; and, Community & Relationship Building . It will touch on health and wellness, self-development, goal setting, and intentional relationship building.
Check in time is 8 AM - 8:45 AM. Check in is not permitted after this because of security!
8:45 AM till 5:30 PM. Workshops and lunch will be held!
5:30 - 8 PM. After hour programming!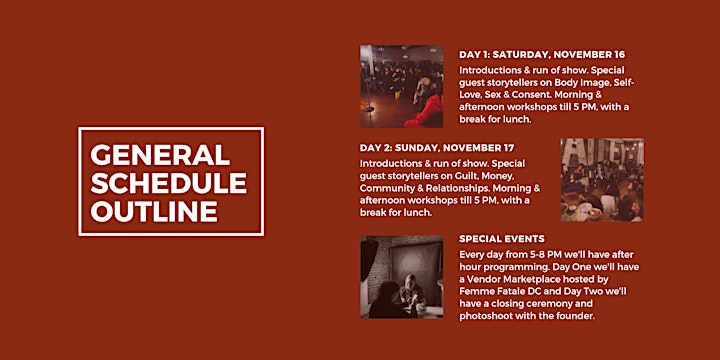 YOUR TICKET INCLUDES:
Access to two full days of workshops, speakers, and professional staff in a dynamic venue
Breakfast, lunch, and featured beverages sponsored by JRINK on both days (vegan/gluten-free/soy and nut free options available).
After hour programming including a Vendor Marketplace featuring local female-owned businesses, Behold.Her styled photoshoot and interview, a (Non-Alcoholic) Community Happy Hour, and other surprises.
An incredible community of women
One on one on-boarding phone call discussion to assist with workshop selection
A f**king great time
*More Details Coming Soon!*
TICKET PRICING
$10 / Marketplace: Entry For those who can't come to both days but want to experience our after hour programming with Femme Fatale DC! Saturday, November 16th
$70 / VIP Dinner: November 14th from 7-10 PM. An opportunity to meet some of the incredible leaders over a curated meal. Location and menu to be released on October 18th.
$110 / Early Bird Entry (SOLD OUT): September 1st - October 1st. Please understand that workshops are first come first serve. The later you purchase your ticket, the higher chance you won't get in the class you want! This will be released by order of purchase.
$120 / General Entry (SOLD OUT): October 1st - November 1st
$150 / Late Bird Entry: November 1st - November 10th
$1 - $500 Scholarship Pool Contribution: Make a contribution for those who may not be able to attend, but want the opportunity to support another attendee. Every little bit counts.
Add Ons: Purchase and add on to your ticket including a VIP dinner, t-shirts, and mugs!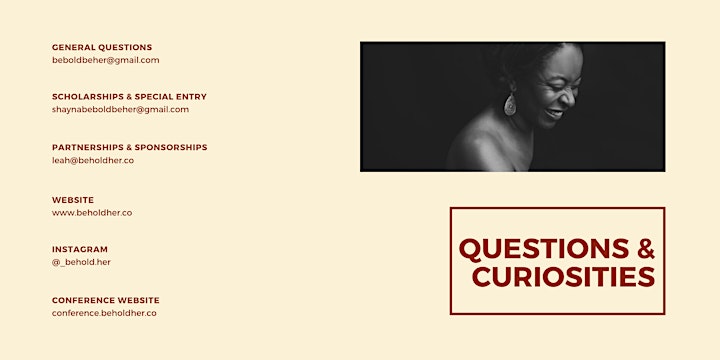 HIT US UP
If you have any questions, special requests or if you're interested in becoming a sponsor for this event, please don't hesitate to reach out to us.
Please subscribe to our newsletter to get more updates about the conference, ticket release and detailed information about our workshops.