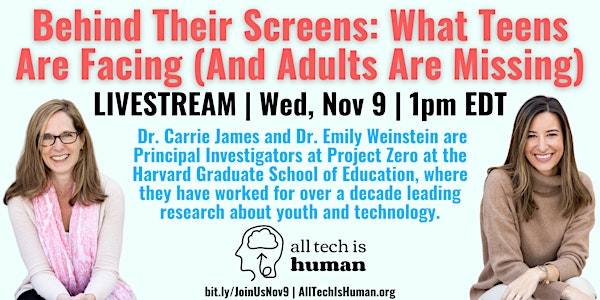 Behind Their Screens: What Teens Are Facing (And Adults Are Missing)
3500 teens, 2 Researchers & 1 question: What are adults missing about teens and technology? We speak w/ the authors of Behind Their Screens
About this event
Dr. Carrie James and Dr. Emily Weinstein are Principal Investigators at Project Zero at the Harvard Graduate School of Education, where they have worked for over a decade leading research about youth and technology. Their projects focus on the ways social media shapes adolescents' everyday lives, including well-being, civic participation, ethics, and family life. Drs. James and Weinstein are passionate about developing resources to support schools and families in rethinking digital citizenship, including through their longtime partnership with Common Sense Education. Emily and Carrie's 2022 book, Behind Their Screens: What Teens Are Facing (And Adults Are Missing), details new insights from research with thousands of teens.
This livestream is being conducted by the non-profit All Tech Is Human. All Tech Is Human is committed to building the Responsible Tech movement so we can better tackle thorny tech & society issues and co-create a future aligned with the public interest. We see the future of technology as intertwined with the future of democracy and the human condition. Our organization, founded in 2018 and based in NYC with a global audience, is multidisciplinary, multi-stakeholder, and has developed a highly-participatory structure that promotes knowledge-sharing and collaboration.
Directly related to the topic of our upcoming livestream, our organization has released our Responsible Tech Guide, HX Report: Aligning Our Tech Future With Our Human Experience, and also Improving Social Media: The People, Organizations, and Ideas for a Better Tech Future. We also recently held gatherings at the Australian Embassy in Washington (Youth, Tech, and Wellbeing) and alongside the Joan Ganz Cooney Center at Sesame Workshop in NYC (Building a Better Tech Future for Children).
We have a wide range of activities for you to get involved in this area, including a community Slack group of over 3.7k people across the globe, regular summits & mixers, a Responsible Tech Job Board, mentorship program, university ambassadors program, open working groups, and more. You can find all of our projects and links here.