Description
Behind The Shot: Costa Rican Adventures by Anita Elder & Patti Polinsky



Costa Rica is known for is biodiversity and has some of the greatest numbers of birds and plants than anywhere in the world. It is a rugged, rainforested Central American country with coastlines on the Caribbean and Pacific.
Join Anita Elder and Patti Polinsky as they share there tips and equipment recommendations while showing you gorgeous photos they took on their separate adventures. Anita and Patti hope is that they will inspire you to go on your own photo adventure in Costa Rica!
Areas Visited by Anita:
Tortuguero National Park -

a protected wilderness area on Costa Rica's northern Caribbean coast

Arenal Hanging Bridges - part of the biological corridor that allows the flow of species that inhabit between the

Guanacaste Volcanic Range and theTilarán Volcanic Range

Monteverde Cloud Forest Reserve - a private area for

the conservation of wildlife

San Jose - the capital of Costa Rica
Anita's primary goal of her adventure was to travel on a budget and see as many animals as posible in three main areas of Costa Rica via hiking, boating, and even zip-lining. This included a night hike in a private preserve and research station.
Areas Visited by Patti:

La Paz waterfall Garden A private sanctuary for animals and birds who can not be returned to the wild, butterfly nursery and plants of the rain forest
Estación Biológica La Selva- an International Research Station for Tropical Studies
Bajos del Toro Waterfall and area
Nectandra Cloud Forest Garden- a private preserve
Bosque de Paz a private preserve of plants, animals and birds
Carara National Park
Tarcoles River
The primary goal of Patti's ecologically-sensitive adventure was to view and photograph the wildlife, flowers, butterflies and the unique and extraordinary birds in their mating plumage, while walking or day-hiking in some remote areas and boating in private nature preserves, research stations and national parks with Federico, a photographer/naturalist guide at all times and to have private transportation to allow for on-the-spot deviations to the planned itinerary.
---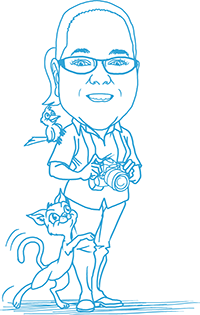 Anita Elder is the current chair of the Seattle Mountaineers Photography Committee and considers herself a photography hobbyist. You can read more about her adventures on her blog Anita's Adventures & Photos. When she's not off on adventures, Anita works at her freelance graphic design business.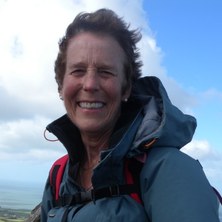 Patti Polinsky is an active leader of The Mountaineers Global Adventures committee and Director of Winter Sports at Meany Lodge. She's also active in backpacking, day hiking, exploring nature, photography, snowshoeing, stewardship, conservation and trekking in The Mountaineers.