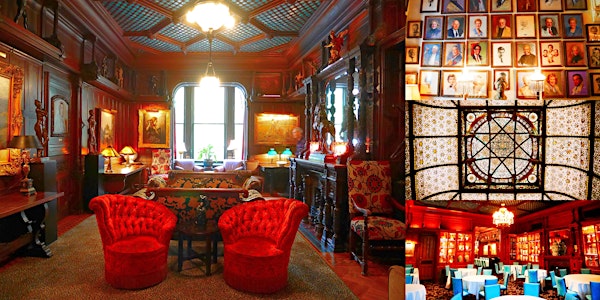 Behind-the-Scenes @ The National Arts Club & 1844 Gilded Age Tilden Mansion
New York Adventure Club | www.AdventureClub.com
When and where
Location
The National Arts Club 15 Gramercy Park South New York, NY 10003
About this event
Step inside one of New York's most prestigious private clubs, which was once the private residence of New York's 25th Governor.  
Join New York Adventure Club for an exclusive behind-the-scenes tour of the historic National Arts Club, a private club founded in 1898 dedicated to stimulating, fostering, and promoting public interest in the arts and to educate the American people in the fine arts.
Led by the National Arts Club historian, our unique house tour will include:
An overview of the house's rich history and story, from its development for New York Governor Samuel Tilden in 1844 to the home of the National Arts Club in 1906
A walkthrough of the historic rooms inside the landmarked Samuel Tilden Mansion at Gramercy Park South, such as the former library, dining room, and parlors
A look at John La Farge stained glass panels, Ellin and Kitson sculptures, and the famous Donald MacDonald stained glass-domed library, now the clubhouse bar
Click here to see pictures from one of our previous visits to the National Arts Club!
See you there!
*The National Arts Club does not have an elevator 
**Due to the venue's COVID-19 protocols, guests must be fully vaccinated against the SARS-CoV-2 virus (proof of vaccination required at door) to enter the building's premises
Testimonials
"Our guide was excellent." -Tim
"Mansion tour with excellent historical background info." -Anthony
"The docent knew his subject well and was an interesting storyteller." -Anne
"Highly knowledgeable and articulate tour guide. Beautiful rooms from a bygone era." -James
"I love learning the history of the building." -Beth
"Beautiful venue. Interesting history." -Denise
"It was very interesting and great visuals." -Garry
"I liked seeing all the behind the scenes places, the normal places and the guide Hannah was very engaging." -Melanie
"The guide was excellent - his heartfelt passion for the building architecture and history is infectious. A memorable tour I would highly recommend to friends & family. Thank you." -Lydia
"The guide had a wealth of information and the details he shared were fascinating. Plus, it had museum quality details but nothing was roped off. And we had the opportunity to explore every floor. It is a must-see!" -Claire
"Very informative" - Deena
"Great location and good history" -William
"I liked seeing all of the interesting design features, learning about the history of both Tilden and the club" -Nicole
Disclaimer
By attending a New York Adventure Club experience, you accept our terms of service.
Categories: In-Person, Mansions & Private Clubs