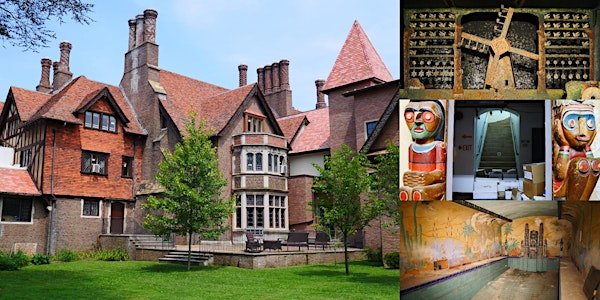 Behind-the-Scenes @ The Chimneys, 1920s Mansion with Underground Speakeasy
New York Adventure Club | www.AdventureClub.com
When and where
Location
The Community Synagogue 160 Middle Neck Road Sands Point, NY 11050
About this event
If you were the daughter of a distilled spirit empire magnate and decided to build your summer house in the midst of prohibition, what design changes would you make? Step inside one of Long Island's best-preserved 20th-century mansions to see how a 1920s socialite balanced traditional Tudor-style spaces above ground, with a fantastical underground party center below, to keep the good times (secretly) roaring.
Join New York Adventure Club for an exclusive exploration of The Community Synagogue, which resides inside a multi-level mansion on "The Chimneys" 1929 estate in Port Washington, NY — the summer grounds for Bettie Fleischmann Holmes, daughter of Charles Fleischmann, the co-founder of a compressed yeast and distilled spirits manufacturing company.
Led by the Executive Director of The Community Synagogue, which has called The Chimneys home since 1957, our unique experience will include:
The origin story surrounding "The Chimneys" estate and where it got its name from
An overview of The Community Synagogue, from how it acquired the estate in the 1950s after a landmark decision by the New York Court of Appeals, to how the congregation has adapted the house and grounds while preserving as much original detail as possible
A walkthrough of the mansion's first three floors to view its Tudor-style rooms including former bedrooms, a music room, and even a wood-carved dining room with a walk-in fireplace
A trip to the sub-level to see the remnants of Fleischmann's "speakeasy" recreation center — designed to conceal their parties during prohibition, this massive underground space features a swimming pool in the pre-Columbian art theme, Coney Island-style shooting range, squash court, bar room in the Alaskan Totem Pole theme, and more
Afterward, we'll have an opportunity to walk around the estate to see more remnants of its days as a private residence, including the former groundskeeper's house, carriage house, and secret tunnel entrances that fed into the underground recreation center (and offered a way out if there was ever a police raid!).
Click here to see pictures from one of our last visits to The Chimneys!
See you there!
*A government-issued photo ID (i.e., driver's license) that matches registration name is required
**Please wear comfortable shoes as we'll be walking through slightly uneven surfaces in and around the house
***Registration period closes one hour before event
****The basement cannot be accessed by an elevator
*****Due to The Community Synagogue's COVID-19 protocols, guests must be fully vaccinated against the SARS-CoV-2 virus (proof of vaccination required at door)
Transportation:
By Public Transit:
Take a Port Washington-bound Long Island Rail Road train from Penn Station, and disembark at the Port Washington Station, which is the last stop.
Once in Port Washington, take an Uber or cab to The Community Synagogue, which is roughly 10 minutes from the train station. The train station taxi stand can be found to the right of the platform when exiting  — here is an exact image: https://goo.gl/maps/tvCGBhmfhRwETveX9.
Taxis can also be scheduled in advance — feel free to call local Port Washington taxi company Delux Cab at 516.883.1900.
Trains from Port Washington Station depart for Penn Station every 30 minutes.
LIRR tickets can now be purchased via your smartphone — click here for more details.
By Car:
Free parking is available at The Community Synagogue.
Testimonials
"The guide was very passionate and it was interesting to see the pool and bar and the shooting range." -Charlie
"Guide very friendly and knowledgeable. Very interactive visit. We could take our time to photograph, ask questions." -Beatriz
"I love the interesting architecture of the house." -Gabriela
"Excellent tour of an amazing place! The basement, and sub basement, wow!" -April
"Building was incredible!" -Brent
"It was such a fascinating building. And I enjoyed the fact that it didn't feel stiff and staged - was more of a glimpse into history still being lived." -Svetlana
"Our guide Jeff was very informative and knowledgeable." -Mary
"It was great to see the architecture and hear the stories about the people who lived there. Our tour guide was very friendly and knowledgeable. I hope that the tours will continue." -John
"I love the basement tour." -Debra
"Very informative." -Karen
"I love the history and old architecture." -Matthew
"Information was quite informative" -Mike
"It was a wonderful opportunity to tour such an amazing location. I learned so much." -Richard
"Great site, great info guide open to questions and photos" -Doreen
"Seeing all of the remnants of the old mansion and grounds from secret passageways to a swimming pool to a shooting gallery!" -Melanie
Disclaimer
By attending a New York Adventure Club experience, you accept our terms of service.
Categories: In-Person, Mansions & Private Clubs