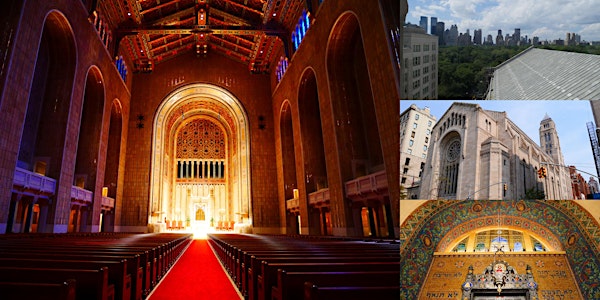 Behind-the-Scenes @ Temple Emanu-El, One of the World's Largest Synagogues
New York Adventure Club | www.AdventureClub.com
When and where
Location
Temple Emanu-El (65th Street Entrance) 1 East 65th Street New York, NY 10065
About this event
Once you've seen one house of worship, you've seen them all, right? Not quite! Step inside a historic synagogue on Fifth Avenue to see one of the most incredible religious sanctuaries in all of New York, the United States, and perhaps the world.
Join New York Adventure Club for an exclusive, behind-the-scenes exploration through the historic Temple Emanu-El, one of the largest synagogues (and houses of worship) in the world.
Led by licensed NYC guide Michael Morgenthal, who went to a yeshiva just blocks away from the temple, our experience through this majestic Art Deco temple dating back to 1929 will include:
The history and story behind Temple Emanu-El and its notable Fifth Avenue plot within New York City
A visit to the incredible main sanctuary, which includes a 175-foot long hand painted & gilded ceiling, Guastavino-tiled walls, more than 60 stained glass windows, original Hildreth Meière mosaic works, and 2,500 seats that have an unobstructed view of the ark
A walkthrough of smaller sanctuaries hidden throughout the temple, which contain rare Tiffany stained glass
A special look inside the temple museum with original artifacts, and rooms that haven't been touched since 1929
Our experience will conclude on the temple roof deck for sweeping views of the NYC skyline!
Click here to see pictures from one of our last trips to Temple Emanu-El!
See you there!
*Due to the venue's COVID-19 protocols, guests must be fully vaccinated against the SARS-CoV-2 virus (proof of vaccination + booster required at door)to enter the building's premises
Testimonials
"The beauty of the building exceded all my expectation." -Avia
"Gorgeous!" -Arno
"Very good guide. Extensive tour." -Linda
"I love the guide's knowledge." -Deborah
"Mike was very knowledgeable and the space was breathtaking." -Jackie
"I got to see something I was always curious about. Mike was easy to listen too and knowledgeable . The Temple really is a gem !" -Arabelle
"The guide, Mike, was superb, his knowledge combined with friendly, outgoing personality made this tour unforgettable. We had already shared our experience with our friends and are planning to bring them to the next tour to share this delight with them." -Elena
"I love the tour leader." -Margaret
"The Tiffany stained glass windows and Art Deco details." -Debra
"The synagogue is breathtaking and has interesting stories." -Yuliya
"Complete explanations of venue, without being rushed." -Joy
"Beautiful architecture, history and knowledgeable staff." -Matthew
"Extremely informative." -Mary
"The ability to see and walk through the entire synagogue, see the different chapels and gave at the amazing architecture." -Christian
"Very knowledgeable, entertaining guide in a beautiful setting." -Mark
"It was well organized." -Irene
"Interesting subject, excellent presentation by guide (knowledgable, articulate)." -Michael
"The venue is very interesting and unique, the tour guide was knowledgeable and personable." -Yana
"The guide was knowledgeable and organized. The synagogue itself is really interesting." -Beth
"It was great. The Temple is exquisite. Mike was a wonderful tour guide: interesting, animated, engaging & knowledgeable." -Ellen
Disclaimer
By attending a New York Adventure Club experience, you accept our terms of service.
Categories: In-Person, Houses of Worship