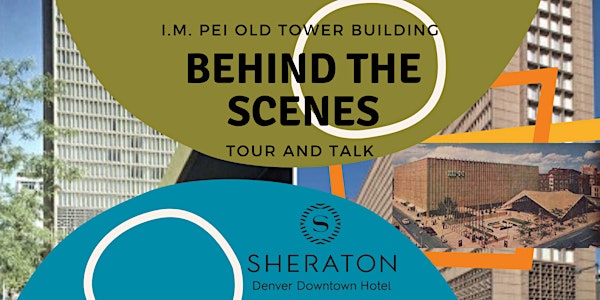 Behind the Scenes: Sheraton's I.M. Pei Old Tower Building
Discover the history and features of the unique presence in the Denver skyline: I.M. Pei's Old Tower Building at the Sheraton Downtown.
When and where
Location
Main Lobby, New Building, Sheraton Denver Downtown Hotel 1550 Court Place Denver, CO 80202
About this event
Join us in another behind-the-scenes exclusive event!
About the Tour
Spend 45 minutes walking through the Sheraton Downtown's historical I.M. Pei Old Tower Building, where you'll discover the history and features of this unique presence in the Denver skyline. During the tour, you'll hear stories of the past, visit features that still remain today, and marvel at the beauty of design that is a main tourist feature of the 16th Street Mall- both past and present.
Hear stories from Alan Gass, architect who worked on I.M. Pei's design for Mile High Center (and the I.M. Pei Old Tower Building) early in his career and Rich Grant , a travel writer and former director of Communications for Visit Denver.
Join these two historians as the tour walks through time and space, with behind-the-scenes stops at focal points in the Tower Building. The tour will describe the story of the building (and historic block of the 16th street mall) and overview its use over the past 60+ years.
About your Speakers
Alan Gass
Early in his career, Alan worked in the office of I. M. Pei, FAIA, gaining experience in the design of three major contemporary urban complexes: the Mile High Center, Court House Square / Zeckendorf Plaza in Denver, and Kips Bay Plaza Apartments development in New York City.
He is a founder of AIA/Denver Urban Design Committee. Throughout his time in practice, and to the present day, Alan continues to provide pro-bono services as a member of public committees and boards, urban design and transportation committees, Denver, Colorado West, and New York City Chapters of the American Institute of Architects, the City and County of Denver, the City Club of Denver, and Temple Emanuel. He continues as president of the Babi Yar Park Foundation, that originated, and continues to advocate for the City of Denver's 27-acre Holocaust memorial.
Alan has participated in juries, given lectures, tours and presentations on architecture, urban design, and solar energy to such diverse groups as consulting engineers and the vice-governor of China's Hunan Province, as well as students and faculty at the University of Colorado, University of Denver and University of Chicago. He has given several courses in architecture and urban design in the University of Denver's VIVA! (now OLLI) program. In addition, he has given "Expert Tours" of Downtown Denver in the Doors Open Denver program, OLLI, and to other interested groups. Learn more about Alan's body of work here.
Rich Grant
Rich Grant is a freelance travel writer in Denver, Colorado and an active member of the Society of American Travel Writers (SATW) and the North American Travel Journalists Association (NATJA). He is, co-author with Irene Rawlings of "100 Things to Do in Denver Before You Die," published by Reedy Press.
Originally from New York, he was at Woodstock in 1969, before moving West as a ponytailed, pot-smoking hippie driving a VW bug. Today he drives a Honda CRV. He worked as director of communications for Visit Denver, the Convention & Visitors Bureau from 1979-2014 and in 2020 he was inducted into the Denver & Colorado Tourism Hall of Fame.
He has won numerous travel writing awards and can be followed on INSTAGRAM at richgrantdenver and on Facebook at "Walking and Drinking Beer" and 100 Things to Do in Denver Before You Die." He has lived in Washington Park with his finance, Patricia Trahey, for nearly 50 years.