"Behind the Scenes of Venture Capital" - how to raise VC money or become a venture capitalist yourself

Thursday, April 13, 2017 from 6:00 PM to 9:00 PM (PDT)
Event Details
Join us for our Speaker Series & Networking Event with Nina Achadjian, VC at Cota Capital where she will go "Behind the Scenes of Venture Capital" and share some of the secrets of the VC world.  She will also discuss how you could become a Venture Capitalist yourself.
Only a small percentage of startups get funded by venture capitalists.  Find out why some founders get VC money and some don't.
Nina recently gave this talk in front of the MBA students at Stanford University (Graduate School of Business).

Cota Capital's investments include Google, Dropbox, Uber, Addepar, Getaround, Memebox, Gusto, Funders Club, InDinero, Washio, Klout, Munchery, SoundHound, etc.

If you are a startup or entrepreneur, this is a talk you do not want to miss!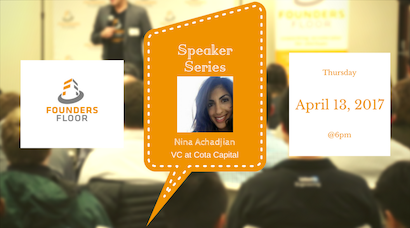 The event starts with a networking reception where food and drinks will be provided.
SPEAKER: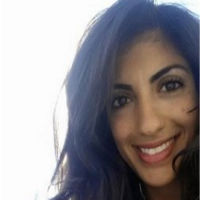 Nina Achadjian - VC at Cota Capital
Nina Achadjian is a Venture Capitalist and founding team member at Cota Capital, a hybrid between a venture capital fund and a hedge fund. She focuses on Digital Health, Enterprise SaaS, and eCommerce.
Nina is involved in Cota Capital's investments in Canary, Gusto, OpenGov, Chrono Therapeutics, SoundHound, TubiTV, Memebox, Tachyus, DotDashPay, CareSkore, Greensmith Energy, Eight Sleep, Medisas, FLYR, Cover and Revfluence.

Nina has built strategic partnerships with Expa Labs, MIT Media Labs, Carnegie Mellon, Singularity University Labs, Harvard University and Stanford University.

She also has evaluated and invested in public SaaS companies as part of Cota Capital's stage agnostic mandate, including Shopify and Mimecast.

Nina is part of the investment team and leads diligence on both public and private investments. Her responsibilities include sourcing deals, fundraising, and forging strategic relationships with some of the top incubators and university research labs.

She has evaluated 1,000+ startups and has driven key investment decisions for 30+ portfolio companies. She is also a Board Observer for FLYR and Revfluence.

Before joining Cota, Nina worked at Google and worked in investment banking at Citibank.

She also founded HIVE, the first seed fund focusing on Armenian entrepreneurs ($5M fund). Portfolio companies include CodeFights, Collectly, Wakie, Eventgeek, Embodied, IntelinAir, Discotech, Bazillion Beings and Abaka.
Nina graduated magna cum laude from Harvard University. She was one of six recipients of the Rockefeller Scholarship and also was part of Harvard's NCAA Division 1 Water Polo Team.

AGENDA:
6:00pm - 6:45pm: Dinner and networking, demo/sponsor tables

6:45pm - 7:00pm: Intros, demo/sponsor tables mentions

7:00pm – 8:30pm: Speakers program and Q&A

8:30pm - 9:00pm: Meet the speakers, networking
EVENT ORGANIZER:
Founders Floor - Co-working accelerator for startups and entrepreneurs. Office space, partnerships and funding. 
SPONSOR OFFER: Free coworking day  
Apply here: http://foundersfloor.com/freeday/ 
Lifograph - The encyclopedia of people and companies in Silicon Valley 
Join Lifograph's FREE investor and startup community
http://community.lifograph.com
SPONSORS:
 Procopio - Ranked among the 2015 Best Law Firms by U.S. News & World Report
PARKING:

Free street parking: Abundant street parking is available for free after 6:00 p.m. in downtown San Jose. Streets closest to Founders Floor with free street parking are Santa Clara St., North Market St. and St. John St.
Free parking garage: Founders Floor will provide a 2 hour free parking voucher to the Market & San Pedro Square Parking Garage. This garage is only one block away from Founders Floor. It's located at 45 N. Market St., between W. Santa Clara St. and W. St. John St. Upon check-in at the Founders Floor event, make sure you ask for the 2 hour free parking voucher.


PUBLIC TRANSPORTATION:
VTA Light Rail is right outside our building, and runs every 20 minutes making public transportation fast and easy. Both the Mountain View-Winchester and the Alum Rock-Santa Teresa VTA light rail stop at the Santa Clara Station(s) which is located just a block away.

Have questions about "Behind the Scenes of Venture Capital" - how to raise VC money or become a venture capitalist yourself?
Contact Founders Floor