Event Information
Location
Hollywood American Legion Post 43
2035 North Highland Avenue
Los Angeles, CA 90068
Description
Please join the Hollywood Section of SMPTE®, the organization defining the future of storytelling, on Thursday, January 16th, 2020, at the historic Hollywood American Legion Post 43 in Hollywood to learn more about the innovative technologies and workflows deployed to create such stunning visuals for THE IRISHMAN now with 10 OSCAR NOMINATIONS including Best Picture, Editing and VISUAL EFFECTS.
Robert De Niro, Al Pacino and Joe Pesci star in Martin Scorsese's THE IRISHMAN, an epic saga of organized crime in post-war America told through the eyes of World War II veteran Frank Sheeran, a hustler and hitman who worked alongside some of the most notorious figures of the 20th century. Spanning decades, the film chronicles one of the greatest unsolved mysteries in American history, the disappearance of legendary union boss Jimmy Hoffa, and offers a monumental journey through the hidden corridors of organized crime.
Faced with the challenge of de-aging the actors for a period spanning 30 years throughout this non-linear epic, the creative and technology team at Industrial Light & Magic developed new technology and innovative workflows in collaboration with ARRI rental and DP Rodrigo Prieto to help bring Scorsese's vision to life. Join SMPTE Hollywood for an evening with ILM Visual Effects Supervisor Pablo Helman, and Netflix Head of Visual Effects & Virtual Production, Andy Fowler, as they discuss the challenges and breakthroughs of their work on this critically-acclaimed film.
The event will take place at the historic and newly restored American Legion Theater in Hollywood, located at 2035 N Highland Ave, Hollywood, CA 90068. Join us at 5:00pm for a drink, or come at 6:30pm for food and networking. The discussion will begin at 7:30pm.
Happy New Year from SMPTE Hollywood.
PARKING: Limited parking for those with handicapped placards or anyone needing to park close is available behind the American Legion. All other attendees must please park in the lot across Highland at Camrose Dr/Milner Road. This lot is just in front of Hollywood Heritage's DeMille barn.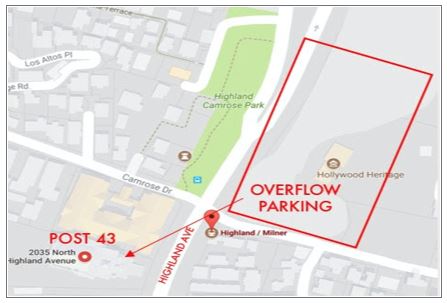 Date and time
Location
Hollywood American Legion Post 43
2035 North Highland Avenue
Los Angeles, CA 90068