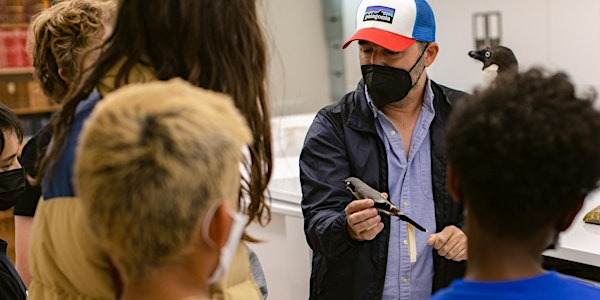 Behind-the-Scenes Moore Lab of Zoology Tour
Behind-the-scenes tour of Moore Lab's vintage bird and mammal collection at Occidental College in Los Angeles
When and where
Location
Moore Laboratory of Zoology Bird Road Los Angeles, CA 90041
About this event
Join us for an inside look into a unique natural history collection located on Bird Road.
Moore Laboratory of Zoology is a museum of 65,000 vintage bird and mammal specimens. Our mission is to understand the origins of Earth's biodiversity and how species respond to environmental change. With our team of students, we carry out research uniting museum collections and modern DNA research.
Founded by Robert T. Moore, the collection was originally stored in his home in Pasadena before it became the Moore Laboratory of Zoology at Occidental College in 1951. Moore collaborated with a fellow Angeleno Chester C. Lamb, a former curator of mammals at the Museum of Vertebrate Zoology, to traverse Mexico from 1933-55 to collect birds. With a team of researchers in Mexico, they collected 40,000 birds from 300 locations across the country. These specimens represent a snapshot in time of Mexico's bird diversity prior to major habitat and landscape change.
The vast majority of our specimens include whole bird study skins with 50,000 of these from Mexico, making the Moore Lab collection the largest Mexican bird collection in the world.
Tours are free, donations are welcome.*
Visitors must wear masks while indoors. Proof of vaccination can be shown upon entry.
*A tax-deductible donation helps fund student research and travel to professional conferences to present their work. Learn more about giving opportunities here.
Parking & Directions
Occidental College is located at 1600 Campus Road and Moore Lab is on Bird Road (click here for a campus map). For weekday tours, street parking is available all along Campus Road. Moore Lab is near the Armadale Avenue and Campus Road intersection. Head north on American Way, turn right on Weller Road then left on Bird Road. We are located on the other side of the Bioscience building. For weekend tours, you may park in any campus parking lot.