Description
Use your MemberID to access tickets!
OKWIT's Behind The Scenes Mentor Sessions are a great opportunity to meet with IT leaders in a small-group setting. Often we have set for ourselves the goal of being a manager, director, or a CXO because the path to that role seems logical for one's career. Yet do we really understand the day-to-day activities and challenges of holding such a position? What is it really like to head a department or lead a division? What skills, knowledge, and credentials are needed to sit in that seat? Were there specific preparations to obtain the position? And once in the role, how does one traverse the day? This session mentor will share "a day in the life of their role" and what it took to get there and retain the position.
Please Note:
Lunch will be provided by OKWIT.
You must be an OKWIT Advocate Member or OKWIT Contributing Member to register. However, as one of these members – you may register for yourself plus one (Your Plus One does not have to be an OKWIT member).
Seating is limited to 15, so be sure to register early.
Use your MemberID to access tickets!
About Diana Bittle: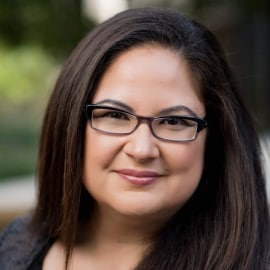 An Asian American, born in Adana, Turkey, I serve as the Vice President, Chief Technology Officer for American Fidelity. Altogether, I have been in technology at American Fidelity for 20 years and absolutely love my job and company. I spent most of my time at AFA in software development and was reassigned to oversee infrastructure, IT operations, and IT security in 2018. While working at American Fidelity, I completed my undergraduate degree in Mathematics (the true love of my life) with an emphasis on Computer Science from the University of Central Oklahoma (Go Bronchos) and a Master's degree in Administrative Leadership from the University of Oklahoma (Boomer Sooner!). Additionally, I have earned 35 industry and technology certifications, because I find myself easily bored when not studying something.
I currently serve on the Board of Trustees for the Oklahoma Engineering Foundation and also serve as the board Secretary. As a part of the OEF, I am the state co-chair for the Oklahoma MATHCOUNTS program, which is a middle school math competition program (shameless plug: mathcountsok.org). Additionally, I serve on the Advisory Board for Oklahoma Women in Technology, am the IT Sector Chief for the Oklahoma Infragard FBI program, am the board President for the Center for MIS Studies at the University of Oklahoma, and my family founded the Bittle Family Scholarship for women pursing Math or Technology degrees at Oklahoma universities. I love working in the community and have served on the Board of Directors for Free to Live, served as assistant den leader for my son's Boy Scout den, and have volunteered for many non-profit organizations through Leadership OKC Class 35 (BCE) and membership in Beta Sigma Phi sorority.
My main hobbies are photography and silversmithing, but I never met a craft I didn't like. I have been married for 25 years to my high-school sweetheart, Steven – IT professional by day/musician by night, and have a 14 year old son who loves baseball, track and wrestling. So, my other hobbies include attending metal concerts, baseball games, track meets and wrestling matches.