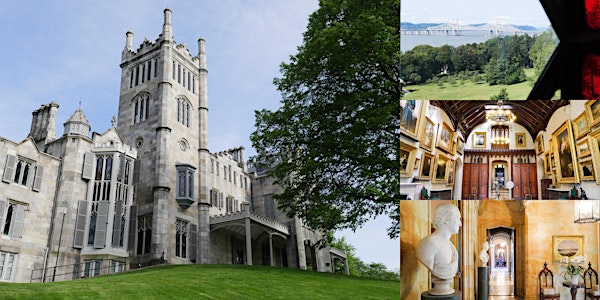 Behind-the-Scenes @ Lyndhurst Mansion, Hudson River Valley Jay Gould Estate
New York Adventure Club | www.AdventureClub.com
When and where
Location
Lyndhurst Welcome Center (See Confirmation Email for Important Instructions) 635 Lyndhurst Museum Lane Tarrytown, NY 10591
About this event
Perched on a hill overlooking the Hudson River in Tarrytown, NY is a majestic estate that is a definitive American icon of architecture and landscape. Who are the families that once called this incredible property home, and how have the grounds and mansion changed over the past 150 years? It's time to explore one of the most lavish estates of the Hudson River Valley in a way few others have before.
Join New York Adventure Club for an exclusive behind-the-scenes tour at Lyndhurst Mansion, which is considered one of America's finest Gothic Revival mansions and an outstanding example of 19th-century landscape design.
Led by one of Lyndhurst's most veteran docents, our intimate three-hour exploration of the former Jay Gould estate in Tarrytown, NY — which is an exclusive combination of the Mansion, Backstairs, and Landscape tours — will include:
The history of Lyndhurst Mansion and its former occupants including New York City mayor William Paulding, merchant George Merritt, and railroad tycoon Jay Gould
A walkthrough of notable first floor rooms inside the mansion including Jay Gould's private office and the sumptuous Victorian Dining Room
A visit to the second floor to see decorative bedrooms, Tiffany and La Farge stained glass windows, and magnificent Grand Picture Gallery featuring its original collection of European paintings
A look at 'back-of-the-house' areas including the servants' quarters, root cellar, kitchen, and 1911 laundry building
A walk up the 5th floor observatory tower for spectacular views of the lower Hudson Valley
A discussion of Lyndhurst in pop culture including its appearance in HBO's "The Gilded Age" series
An exploration of the grounds to see landscape features installed during the Helen Gould period (1892-1938) such as the pool, kennel, and gardens
As a rare treat, we'll finish the experience inside the restored bowling alley, which is typically only opened by private appointment only.
Click here to see photos from one of our last visits to Lyndhurst!
See you there!
*Some areas of the tour will require climbing stairs
**Due to limited food options at Lyndhurst Mansion, attendees are highly encouraged to bring their own snacks
***Please bring water and wear a comfortable pair of shoes as we'll be on our feet for the duration of the tour
****Transportation to Lyndhurst Mansion is not included
*****Masks are required in all indoor spaces
Transportation
*Please double check train departure times the day before as schedules can shift due to track work.
**Please bring cash for taxi ride to/from Tarrytown Station to Lyndhurst Mansion
By Public Transit: Take the Hudson Line Metro-North Train from Grand Central Terminal, and disembark at the Tarrytown Station — cabs are available from in front of the station. If using Uber, reserve a ride several minutes before arriving at the station to reduce waiting time.
If you'd like to walk, disembark one stop earlier at Irvington Station and take the Old Croton Aqueduct trail right to the property — click here for a Google Maps view of the walking route (Approx. 30-40 minute walk)
Metro-North tickets can now be purchased via your smartphone — click here for more details.
Trains from Tarrytown depart for GCT roughly every 30 minutes.
By Car: Attendees may park at Lyndhurst Mansion for free — grounds fee is waived for tour ticket holders.
Testimonials
"I've been to Lyndhurst Mansion many times. This expanded tour was the best I've ever experienced." -Virginia
"Rick was fun and knowledgeable. We learned so much about the property and the family. Very happy we got to see everything." -Katie
"Loved the tour guide and the venue" -Elizabeth
"Interesting site. Excellent guide. Small group." -Paul
"Best guide ever. Knowledgeable Beyond expectations and great sense of humor." -Catherine
"Our tour guide was very knowledgeable, friendly and made the experience more interesting then I originally thought it would be" -Peter
"Great tour guide, incredible estate" -Kelly
"The guide was delightful. Spoke clearly with great knowledge love & humor. Saw a great deal" -Joan
"Our docent, Rick, was the best! personable, knowledgeable, accommodating, funny" -Vicky
"The guide, Rick, was outstanding - extremely knowledgeable but also entertaining. Very thorough tour - saw every part of the home." -Melanie
"Our guide was extremely entertaining. He knew so much trivia that it really made the tour special" -Richard
"Very comprehensive visit to the mansion" -Leonard
"We saw EVERYTHING" -Dorothy
Disclaimer
By attending a New York Adventure Club experience, you accept our terms of service.
Categories: In-Person, Mansions & Private Clubs