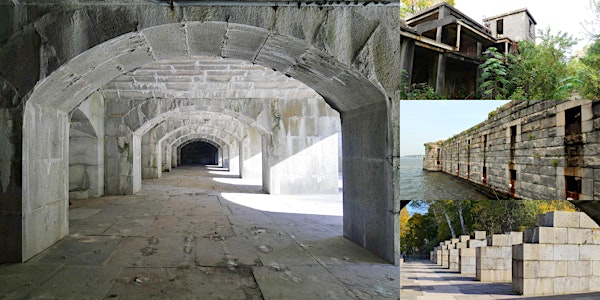 Behind-the-Scenes @ Fort Totten, 1800s New York City Waterfront Fortress
New York Adventure Club | www.AdventureClub.com
When and where
Location
Fort Totten Visitor Center 502 Lee Road Bayside, NY 11359
About this event
In the 19th and early 20th centuries, the United States Army built several major waterfront fortresses around New York City to prevent enemy fleets from ever reaching New York Harbor. While some were abandoned decades ago, one in Queens has been largely preserved with remnants dating back to the Civil War era. It's time to explore a19th-century waterfront fortress right here in New York City like never before.
Join New York Adventure Club for a private exploration through restricted sections of Fort Totten, a preserved fortress in Bayside, Queens dating back to the 1800s.
Led by an Urban Park Ranger, our guided tour and exploration through public and private sections of the historic Fort Totten complex before the fort opens to the public will include:
The history and story of Fort Totten, and its many roles throughout the centuries including as a Civil War Fortress and Artillery Base
The contributions of the fort's Engineer School of Application, which developed the first search light, underwater minefields, and torpedos
A visit to the historic Fort Totten Water Battery and Main Magazine, a third system civil war era Fort built in 1862
A special trip inside the Water Battery's torpedo storage vault and restricted Endicott era batteries
Chances to spot migratory birds flying through the area
Click here to see pictures from one of our last visits.
See you there!
*Please bring water and a pair of comfortable shoes as we'll be on our feet for the duration of the tour
 **Please note that the starting location is a 10-15 minute walk from the parking lot
Transportation
By Public Transit: 7 Train to Flushing Station, transfer to Q13 or Q16 to Fort Totten OR Port Washington LIRR train to Bayside, transfer to Q13 to Fort Totten. Walk to the visitor center (budget 15 minutes!).
By Car: Cars will not be permitted to drive into Fort Totten — parking lot outside park, follow signs inside the park to the visitor center.
Testimonials
"I found it very informative and interesting." -Eileen
"I liked seeing a part of the city I wasn't familiar with and its history" -Edward
"The ranger was very knowledgeable." -Steve
"Interesting to hear the history of the place" -Gregor
"Ranger Joe was very knowledgeable." -Marie
Disclaimer
By attending a New York Adventure Club experience, you accept our terms of service.
Categories: In-Person, Neighborhood Tours