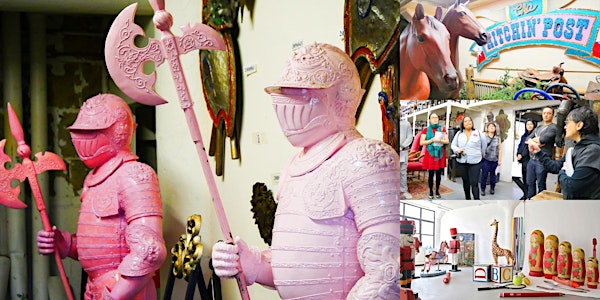 Behind-the-Scenes @ Eclectic Props, Largest Film & TV Prop Company in NYC
New York Adventure Club | www.AdventureClub.com
When and where
Location
Eclectic/Encore Properties (2nd Floor) 47-51 33rd Street Queens, NY 11101
About this event
Imagine a place where film & television decorators could rent thrones for their medieval sets, top hats for their 19th-century character actors, and fake squirrels for scenes of nature in NYC. This wonderland exists, and all in a Long Island City warehouse — ready to be one of the few industry outsiders to see it firsthand?
Join New York Adventure Club for an exclusive, behind-the-scenes tour of Eclectic / Encore Props, New York City's largest collection of antiques, furniture, and accessories for rent on the East Coast.
Led by the CEO & Founder of Eclectic / Encore Props, our all-access experience through the multi-floor 95,000 square foot space, once a former Pepsi Cola factory, will include:
An overview of the history and story behind Eclectic / Encore Props, and how the founder went from only having $175 in her pocket to running one of the largest prop companies on the East Coast
A walkthrough of the three-story facility that contains props in dozens of categories including Sports & Weapons, Toys, Diner, and Juke Boxes
A first-hand look at the comprehensive cataloging system that keeps track of over one million props
A discussion around logistics and how the company services thousands of New York film, TV productions, Print shoots, and events
Click here to see pictures from one of our last visits to Eclectic Props!
Click here to see a short video on Eclectic Props!
See you there!
*All guests must wear a mask at all times when inside the facility
**Please wear comfortable shoes as we'll be on our feet for the duration of the tour
***The Eclectic Props lobby is located on the second floor, up one flight of stairs. If you are in need of elevator access from the street, please notify New York Adventure Club in advance so we can share important details surrounding the elevator entrance.
Testimonials
"The vastness of the collection and the information about how it operates were of equal appeal." -Neil
"Such a fun and interesting place to visit. Suri and staff so pleasant, informative, and helpful." -Ellen
"The amazing variety of stuff! It brought back memories and I learned a bit about film/TV production. Also Suri - her generosity and obvious love of what she does is infectious." -Mary
"The tour was excellent." -Robert
"The owner's background fascinated me, how she grew her business." -Sheila
"The founder who led tour was warm and personable with great stories to tell." -Deb
"Learning the history of the business from the owner, and the huge scope of items displays." -Marsha
"Incredible place most New Yorkers have no clue is in their midst. Amazing hands-on businesswoman who made it all happen." -Marcy
"Everything - the place itself, but also the very kind owner." -Klaus
"Fun peek behind the scenes. Movie magic! It was fun to wander and ogle the rooms." -Megan
"I love hearing the studio owner's stories." -Dominick
"Wow, what an interesting array of props. Would have loved to spend more time there." -Cedric
"So much to see it was a dream come true!" -mike
"The simple sincerity of the owner and the tour." -Presley
"The entire tour was fascinating. It actually could have been longer since there is so much to see. Best tour I've taken in a long time. Highly recommend it." -Mary
Disclaimer
By attending a New York Adventure Club experience, you accept our terms of service.
Categories: In-Person, Factory & Facilities Tours