Description

This event will host some of the top practitioners and academics in applied behavioral science along with marketing executives to address how to succesfully apply behavioral science to the marketing space.
It will be a one-day summit held at the beautiful University Club of San Francisco, atop Nob Hill.
The operational cost of the Summit has been covered by a donor. 100% of the proceeds will be donated to Take Her Back, which is an organization that rescues sexually trafficked minors out of brothels in India and rehabilitates them.
For more information visit www.behavioralmarketingsummit.com.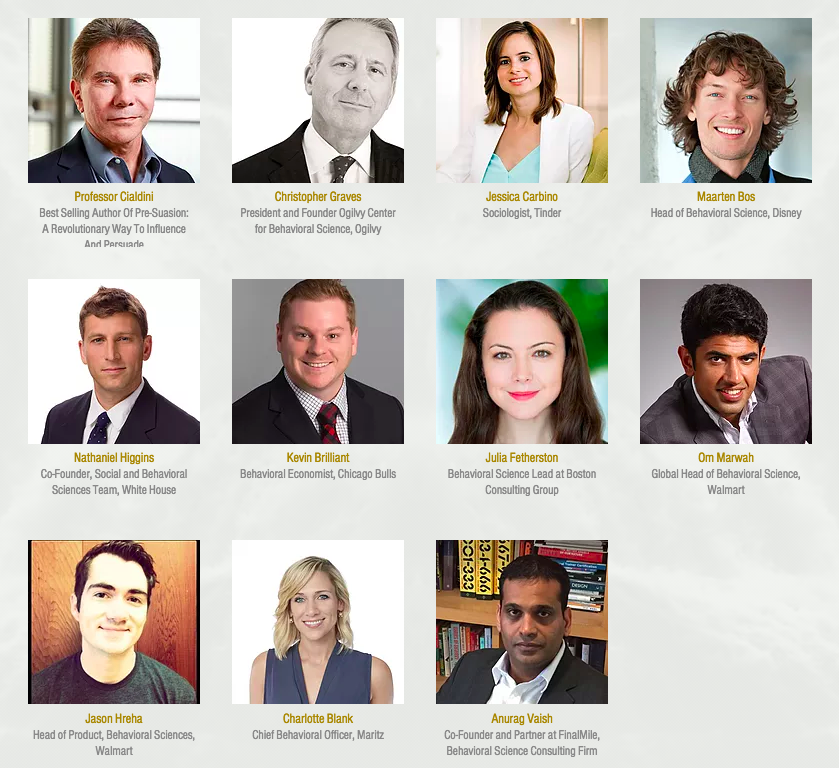 SCHEDULE
8:30am // Registration, Coffee & Mingling
​
9:00am // Welcome Address, Om Marwah
​
9:05am // Christopher Graves
​
9:35am // Julia Fetherston
​
10:05am // Kevin Brilliant
​
10:35am // Break
​
11:00am // Maarten Bos
​
11:30am // Jessica Carbino
​
12:00pm // Break for lunch
​
1:00pm // Nathaniel Higgins
​
1:30pm // Anurag Vaish
2:00pm // Break
​
2:30pm // Om Marwah
​
3:00pm // Robert Cialdini
​
4:30pm // Introducing Take Her Back, Tom Hogan
​
4:40pm // Break
​
5:00pm // Charlotte Blank
​
5:30pm // Drinks and Mingling