Behance Portfolio Review Pensacola

Tuesday, November 3, 2015 from 5:30 PM to 8:30 PM (CST)
Event Details

Come join Pensacola Designers for another amazing Behance Portfolio Review in Pensacola, FL where creatives from the Gulf Coast meet and take your portfolio to a professional level. 
The event offers a chance for students to have a one-on-one review of their portfolio of work by one or more of a diverse group of advertising and design professionals who donate their time for this event. Practice your interviewing skills with professionals and receive valuable feedback on your portfolio.
Portfolio Night is open to: students, emerging designers, those who are returning to the profession after some time off, changing career paths or anyone looking for guidance and feedback with a visual communications portfolio including, advertising, graphic design, illustration, and multimedia design.
Reviewers List: Parenthesis means the area of specialization and point of view that would be most interesting to students selecting a reviewer. 
Namrata Advani | Lamar Graphics | Art Director (Digital Outdoor Advertising & Dynamic Capabilities) | PSC/SCAD Graduate
Somi Choi | idgroup | Designer (Branding, In-House, Lettering)
Jared Granger | InVision | Designer (Branding, In-House)
RT Herwig | Red Square Agency/RSQ | Creative Director
Mark Hopkins | PSC | Design Program Coordinator
Felipe Munoz | Emagination | Art Director (Agency)
Jennifer Peck |  | UWF Marketing & Creative Services | Senior Designer (In-House) | UWF grade
Stephanie Powell | Hello Dreamers –  Freelance Designer | Adjunct PSC Instructor (Branding) | Full Sail grad
Kyle Schmitz | Accountingfly | Product Designer (UI/UX/Web, Start Ups) | PSC/Savannah grad
Pola Young | UWF Marketing & Creative Services | Creative Director (In-House)
Veronique Zayas | Hatchmark Studio | Freelance Designer (Branding, Lettering, Freelancing)
Stay Up to Date! For full bios of the reviewers, event details, and door prize sponsors, visit the Facebook event. One lucky attendee will win a full year subscribtion to Adobe Creative Cloud (value $600+)
FAQs
What can/can't I bring to the event?
Bring your portfolio in book form, or load images on a tablet/laptop. WiFi will not be available. Be sure your tablet/laptop is ready to go as soon as you sit down with your creative directors. Waiting until you sit down to load files etc. wastes time. Finally, have all of your devices fully charged before arriving.
It is always good to have a pen and pad on hand to jot down notes, as well as business cards, résumés and CVs to give to the people you meet. Beyond that, be sure to bring questions to ask the creative directors you meet. Don't be afraid to ask for specific advice to help you improve!
What should I put in my book?
Your book should only include your absolute best work, work that best represents your capabilities and thinking. Print ads, out of home, interactive, guerrilla, whatever. But remember: quality trumps quantity, and weaker pieces bring the whole portfolio down. It's better to have a book with only six mindblowingly awesome pieces than it is to have a book with six awesome pieces and seven or eight mediocre ones.
Can I choose which reviewer I'll see?
Due to the intimate environment, YES! We suggest you research the reviewers beforehand so it's easier to select the one(s) you want to see the day of. Getting to the event early/on time ensures you get your pick based on career goals. However, if the one you want is booked, you can always add your name to the reviewer's Alternate List so if their down with their allotted students and have some spare time, they may be open to check your book out. Otherwise, everyone selected has an amazing viewpoint and will help you out no matter what.
How much time do I have my reviewer?
This event follows a fast-paced format, and as such, you will have approximately fifteen minutes for each of your scheduled reviews.We suggest practicing to get your portfolio presentation to 8–10 minutes. If you find that you are unable to present your entire portfolio in 15 minutes, it is possible that you may have included too many projects.
What will the atmosphere be like?
Admittedly there will be a lot of nervous people at the event, but don't worry, we keep the atmosphere fun! It will be hosted in a laid-back environment. We've got friendly interactive contests and door prizes throughout the night to keep it easy-going.
Is there a dress code?
No, but keep in mind that your portfolio is but one element in presenting yourself to creative directors. Be yourself, but be the best version of yourself, whether you're a jeans and T-shirt sort of person or the next Don Draper.
What should I expect from the creative directors I meet?
Most importantly you should be getting constructive feedback. This is your time with them, so don't be afraid to ask for it! It is also a great idea to exchange contact information in order to keep in touch in the weeks and months ahead.
Will there be food and drink at Portfolio Night?
Yes! Pizza, snacks and drinks will be provided courtesy of some of our reviewers' businesses. Pensacola Designers is a completely volunteer-led group.
How to do I get to the UWF Comm Arts building? Parking?
Once you're at the UWF main entrance, turn LEFT onto Campus Drive and go straight until you see Parking Lot G in front of the Commons. You will see directional yard signs directing you to walk to the Comm Arts building 36, room 108.
PARKING: Available in Lot H or Lot G in front of the Commons. You won't need passes to park since it will be after 5.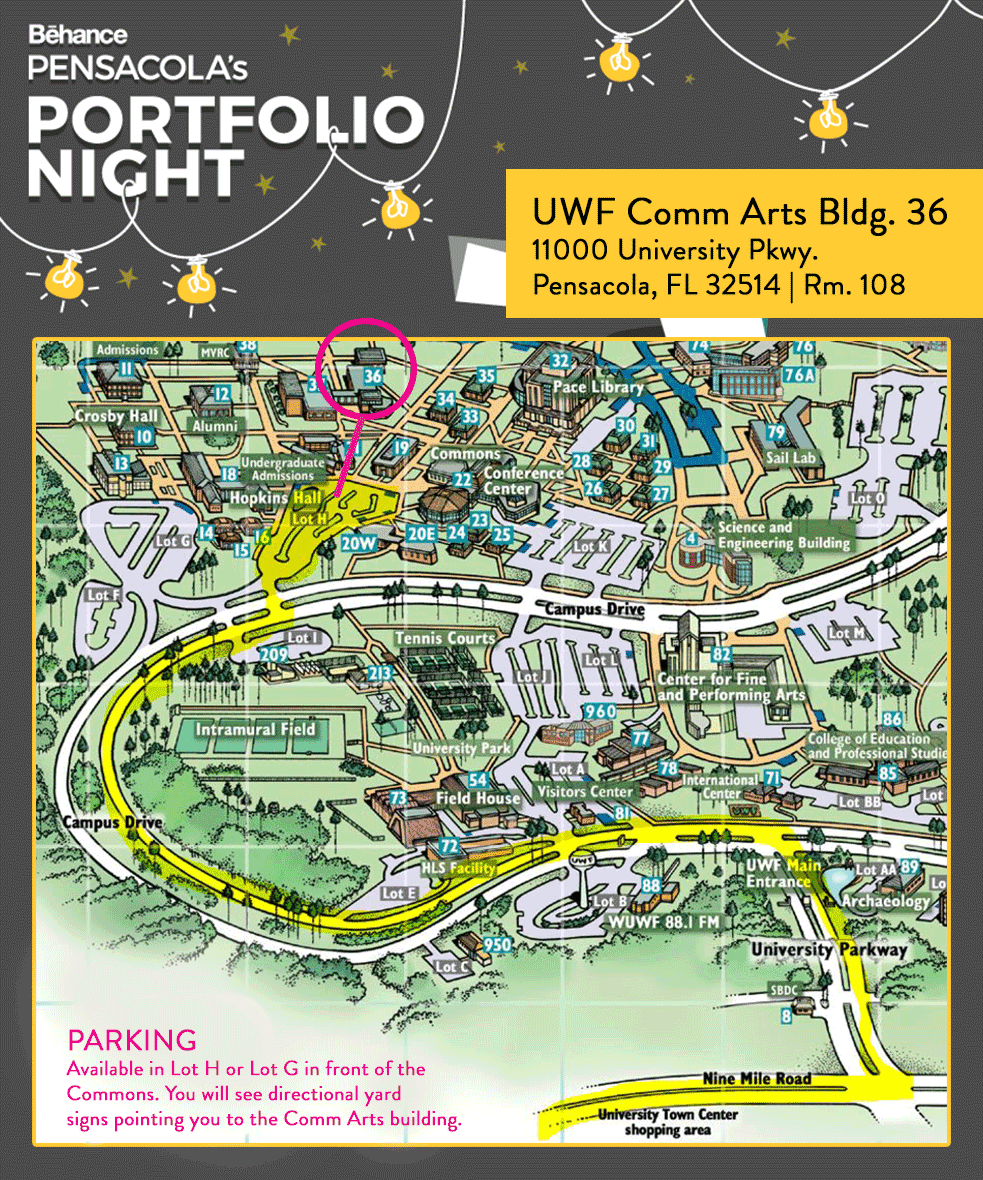 When & Where

UWF Comm Arts Bldg. 36 | Rm. 108
11000 University Pkwy.
Pensacola, FL 32514


Tuesday, November 3, 2015 from 5:30 PM to 8:30 PM (CST)
Add to my calendar
Organizer
Freelance graphic designer and illustrator with an affinity for fried chicken and sweet tea.