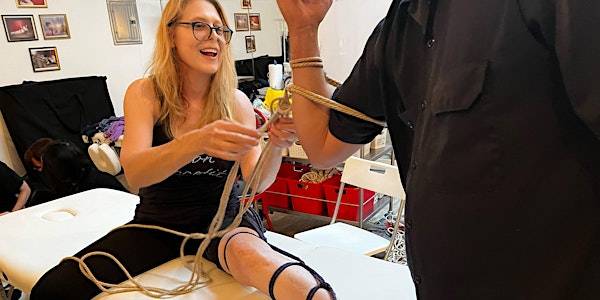 Beginning Rope Bondage with Miss Cassie
Cassie teaches a practical blend of Western & Shibari Style Japanese Rope Bondage. In this class you will learn all the basics of tying!
When and where
Location
Children of Lilith Temple - EXACT ADDRESS with Ticket Breed Street Los Angeles, CA 90033
About this event
WE ARE DELIGHTED TO HAVE GUEST INSTRUCTOR, MISS CASSIE TEACHING ROPE BONDAGE AT OUR SCHOOL!
As many of you know, Our focus here at Dominatrix School has always been, and will be on Female Domination! But that doesn't mean BDSM Skills shouldn't be accessible to E/everyone - even men ;) So we are now offering a limited amount of classes for ALL GENDERS & ORIENTATIONS!
This class is especially good for couples and Dom/me/X looking to up their skill set. It can be taken alone or in combination with Our Intermediate Bondage Class on 2.11 and Our Advanced Class on 2.18
Miss Cassie teaches a practical blend of Western Bondage and Shibari Style Japanese Rope Bondage. In this class you will learn the basics of rope bondage. The ties are taught in a progressive style that builds from the previous tie and shows you the skills you need to learn to advance to the next level. Beginning Rope bondage starts with learning how to bundle rope while we learn about things to know before you tie someone. This is followed by 8 detailed lessons with a meal break at the halfway point.
This is a hands on class! Be prepared to tie or be tie!
Lesson summary:
Lesson 1 - Single Column Eastern Style Cuffs
Lesson 2 - Single Column Western Style Cuffs
Lesson 3 - Double Column Cuffs
Lesson 4 - Arm Binders
Lesson 5 - Leg Binders
Lesson 6 - Karadas & Body Harnesses (Decorative Torso/Body Ties)
Lesson 7 - Chest Harness
Lesson 8 - Hogties Part One
What to bring: Blanket, Yoga Mat or Pillow we will be tying on the floor.
Bondage Rope if you have some. OtherwisenMiss Cassie she has some loaner rope for classes or if you desire she has rope, EMT shears and accessories for sale you can to buy at class.
What to wear: This is a class not a party, no fetish clothes. Street wear is required to enter the dungeon. Comfortable clothing for class is recommended such as yoga pants and a sports bra (something stretchy and fitted) for bottoms (those being tied) and something breathable, easy to move in for tops (those doing the tying).
Location: Private dungeon DTLA adjacent in a quaint neighborhood between the 101 and 5 freeways. 2 Parking lots close by $2.50 for day. Location address given out with admission ticket purchase.