Beginning Beekeeping Workshop

Sunday, April 1, 2012 from 9:00 AM to 3:30 PM (EDT)
Event Details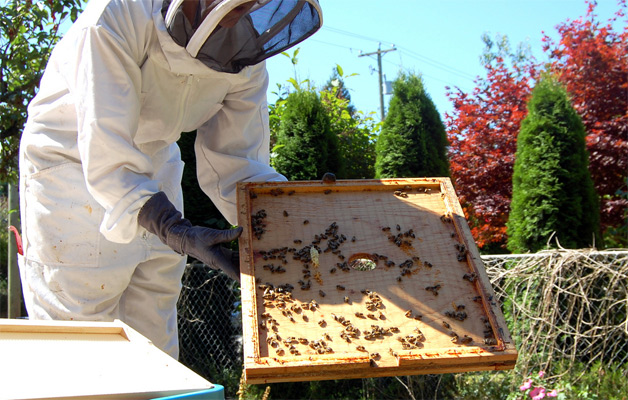 Beekeeping, much like backyard gardening, is on the rise. Across the state, hive numbers are growing and beekeeping classes are reporting record attendance. Part of the reason for this sweet turn of events is certainly due to media attention surrounding Colony Collapse Disorder and the precipitous drop in bee population numbers. Bees pollinate more than three quarters of our flowering crops, and it's often said that without them, humans would have to survive on bread and water alone.
But, as usual, there's also a food safety angle. Late last year, I read a report released by Food Safety News showing that 76% of all honey bought at grocery stores were treated with a process called "ultra-filtration," which removes not only impurities like wax, but also all traces of pollen.
Ultra-filtration has its own set of issues -- it's expensive and doesn't significantly improve shelf-life, not to mention many believe that pollen is actually beneficial to human health. But the biggest reason to avoid ultra-filtered honey is that pollen is the only sure-fire way to trace the source of honey to a geographic location. As a result ultra-filtration is often used to mask the shady origins of certain kinds of honey -- especially Chinese honey, which is frequently contaminated by heavy metals and illegal antibiotics.
So, have we convinced you to check out beekpeeing yet? Are you ready to take the first step? Then join us for a Beginning Beekeeping Workshop on April 1, 2012, taught by the Central Virginia Beekeeping Association. Learn the basics like:
Beekeeping Equipment – what and where to order and how to assemble
Bees – how to site a colony and where to order bees and how to install
Supplemental feeding – materials and timing
Potential problems – mites, disease, predation
This class WILL sell out, so register today!
Beginning Beekeeping
Date: Sunday, April 1, 2012
Time: 9:00am - 3:30 pm
Location: Ivy Creek Natural Area, Charlottesville VA
Cost: $35 (attendees must also purchase The Beekeeper's Handbook, 4th Edition before the class)
Questions: info@localfoodhub.org or (434) 286-2176
Image credit: kpwerker/Creative Commons.
When & Where

Ivy Creek Natural Area
1776 Earlysville Road
Charlottesville, VA 22901


Sunday, April 1, 2012 from 9:00 AM to 3:30 PM (EDT)
Add to my calendar
Beginning Beekeeping Workshop