Description
Beginner/Intermediate Sewing
Wednesdays January 10, 17, 24, & 31st

6:00 to 8:00

Instructor: Nan Smith
$140 non-members
$125 members for 4 week session
Learn how to sew! Or have a project started that you need help with? Know some basic machine sewing but want to learn expert tips? During these workshops, Nan will work with you at your own pace. We'll cover the basics such as fabrics, fitting, laying out, pinning & cutting a pattern to make a project, depending on what you want to learn. Plus using the best notions & stitches for the project on your sewing machine. Come to one or more sessions to improve your skills.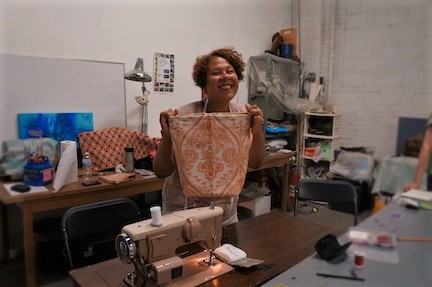 What you will learn:
Review the tools of the trade
Sewing machine maintenance
Fabrics & thread
Preparing, marking, and cutting fabric
Patterns, fitting & cutting
Sewing terminology
Best stitches for your project
Hand & machine finishing
Completing a simple project
PREREQUISITES:
No sewing experience necessary. Enthusiasm for learning to sew!
MATERIALS:
Bring your portable sewing machine if you have one- it is important for you to become familiar with your own machine. We provide fabric and notions needed for the class. If you do not have a sewing machine, don't worry- you can pre-register to use one of our machines by emailing db@simakerspace.com upon registration. As part of the class you will be required to put together a simple sewing kit with basic tools such as scissors, measuring tape, etc. Nan will provide a sewing kit list to participants.

REFUNDS/CANCELLATIONS:
Class size limited to 6 students. Minimum 3 students. We reserve the right to cancel the class if we do not have the minimum amount of students. If we cancel, we will refund you in full and notify you.
You may cancel and get a full refund up to three days before the class. After that, refunds are contingent on us being able to fill your seat. Under no circumstances do we offer refunds to individuals who cancel on the same day. This ruins the party for everyone.