Description
Join Midwest Photo and David Hobby of Strobist.com for a full day lighting workshop designed for photographers new to lighting and off camera flash!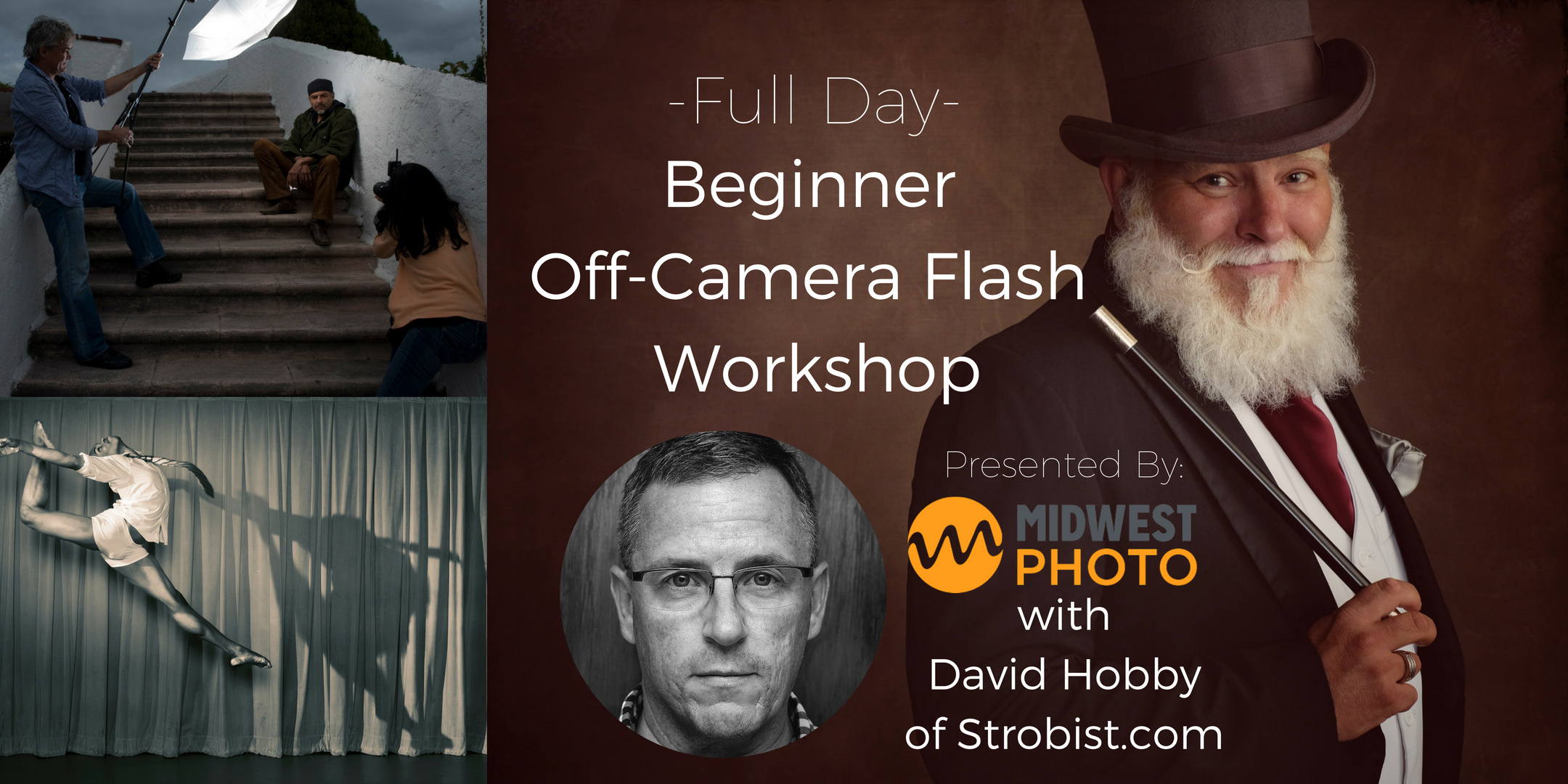 Do you meekly characterize yourself as an "available light" photographer? Does the thought of using flash off-camera give you the heebie-jeebies? Does your idea of getting wild and crazy with your flash mean throwing it into TTL mode and bouncing the light off of a wall? (Woooooo, crazy…)

Well you can kiss your fear of flashing goodbye. This start-from-zero, one-day class will take you from flash anxiety to creating beautiful portraits with any off-camera lighting gear.
This is a hands-on workshop. Everyone will be shooting and controlling flash by the end of this event! Attendees will also have the opportunity to purchase LumoPro Off Camera Flash kits at special workshop prices, so if you do not have all the gear yet, don't worry, we have got you covered!
Limited space- 15 person max!
Class Timeline:
9:30am -12:30pm -First Session
12:30pm -2:30pm -Lunch Break
2:30pm -6:00pm- Second Session
Learn more about David Hobby at Strobist.com
FAQ's
Is lunch provided?
Lunch is not provided but there will be a long lunch break. Light snacks, coffee, soft drinks, and water will be provided.
What gear should I bring?
Bring your digital camera (with charged batteries and empty memory cards) with your favorite lens(es), and your speedlight setup if you have one. You do not need to own a speedlight to take this class and there will be savings on LumoPro gear for attendees! Bring a notepad and a pen if you like taking notes, though there will be a lot of hands on, too!
Is David Hobby cool?
The coolest. We love him.
What if I have questions?
Contact tj@mpex.com if you have any questions about this event. See you there!
Learn more about David Hobby at Strobist.com
DAVID HOBBY
David Hobby's informal teaching style draws upon his experience of photographing over 10,000 assignments over 20 years to make learning how to master your small flashes not only easy easy, but also fun.