Connect with a circle of women to explore your inner strength and the strength that rises when women unite.
About this event
Join us for this unique workshop honoring the beauty of Capoeira, now celebrated by women world-wide. Capoeira is the Brazilian martial art combining movement, music and Afro-Brazilian history. Capoeira was originally created by Afro-Brazilian slaves. Disguised as a dance, slaves used the movements and rituals originating from their homelands in West Africa as a way to train and escape. African nations united under one goal of freedom.
Learn the history and basic movements of Capoeira in addition to the origins behind the music, song and instruments of Capoeira.
For those attending class in person, we are requiring proof of vaccination and we kindly ask you to wear a mask (available at the studio for free if needed). Individuals must be fully vaccinated or have proof of a negative COVID-19 test result administered by a testing provider. The negative result must be within the last 3 days.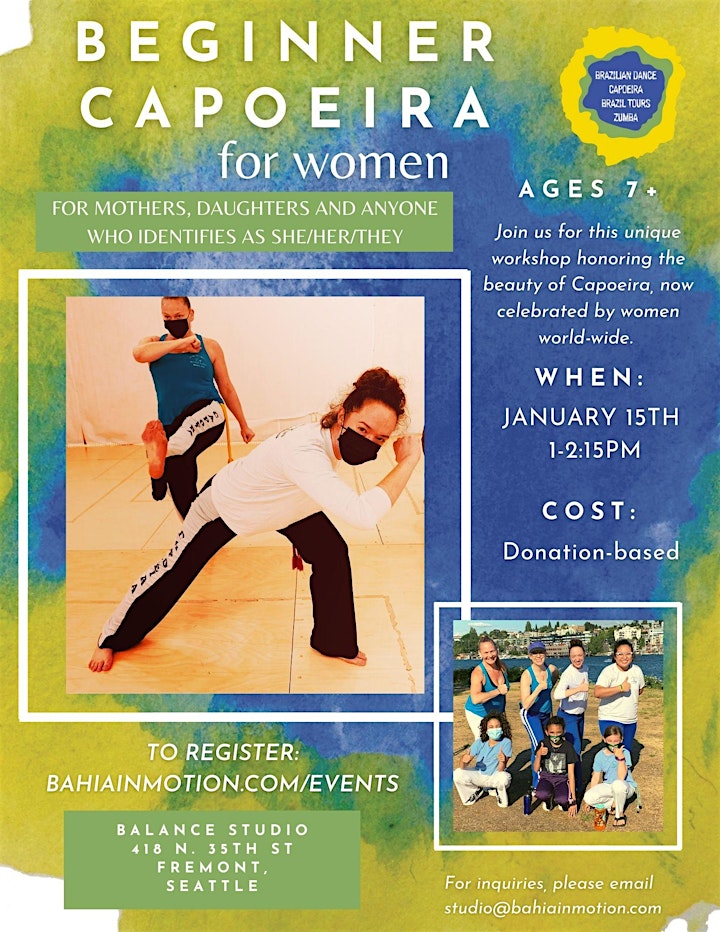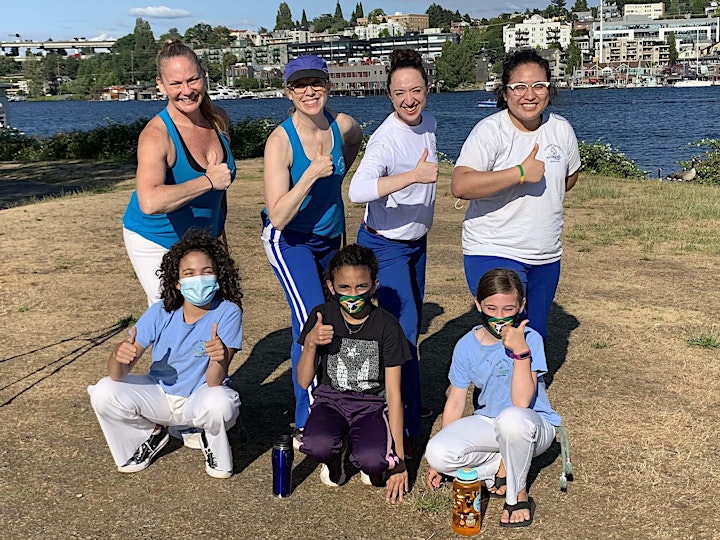 Organizer of Beginner Capoeira for Women Workshop
Bahia In Motion values the importance of a healthy body, mind and spirit and the integral role the arts play in remaining balanced. Bahia in Motion is committed to building community and enriching the lives of individuals and families through dance, Capoeira, travel, and the joy of Afro-Brazilian culture.  
Daniel Nery dos Santos Filho and Aileen Panke are co-creators of Bahia In Motion.  Their story began in Salvador, Brazil where they met in 2004 studying dance. They shared a dream of opening a studio which offered a place to build community and promote wellness. In 2008 they married and moved to Seattle, WA. They have worked diligently over the past 12 years to create Bahia In Motion and Grupo de Capoeira Moringa de Barro. Bahia In Motion has partnered with several Seattle-based schools and organizations including Pacific Northwest Ballet, Seattle Theater Group, Spectrum Dance Theater and Cornish College of the Arts. In June 2012, they opened Balance Studio in the Fremont neighborhood of Seattle where they now hold their weekly Capoeira and Afro-Brazilian dance classes.