Description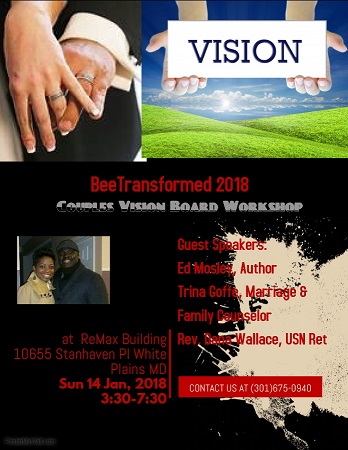 Enlarge Your Family Vision for 2018
This event is only open to couples
2018 is definitely a New Year! It's not only a time for celebration, but a time to establish new direction and reset your mind as well.
Wives are you ready to start 2018 with a concrete and unified vision for your family?
Husbands, wouldn't it be great to share your vision for your family with your spouse and provide clarity about the family's direction for 2018?
This vision board workshop is designed with you in mind. Come ready to be motivated and energized to visualize your family dreams, reset your family's mindset, and set short term goals to make them a reality with other fun couples!
To prepare:
1. Talk with your spouse to create a combined vision for 2018
2. Decide on the top 5 priorities for your family to accomplish
3. Bring old magazines, picture(s) of your family scissors, and glue
4. Think about or bring affirmations to support the vision
(Poster boards, markers and other supplies will be provided)
What to expect:
3 dynamic, special guest speakers, renewed sense for your family vision, fun people, ice breakers, demonstrations, positive energy and light refreshments
Admission: Free
Romans 12:2
https://www.postermywall.com/index.php/poster/view/decdfce885a3a4e80beb73b701dc9268