About this Event
Music lifts our spirits and exercise keeps us healthy. Celebrate the power of both with WPR's virtual "Beethoven's 5th (Symphony) 5K Run/Walk/Roll" this June.
Whether you're a seasoned runner or someone just looking for a fun, healthy outdoor activity - our virtual race lets you go at your own pace on your own schedule. No crowds, no parking, no official starting line.
What: Run, walk or roll 3.1 miles/5 kilometers (or more) while listening to Beethoven's 5th Symphony.
Where: Map your own route (or use a treadmill), track your own time and then report back to us.
When: Complete your "race" between June 13 and June 20, 2020.
Who: Open to all ages and abilities.
Cost: Free, but you can support WPR by getting the fun and funky "Beethoven's 5th 5K" shirt for $35 (Get yours here). All proceeds support WPR. Every runner gets a free, customized "print at home" race bib you can wear for running and/or photos. Bibs will be available the week before the event.
Get the Shirt! Support Wisconsin Public Radio and show you participated in our first Beethoven's 5th 5K. This classic, and clever, design is printed on supersoft cotton in Chicago, IL. Available in Men's/Unisex, Women's Fitted and Kids sizes in three color choices. Get yours here.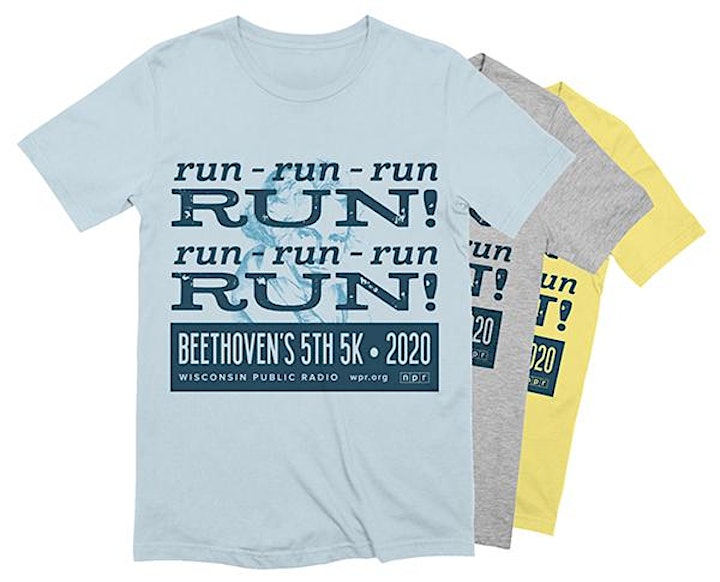 Helpful Links
Mapping Your Route: If you need help mapping your route to equal the 5K (kilometers), or 3.1 miles, there are a some good free options online. Map My Run is free and no registration is required. Other free options include Strava and On The Go, but both require registration.
Where To Get Beethoven's 5th Symphony: There are numerous versions of Beethoven's 5th Symphony available for download or stream on popular music services such as Spotify. Be sure to get the full symphony with all four movements - it is typically 30 to 35 minutes long. There are some free versions online as well.
Advice from the Mayo Clinic for Runners
+++
Stay Safe
If you wear headphones while you run/walk/roll, please be aware of your surroundings.
Pace yourself - you don't have to run if you're not feeling up to it. Any combination of running, walking, or rolling is encouraged.
Stay hydrated - make sure you have plenty of water along your chosen route or bring water with you. Remember, some public drinking fountains and facilities may be closed due to the COVID-19 pandemic.
Avoid busy roads and crowded areas - when mapping your route, make sure there are designated paths or sidewalks for runners. Don't run in the street and avoid crowded areas.
Follow local guidelines for social distancing and use of a face mask in public.
Questions about your fitness? Consult your physician or medical provider before signing up.