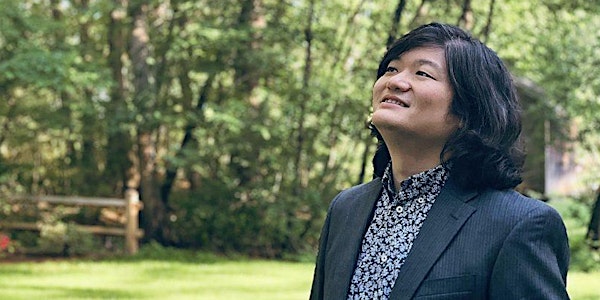 BEETHOVEN FESTIVAL Chamber Music Concert with Pianist Hsiang Tu
Virtuoso Concert Pianist Hsiang Tu, Clarinetist Russell Harlow, Violinist Donna Fairbanks, Violist Leslie Harlow and Cellist Cheung Chau
When and where
Location
Park City Community Church 4501 Utah 224 Park City, UT 84098
Refund Policy
Contact the organizer to request a refund.
Eventbrite's fee is nonrefundable.
About this event
About the Artists:
PIANIST HSIANG TU
Beethoven Festival audiences have fallen in love with the artistry of virtuoso pianist Hsiang Tu, the Taiwan native who earned his master's and doctorate from the Juilliard School. Hsiang Tu will be joined by Festival Artists Russell Harlow, clarinetist, Donna Fairbanks on violin, Leslie Harlow, violist, and Cheung Chau, cellist.
Praised by The New York Times for his "eloquent sensitivity" and The Boston Intelligencer for his "impeccable technique," pianist Hsiang Tu has graced the audience with his creative programming and wide range of repertoire. Dr. Tu is currently working on the complete cycle of piano solo works by Claude Debussy and Maurice Ravel and thematic recitals featuring animal-themed music and opus-one compositions. Born in Taipei, Taiwan, he debuted in New York at Alice Tully Hall in Lincoln Center as the winner of The Juilliard School Concerto Competition, and he has performed in venues all over the world, including the Museum of Modern Art in New York, Banff Centre for Arts and Creativity, National Museum Cardiff, and National Recital Hall in Taipei. 
A prize winner at the New Orleans International Piano Competition, the Iowa International Piano Competition, and the American Paderewski Piano Competition, Dr. Tu has appeared with the Calgary Philharmonic Orchestra, Louisiana Philharmonic Orchestra, Sioux City Symphony Orchestra, and the World Civic Orchestra, among others. He has given master classes at Cardiff University, University of Southern California, Penn State University, Loyola University New Orleans, Utah Valley University, and Colorado Mesa University.
Before being appointed as an Assistant Professor of Piano at Virginia Tech, Dr. Tu taught at the University of New Hampshire, Utah Valley University, and Snow College. He studied with Hung-Kuan Chen, Jerome Lowenthal, and HaeSun Paik, and holds a B.M. in Piano Performance from the University of Calgary and an M.M. and D.M.A. in Piano Performance from The Juilliard School. For more info, please visit hsiangjohntu.com.
FESTIVAL ARTISTS
CLARINETIST RUSSELL HARLOW
Clarinetist and Beethoven Festival Artist in Residence Russell Harlow is one of the nation's premiere solo and chamber clarinetists. Mr. Harlow performed the New York Premiere of the Ramiro Cortes Trio (written for him), along with the Brahms Quintet, at Carnegie's Weill Hall in New York. The Sonolumina Ensemble ISOMIKE Label recording featuring Mr. Harlow, "Chamber Music for Clarinets and Strings", has received critical acclaim in both the U.S. and Europe.
Russell Harlow co-directs the Beethoven Festival Park City and has performed and lectured for International Clarinet Association events throughout the world. His webiste ClarinetCentral.com is regularly visited by clarinetists worldwide. In addition to performances in Utah with the Beethoven Festival, the Contemporary Music Consortium and Sonolumina Orchestra, Mr. Harlow has performed with the Affetti Festival, Sitka and Anchorage Fall Classics Festivals (Alaska), the Amsterdam Chamber Players, the Puerto Rico Clarinet Festival, the Ars Nova, Lyrica and Piatigorsky Foundation concerts in New Jersey and with the Leonore Trio and Bargemusic in NYC.
Russell Harlow's mentors include Gary Foster, Mitchell Lurie, Harold Wright and violinist Charles Libove, and he was coached in chamber music and attended the master classes by cellist Gregor Piatigorsky. Harlow is featured on recordings with flutist Laurel Ann Maurer, the Mirecourt Trio, the Beethoven Festival and the Utah Symphony abd has recorded numerous solos for major filmscores. He founded and directed Utah's Nova Series until he joined the Beethoven Festival as Co-Director in 1986. He attended both UCLA and USC before joining the Utah Symphony at the age of 21.
VIOLIST LESLIE BLACKBURN HARLOW
Festival Artist in Residence, Violist Leslie Harlow, is the Founder and Co-Director of the Park City Beethoven Festival. She has performed in chamber concerts with a host of the finest artists of this era. A graduate of the Juilliard School, Leslie Harlow performed in master classes for William Primrose, Paul Doktor, Donald McGinnis, Heidi Castleman and Nabuko Imai and her primary teachers were Marna Street, Susan Schoenfeld, Paul Doktor, and violinist Harry Shub with additional lessons with Heidi Castleman, Donald Wright and Francis Tursi. Ms. Harlow studied chamber music with coaches including Felix Galimer, Samuel Rhodes, David Soyer, Paul Doktor, Charles Castleman, Robert Sylvester and Julius Baker.
Following graduation from Juilliard, Ms Harlow moved to Utah with the plan to found a chamber music festival modeled after festivals she had been performing with over the years. She founded the Deer Valley (Utah) Chamber Music Festival in 1984 which has since been renamed the Beethoven Festival. The Festival continues to this day as Utah's oldest classical music festival, as of 2019, presenting over 750 festival chamber concerts featuring many of the finest classical soloists of this era.
An active recording artist, both in chamber music and in commercial studio work, Ms. Harlow's viola solos have been featured on a number of film and television soundtracks including "Murder in the First", "Surviving Picasso" and, most recently "Alpha". She also founded and for many years directed the Park City Film Music Festival, the first U.S. film festival dedicated to the impact of music in film.
Active in teaching, Leslie Harlow is the coordinator and coach for the chamber music program Utah Valley University Department of Music in Orem, Utah. In 2015 Ms. Harlow was invited to present the collegiate level viola master class at the National ASTA Convention and to as judge for the collegiate solo competition.
Representing the Festival, Leslie and clarinetist Russell Harlow perform concerts together with their colleagues throughout the year. They particularly enjoy performing for senior residents in retirement homes and for aspiring young artists at their schools.
Outside of the Festival, Harlows are busy professional performing artists, invited to perform in Utah and beyond, including for the Bargemusic Series in New York. Leslie Harlow's recording credits also include the critically-acclaimed SACD recording for the ISOMIKE label: Chamber Music for Clarinets and Strings which features works by Karel Husa, Bohuslav Martinu and Ingolf Dahl.
VIOLINIST DONNA FAIRBANKS
Donna Fairbanks received a Doctor of Musical Arts in Violin Performance from the University of Arizona, a Master of Music from the Eastman School of Music, and a Bachelor of Music from Brigham Young University, with additional conservatory studies at the University of Missouri Kansas City and the University of Cincinnati. She studied with Zvi Zeitlin, Varujan Kojan, William Harroutonian, Tiberius Klausner, Percy Kalt, John Ferrell, John Lambros, and Howard Beebe. She received chamber coaching from members of the Cleveland Quartet and the legendary violist William Primrose. She also performed and participated in master classes with Joseph Silverstein, Sylvia Rosenberg, and Dorothy Delay. She has given solo performances with several orchestras including the Orquestra Sinfônica de Londrina (Brazil), Utah Symphony, Charleston Symphony, Sun Valley Festival Orchestra, Utah Valley Symphony, as well as numerous collegiate and youth orchestras. Among her competition successes are the Kansas City Philharmonic Competition for Young Artists, the Cincinnati Conservatory Congress of Strings Competition, and the Utah Symphony Competition for Young Artists. She has presented masterclasses and recitals in Europe, China, Mexico, Brazil, and throughout the United States. Notable venues include the Teatro Ouro Verde in Brazil, the National Shrine of the Immaculate Conception in Washington, DC, the Cyrus Dallin Museum in Boston, the Rotterdam Conservatory in the Netherlands, the Schumann in Zwickau Festival in Germany, the Hungarian National Gallery in Budapest, the Ghent Festival in Belgium, the Hagibor Center in Prague, the Universities of Valladolid and Córdoba in Spain, and the Universities of Nanjing, Shanzi, and Huazhong in China. Dr. Fairbanks has been a member of several chamber ensembles including the Aurora Duo with harpist Lysa Rytting, the Escalante Trio with pianist Jeffrey Shumway and cellist Nicole Jackson, and the Atma Quartet with violinist Blanka Bednarz, violist Elizabeth Wallace, and cellist Cheung Chau. As a member of the Aurora Duo with harpist Lysa Rytting, she has recorded CDs with MSR Classics, 4TAY Records, and Tantara Records. These CDs have received widespread acclaim, featured on dozens of classical music radio stations throughout the country, including WNYC New York City, WFMT Chicago, WPRB Princeton, WQED Pittsburgh, WSHU Connecticut, WFSU Florida, the Minnesota and Wisconsin Public Radio Networks, and the Beethoven Satellite Network. In particular, WNYC New York City and WGBH Boston devoted special programs with commentary to selections from her CDs.
CELLIST CHEUNG CHAU
Cellist and conductor Cheung Chau is director of orchestral studies and cello studies at Utah Valley University and directs the Utah Valley Youth Symphony and the Sinfonietta Polonia in Poland. He has served as music director of Bloomington Symphony, Central Pennsylvania Symphony, the Manchester Symphony, assistant conductor to Edo de Waart at the Hong Kong Philharmonic, and held positions at Haverford College and University of Connecticut. Chau received the first-ever double doctorate degree from the New England Conservatory in wind ensemble conducting and cello. He studied with Frank Battisti and Jorma Panula, cello with Colin Carr, Aldo Parisot and Eleonore Schoenfeld. Chau soloed with the Hong Kong Philharmonic and the Macao Orchestra, and recorded works of Ravel, Mendelssohn and Szymanowska for Acte Preable as member of Atma Trio. Chau has conducted the Hong Kong, Nordhausen, Sudecka, Lublin, Tianjin and Wuhan Philharmonics, and Filharmonica Marchigiana. He conducted the Williamsport Symphony, Moscow Symphony, Gavle Symphony, Kielce Philharmonic, Olsztyn and Bialystok Philharmonic Orchestras. Invited by Edo de Waart, Chau led the Hong Kong Philharmonic in the 2007 world live broadcast opening ceremony of the 10th anniversary celebration of Hong Kong's HandoverChau was conductor of the Central Pennsylvania Youth Ballet and the Poznan Dance Academy in productions of Giselle and L'histoire du soldat. He guest conducted the Royal Swedish Academy Opera and Georgia Southern Opera in Marriage of Figaro, Don Giovanni, and Cosi fan tutte. As conductor Chau has collaborated with soloists from the Berlin Philharmonic, Metropolitan Opera, Minnesota Orchestra, London Philharmonia, Academy of Saint Martin in the Fields, Colin Carr, Pierre-Ives Artaud, Adrian Levine, Maria Masycheva, Nathan Hughes, Barbara Kubiak, Barnabas Kelleman,and Patrycja Piekutowska. As music director of Sinfonietta Polonia Chau recorded Palester's String Serenade for the label Acte Preable, conducted the orchestra in the International Szymanowski Festival in Beijing in 2011 with performances at the National Center for the Arts and the Beijing Concert Hall.