Location
The Well
272 Meserole Street
Brooklyn, NY 11206
Description
Hop Culture announces Beers With(out) Beards, a celebration of women in the beer industry. This ticketed tasting festival will be held at The Well in Brooklyn, NY, on Saturday August 11th, and will feature 20+ women-owned breweries or breweries helmed by female brewers.
The beer festival will be held in one four-hour session.
Session Time: 12am - 4pm
General Admission Ticket: $50 plus fees
Designated Driver Ticket: $20 plus fees
Follow @hopculturemag and sign up for our weekly newsletter to stay updated on the event!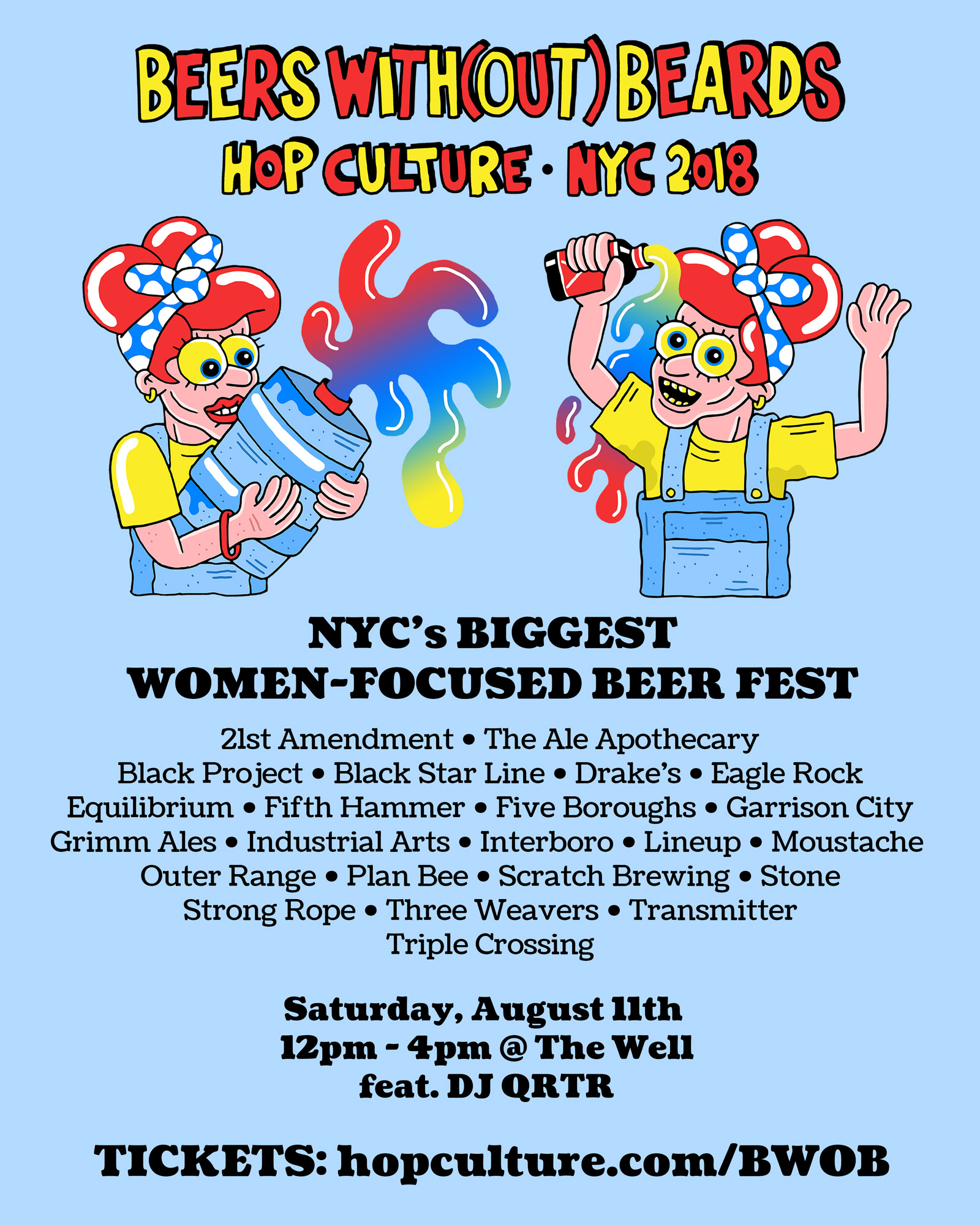 General
Where will the event take place?
The Well, 272 Meserole St, Brooklyn, NY 11206
When is this happening?
The festival runs over one session on Saturday, August 11th, 2018.
Is there an age limit?
All attendees must be at least 21 years old with a valid ID.
How many tickets are available?
We'll have 700 tickets total.
What do I get with my ticket?
The VIP ticket gets you access to the festival a half hour early, as well as a custom tote, teku, tasting glass, and access to an exclusive VIP area.
The General Admission ticket gets you access to the festival. Upon entering, you'll receive a limited-edition taster designed by Sam Taylor, and a brochure that includes a map of the festival.
The Designated Driver ticket gets you access to the festival, but you won't be able to drink! Upon entering, you'll receive a ticket that's redeemable for a complimentary t-shirt from our merch stand.
Will there be food?
There will be food. We'll have food available for purchase at the venue from several vendors.
The Beer/Breweries
Who is attending?
The current list is as follows. Note that this is subject to change, but we'll do everything in our power to avoid that!
21st Amendment Brewery
The Ale Apothecary
Black Project Spontaneous & Wild Ales
Black Star Line Brewing Co.
Drake's Brewing Co.
Eagle Rock Brewery
Equilibrium Brewery
Fifth Hammer Brewing Company
Five Boroughs Brewing Co.
Garrison City Beerworks
Grimm Artisanal Ales
Industrial Arts Brewing
Interboro Spirits and Ales
Lineup Brewing
Moustache Brewing Co.
Outer Range Brewing Co.
Plan Bee Farm Brewery
Scratch Brewing Company
Stone Brewing
Strong Rope Brewery
Three Weavers Brewing Company
Transmitter Brewing
Triple Crossing Brewing Co.
When is last call?
Brewers will be instructed to stop serving beer 10 minutes before the end of each session.
Who will be pouring the beer?
For Beers With(out) Beards we think it is especially important that the women brewer or owner behind the beer is on hand to pour beer, answer questions, and start conversations. We have worked our hardest to make sure that the female brewer or founder will be present.
Which beers will be served?
The beers at the fest are extremely fresh and limited release, so it's hard to predict brewing schedules well in advance. However, we'll release the beer lists in the week leading up to the fest as they become available.
Will there be enough beer?
We bring enough beer to our festivals that the majority of breweries will be pouring beer for the entire fest. However, due to their popularity, some breweries will kick their kegs before last call, typically within the last 45 minutes. We do our best to avoid this, but we also want to avoid wasting beer.
Other FAQs
Is there a map?
Yes. You'll receive a layout of the festival upon entering.
Will you have merchandise?
Absolutely. Our festival tasters and official teku were designed by London-based Sam Taylor. Our official festival shirt was designed by Kailah Ogawa.
How do I apply for media passes?
Send an email to Kenny at kenny@hopculture.com. Please include the name of your publication or account and your estimated reach.
The Rules
Please DO NOT open any cans or bottles during the festivals. For legal reasons, they will be confiscated.
It's a beer fest and we want everyone to have a good time, but anyone that's visibly intoxicated and acting like a clown will be asked to leave.
Tickets are non-refundable and subject to applicable taxes and fees, as well as changes. All sales are final, no exceptions!
With the mission to empower the role of women in craft beer, Beers With(out) Beards will craft constructive conversations, empower everyone, break beer-iers, and FERMENT the future for women in this industry.
Cheers to Beers Wth(out) Beards. We look forward to toasting with you on August 11th!