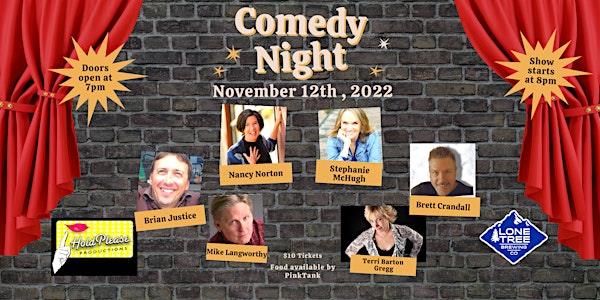 Beers & Cheers Comedy show at Lone Tree Brewing Company
Join us for a night of Beers & Cheers at Lone Tree Brewing Company on Saturday, November 12th starting at 8pm! Over 21years old only!
When and where
Location
Lone Tree Brewing Company 8222 Park Meadows Dr Lone Tree, CO 80124
Refund Policy
Contact the organizer to request a refund.
Eventbrite's fee is nonrefundable.
About this event
Our food truck that night will be the PinkTank food truck!
Here's the lineup for our Beers & Cheers comedy show! Comedian's Bios below!
Headliner: Nancy Norton
Feature Comic: Stephanie McHugh
Emcee: Terri Barton Gregg
Comics: Mike Langworthy, Brian Justice and Brett Crandall
Nancy Norton Bio: Through Standup Comedy, Nancy shows how humor has been proven to benefit businesses, families, relationships and individuals by reducing stress and trauma triggers, while increasing creative problem solving, team building, bonding, conflict resolution, resilience, job retention, overall joy, immunity and good health.
Nancy's talk, "Find Your Ahahaha Moments!" reveals Humor is a basic human need. Norton relates this to a broad range of organizations and incorporates custom material to address specific insider jokes, pain points and goals.
Nancy's healthcare anecdotes will leave you in stitches… and really wanting to STAY WELL!
Breakout Sessions Offered: "Practicing Playful Presence" a mini-improv workshop
Experience the joy of being in the moment to anchor learning, help increase bonding, and team building! Easy, non-competitive, no pressure to be funny, and fun for all.
Nancy Norton lives in Colorado and balances speaking, workshops and comedy engagements with being a "Single-Stay-Away-From-Home-Mom" to her teenage son who she adopted as an infant in
Nepal in 2005. A magical journey that truly would not have had a happy ending without humor.
2018 - Winner of the Prestigious Boston Comedy Festival. The only woman to win that festival in the 19 years of it's existence.
Stephanie McHugh Bio: Stephanie McHugh knew at a young age that she had the ability to make others laugh, yet she didn't venture on to the comedy stage until she was 35, married with 2 kids; the prime time to start a new career...Nine months after her first time on stage, Stephanie won a trip to the Las Vegas Comedy Festival which launched her career.
Stephanie has been a feature of the Denver comedy scene for over 17 years. During this time, she has appeared on Nick at Nite's TV Show "America's Funniest Mom" and was a host on The Steve and Stephanie Morning show on KOOL 105. If that was enough, she is also a co-founder of the MentalPause Comedy Show.
Stephanie loves dogs; has a recipe for chocolate tofu pie that you will LOVE and can touch her tongue to her nose. All qualities that yell success.
Brett Crandall Bio: Brett's quick wit, instant likeability and unique way of engaging any audience has made him a favorite at many clubs and theaters all over. Getting his start in Denver, Brett has performed for audiences at Comedy Works Denver, Oahu Hawaii and all over the western United States. Brett's act is largely inspired by his own personal experiences and passions. With a laid-back, likable, yet biting style, Brett is sure to bring big laughs, now and into the future.
Brian Justice Bio: Brian Justice is a comedian, educator, and writer originally from the mountains of Tennessee. He won Best New Comedian at Wit's End's first Comedy Contest, has been a script supervisor for indie films, and wrote three stage plays for local Denver theaters.
Mike Langworthy Bio: Mike was born, raised and educated in Michigan (B.A. University of Michigan; J.D., Wayne State University Law School), where he practiced law as an insurance attorney until he decided to follow his dreams and break his parents heart by changing careers. He moved to New York where he trained as an actor and began working in standup comedy at The Improvisation, Catch A Rising Star, The Comic Strip, and a host of other clubs.
After over a decade of crisscrossing the country as a featured and headline act in colleges and comedy clubs, Mike settled in Los Angeles and made a transition to television writing. He has held every job on situation comedy staffs, from staff writer to show creator/showrunner and executive producer. He has been involved in the production of over five hundred episodes of television across all platforms including network, cable and online. He continues to develop scripted projects and consult on shows in the United States, Canada, Ireland, The United Kingdom and Europe.
Along the way, Mike has earned an MFA in creative nonfiction from the Stonecoast School of Creative Writing at the University of Southern Maine where he taught screenwriting as a student. He has been a columnist and essayist and is at work on a memoir about his experiences in standup comedy and the television industry.
Host & Emcee Terri Barton Gregg Bio: TBG is host of the place to be!!! She's the Queen of this scene and curator of outstanding nights of stand-up comedy. Terri tells funny jokes and stories about her supremely smart husband, very funny father and most adorable granddaughter is the proprietor of "Hold Please Productions". Get there early, meet Terri, hug, laugh and then talk about something very important and central to a great night enjoying a comedy show. You gotta talk to Terri about what you're having for dinner. It's important. A good audience should be fed with great food, libations and lots of heart healthy laughter!