Beers and Ears: A Bar Hop Fundraiser

Thursday, August 6, 2015 from 6:30 PM to 9:30 PM (CDT)
Event Details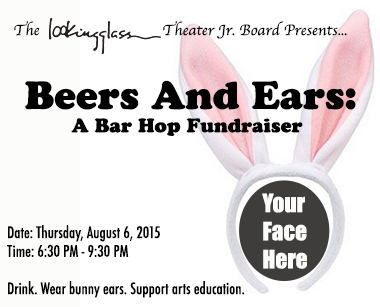 Q: WHAT IS BEERS AND EARS?
Beers And Ears is a post-work, mini bar hop fundraiser to raise funds for the Lookingglass Theatre. Your $30 donation entitles you to (discounted) drinks, meet new friends and wear rabbit ears.
Q: WHAT IS THE LOOKINGGLASS THEATRE?
The Lookingglass Theatre is a Tony-award winning, nonprofit theater company that produces incredible shows  (like "Moby Dick," which you should totally check out) and is dedicated to enriching the lives of Chicagoland's youth through its Education and Community Programs. Guided by an artistic vision centered on the core values of collaboration, transformation, and invention, Lookingglass seeks to capture audiences' imaginations leaving them changed, charged and empowered.
Q: SO, HOW IS THIS EVENT GOING TO WORK?
First, you'll purchase your ticket above and you'll be added to The List of Drinking Rabbits.

Then, on Thursday, August 6 at 6:30 PM, you'll fall down the rabbit hole at She-Nannigan's on Division for our first stop. It is there that you will secure a wristband and yes, your rabbit ears. We will have Rabbit Representatives there to take down your name and give you said wristbands and ears.

From there, we'll make additional stops at McFadden's and, finally, Original Mother's.
It's a Thursday so we're keeping it short and sweet. Whether or not you choose to physically hop from bar to bar is up to you. Just watch out for traffic. Otherwise, go nuts.
Q: THAT'S A GREAT CAUSE! WAIT, WHY THE EARS?

To be clear, it isn't an Easter thing. We checked. Not everyone celebrates the holiday and it's in the Spring anyway. Thanks, Internet!

The ears thing is a nod to Alice in Wonderland. The Lookingglass Theatre's imaginative and innovative shows represent the same spirit that Alice had when she walked through the looking glass into Wonderland.

Plus, wearing rabbit ears breaks the ice when you meet people. It really levels the playing field.
Q: AFTER WE PART WAYS, WHEN CAN WE SEE YOU GUYS AGAIN?
Funny you should ask. We'd love to see you at our big fundraiser later this month - The Madhatter's Maritime Ball on August 29th. Check out the highlight video from last year's event here!
Q: WAIT, WHAT IS ALICE IN WONDERLAND AGAIN?

An awesome book by Lewis Carroll. Read it when you've sobered up from the bar hop.
When & Where

She-Nannigan's House of Beer
16 West Division St
Chicago, IL 60610


Thursday, August 6, 2015 from 6:30 PM to 9:30 PM (CDT)
Add to my calendar