Description
King AP Promotions, Juggla Promotions, GT Fiah Entertainment, and John Wayne Promotions present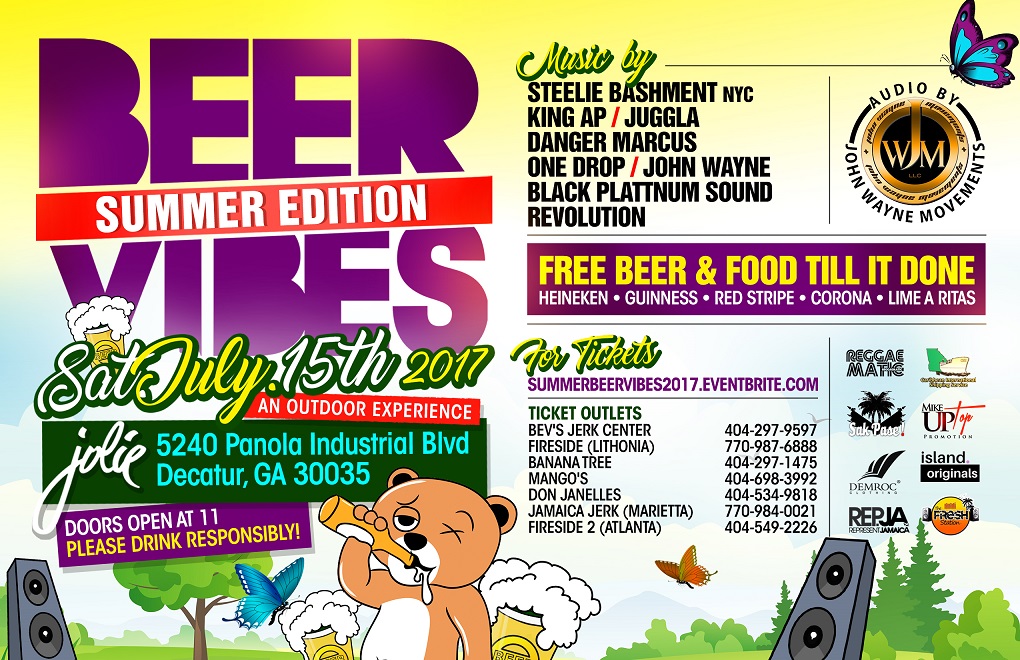 BEER VIBES Summer 17 - ATL's #1 All-Inclusive Event!!!!!
If you attended last summer then you already know how sickkkkkk Beer Vibes was! Where else can you party OUTSIDE, drinking FREE BEER and eating FREE FOOD in the middle of the night with loud music and NO ISSUES?????? Only at BEER VIBES!!!! This time we have STEELIE BASHMENT straight out of NYC coming to shell the party, along with Atl's finest DJs! DON'T MISS OUT! Vibes are GUARANTEED!
If you've never experienced a Beer Vibes, this is your chance to get on board! Pure Vibes all night! Tickets start at ONLY $20 (while supplies last) - DO NOT SLEEP ON THIS DEAL!! THE TICKET PRICE **WILL** GO UP AT THE DOOR!!!!!

Also BRAND NEW for this BEER VIBES - ***purchase a VIP ticket and get a FREE T-SHIRT!!!!*** Be sure to email us your size when you purchase the ticket!

*** This event is OUTDOORS outside Jolie Event Center - BUT WE ARE STILL PARTYING RAIN OR SHINE!!! ***
FREE BEER ALL NITE!!!
BEERS - Heineken, Lime-a-Rita, Corona, Guinness, Red Stripe

IT'S ALL GOING DOWN RIGHT HERE:
Jolie - An Event Center

5240 Panola Industrial Blvd

Decatur, GA
GET YOUR EARLY BIRD TICKETS NOW FOR ONLY $20!!!!!!!!!!!! WHILE SUPPLIES LAST (tickets are very limited)!