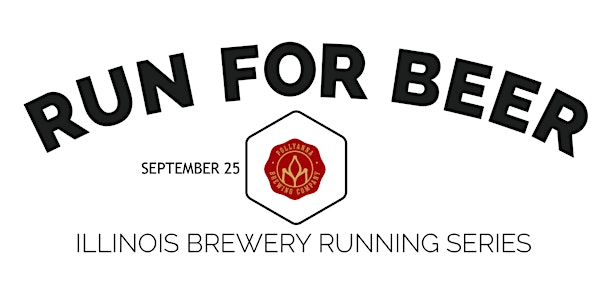 Beer Run - Pollyanna Brewing Company - 2021 IL Brewery Running Series
Sales Have Ended
Registrations are closed
Thanks for your interest in this event! Learn more about us and check out all our live events and virtual offerings at www.breweryrunningseries.com
Sales Have Ended
Registrations are closed
Thanks for your interest in this event! Learn more about us and check out all our live events and virtual offerings at www.breweryrunningseries.com
Join us for a fun run course and great, local beer at Pollyanna Brewing Company on Saturday September 25th at 11:00am!
About this event
Safety is #1! We will be respecting all COVID-19 safety guidelines as outlined by the CDC and our local department of health.
We understand these details may vary and are always subject to change. If these details change the nature, date, timing of this event and you are no longer interested or able to attend, we will do our best to accommodate.
The current time listed for the run is what is planned, typically IL Brewery Running Series events start anywhere between 10am and 12pm on Saturdays and Sundays. Should the event end up having starting waves, participants already registered will be communicated on how to select their wave.
Keep an eye out for additional communications from us as this event date approaches. We'll share everything you need to know.
--
We are the Illinois Brewery Running Series and we run for beer!
Come join us at Pollyanna Brewing Company on Saturday September 25, 2021 for a 5kish course that starts and ends at this awesome St. Charles taproom. Weave through the surrounding area at whatever pace you like, no matter what there's a beer waiting for you at the finish line!
What's included?! All participants receive:
FREE craft brew from Pollyanna
Your choice of a collector's pint glass or seasonal swag item from the Brewery Running Series
Your chance to win sweet door prizes, like Brewery Running Series merchandise or a growler to take home
Access to event festivities, games, goodies and giveaways
And more!
We are all about being active, having fun and giving back to our local community. Since our inaugural event (the Brewery Running Series was founded in Minnesota in 2012), we have been able to donate over $200,000 back to local nonprofits. This event will add to that tally! So not only do you get to a little exercise and enjoy a great beer, you are contributing to our awesome community!
Registration is limited, so sign up today!
Important details:
This is an untimed, fun-run. All levels of walkers, runners and joggers are welcome.
This is an open course, meaning roads will NOT be closed. You are responsible for obeying all traffic laws and regulations.
We create each route to start and end at the brewery and to show off the surrounding neighborhood. The course will be marked with arrows to help you know where to go.
You must bring a valid ID or driver's license. You do not need to be 21 to enjoy the event, but you must be 21 to enjoy the beer. Please drink responsibly. (Registered, underage participants will receive a token for a FREE non-alcoholic beverage)
Our events are rain or shine! If conditions become unsafe to run, we will still hang out and drink beer!
There will not be a bag check; please plan accordingly and dress appropriately for the weather.
There is public parking available. Is public transit an option for you? Check and see if there's an accessible route nearby. We always encourage carpooling and safe, designated drivers.
Safety is #1! We will be respecting all COVID-19 safety guidelines as outlined by the CDC and our local department of health, including but not limited to:
Masks required at the taproom at all times, unless otherwise noted.
Participants to respect social distancing and allow 6' between themselves and anyone else on the course / trail
Reduced contact for check in and event goodies at the finish line
And more as it may apply to this particular location.
Keep an eye out - we will send you all final event details via email the week of this event and share anything else you might need to know.
Questions? Contact us at serena@breweryrunningseries.com
Cheers to beers! We'll see you at Pollyanna!!
Organizer of Beer Run - Pollyanna Brewing Company - 2021 IL Brewery Running Series
WHO WE ARE: We are the Illinois Brewery Running Series and we run for beer! We host 5k-ish, fun-run events that all start and end at local Illinois breweries, primarily in the Chicago area at this time. We welcome all runners, walkers, joggers, and spectators that are interested in enjoying the great sights and unique neighborhoods around Chicagoland as well as the great craft beer our breweries have to offer. All of our participants complete a 5k course nearby each brewery. Afterwards, everyone hangs out, drinks beer, and walks away with some Illinois Brewery Running Series swag!
WHAT WE'RE ABOUT: It's simple - be active, have fun, give back! In addition to pairing some exercise with great beer, a portion of all proceeds go back to local non-profits. In 2021, we are excited to partner with the Chicago Parks Foundation and Chicago Run, among others. We are very proud the Illinois Brewery Running Series has so far donated over $20,000 to local non-profits!