Beer Run - Mistress Brewing | Part of the 2020 Iowa Brewery Running Series
Sales Have Ended
Registrations are closed
Thanks for your interest in this event! Be sure to check out the rest of our Series at www.breweryrunningseries.com
Sales Have Ended
Registrations are closed
Thanks for your interest in this event! Be sure to check out the rest of our Series at www.breweryrunningseries.com
Join us for a 5k-ish course and great, local beer at Mistress Brewing Company on Saturday, Sep 5th at 11 A.M.
About this event
UPDATED EVENT DETAILS
**Very important information, so please read all carefully!**
As of today (8/27), certain counties in Iowa are mandated to shut down bars and restaurants by 5 pm, which includes Polk County. This means that breweries are no longer allowed to stay open for inside sales off of the tap, until at least September 20, 2020.
Social gatherings and events of 10+ people need to have strong enforcement on staying 6 feet apart.
This closure is another huge blow for the service industry, as well as events management businesses. We strive to support small, local business, as we are one ourselves!
With this in mind, we're getting creative on how we can still offer and encourage...
BEING ACTIVE. HAVING FUN. & GIVING BACK!
Sooo.....
YES! The event is still on (kind of).
*MASKS REQUIRED - No contact style
*Enforced 6ft apart when on the brewery grounds
What does that mean for the event??
We will have the course available to you via arrows in the ground - just like normal courses, only minus volunteers.
You can come to Mistress Brewing to check in and begin the course at your leisure, between 10:30am-11am.
When you get back, you can pick up your swag & t-shirt (if you ordered one, or they are available for same day purchase).
REDEEM YOUR BEER!!! Mistress is still selling to-go beers, so you get a can of beer to-go! And buy more to take home!
What if I don't want to run, but I want my swag, t-shirt, and beer?
No problem!! You can still stop by to pick up your swag, t-shirt, and beer!!
What if I'm not comfortable coming to the brewery, but I want my items, and still might do the course?
We got you covered!! Let us know via email your girl Audrie, (audrie@breweryrunningseries.com), and we'll ship your items, including a gift card to Torrent Brewing to be used at a later date.
How will the post-run raffle be conducted?
We'll do it the old fashioned way once we head home ourselves! We'll draw from a hat for the awesome prizes, and if you win, you'll get an email, and we'll send you your winnings!
If you have any other questions, comments or concerns, please reach out.
______________________________________________________________________________________________________
We are the Iowa Brewery Running Series and we run for beer!
Join us at Mistress Brewing Company on Saturday, Sep 5th @ 11 A.M. for a 5k-ish course that starts and ends at this up and coming northern Ankeny location. Weave through the surrounding area at whatever pace you like, no matter what there's a beer waiting for you at the finish line!
What's included?! All participants receive:
FREE craft take out brew from Mistress Brewing
Your choice of a collector's pint glass or seasonal swag item from the Brewery Running Series
Your chance to win sweet door prizes, like Brewery Running Series merchandise or a growler to take home
We are all about being active, having fun and giving back to our local community. Since our inaugural event (the Brewery Running Series was founded in Minnesota in 2012), we have been able to donate over $160,000 back to local nonprofits. This event will add to that tally! 10% of all proceeds goes directly to Dorothy's House that provides a safe place for the practice of life for survivors of sex trafficking and sexual exploitation. So not only do you get to a little exercise and enjoy a great beer, you are contributing to our awesome community!
Registration is limited, so sign up today!
Important details:
This is an untimed, 5k-ish fun-run. All levels of walkers, runners and joggers are welcome.
This is an open course, meaning roads will NOT be closed. You are responsible for obeying all traffic laws and regulations.
We create each route to start and end at the brewery and to show off the surrounding neighborhood. We will have signage along the way
You must bring a valid ID or driver's license. You do not need to be 21 to enjoy the event, but you must be 21 to enjoy the beer. Please drink responsibly. (Registered, underage participants will receive a token for a FREE non-alcoholic beverage)
Our events are rain or shine! If conditions become unsafe to run, we will still hang out and drink beer!
There will not be a bag check; please plan accordingly and dress appropriately for the weather.
There is public parking available. Is public transit an option for you? Check and see if there's an accessible route nearby. We always encourage carpooling and safe, designated drivers.
Keep an eye out - we will send you all final event details via email the week of this event and share anything else you might need to know.
Questions? Contact us at audrie@breweryrunningseries.com or kadyn@breweryrunningseries.com
Cheers to beers! We'll see you at Mistress Brewing Company!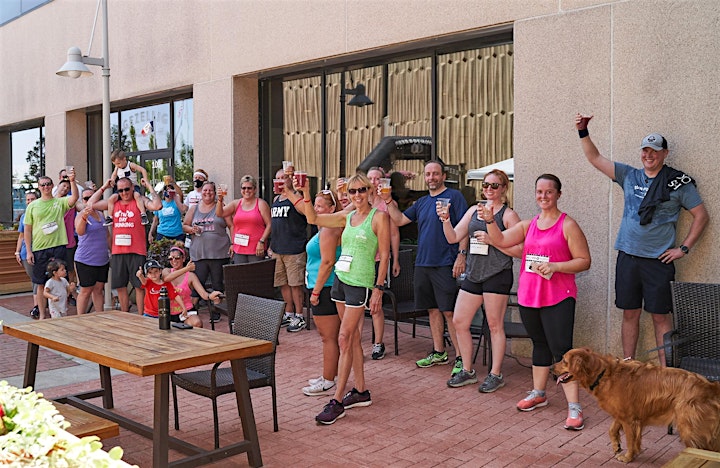 Organizer of Beer Run - Mistress Brewing | Part of the 2020 Iowa Brewery Running Series