Description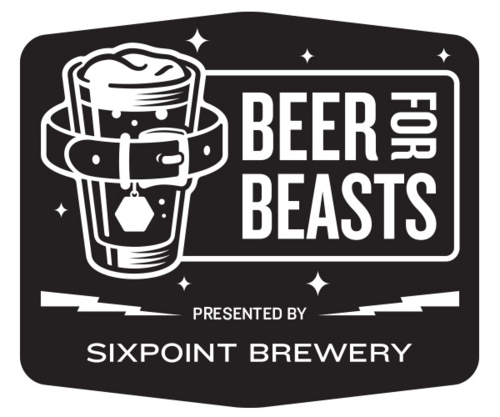 Each year, Sixpoint teams up with collaborators to help create dozens of unique brews, served at Beer For Beasts in Brooklyn, NY. These small batch, one-time offerings are formulated exclusively for the Beer For Beasts event. 100% of the net proceeds from this event go to the Humane Society of New York.
Afternoon and night sessions available. Ticket price includes unlimited samples of beer and food. See you there!

The beer collaboration list is kind of ridiculous:

Ample Hills Creamery // Gowanus
Barrier Brewing Co.
Big Alice Brewing
Bitter & Esters
Bonn Place Brewing Co.
Braven Brewing Company
Buttonwoods Brewery
Departed Soles Brewing Co.
The Drop
Fifth Hammer Brewing Company
Finback Brewery
Flagship Brewery
Folksbier Brauerei
Greenport Harbor Brewing co.
Interboro NYC
Kings County Brewers Collective
One Mile House NYC
Pine Box Rock Shop
Reverend Vince Anderson
Rockaway Brewing Co.
Strong Rope Brewery
Threes Brewing
Transmitter Brewing
Yonkers Brewing Co.

And yummy food from:

Calexico
DUB Pies
PizzaMoto
and more!

The DJs this year are sick. DJ Prof Brown will be at the controls with a special guest feature from Reverend Vince Anderson. Get your dancing shoes ready!
Can I bring my beast?
No, unfortunately the venue does not allow animals. However, you can share pictures of your furry companions by posting to Instagram using #beerforbeasts. These images might be featured at the event and on the website
Tickets are non-refundable. For more information, visit http://beerforbeasts.com.