Description
Beer Can island of Tampa bay Memberships!
Basic Trial membership - Includes use of facilities on the island, and access to our members only catered events. Valid for 24 hours.
Gold membership - Annual membership.Includes use of facilities on the island, and access to our members only catered events. Membership is good for the calander year in which it was purchased in.

Gold Boat Member - 4 printed membership cards, good for you and all your guets that arrive on your boat, plus get an exclusive boat member only flag for your boat and stickers. Membership is good for the calander year in which it was purchased in.
Basic Trial Membership $10 per person, good for 24 hours
Gold - Individual $60 yearly
Gold Boat member $160 yearly (17ft boat or less) Comes with BCI Flag
Gold Boat member $320 yearly (18ft boat or larger) Comes with BCI Flag
** 5 Year Gold Boat and individual memberships also available during ticket selection.
** BCI T-Shirts also available during checkout. Bring your receipt to the Tiki Bar to choose color and size.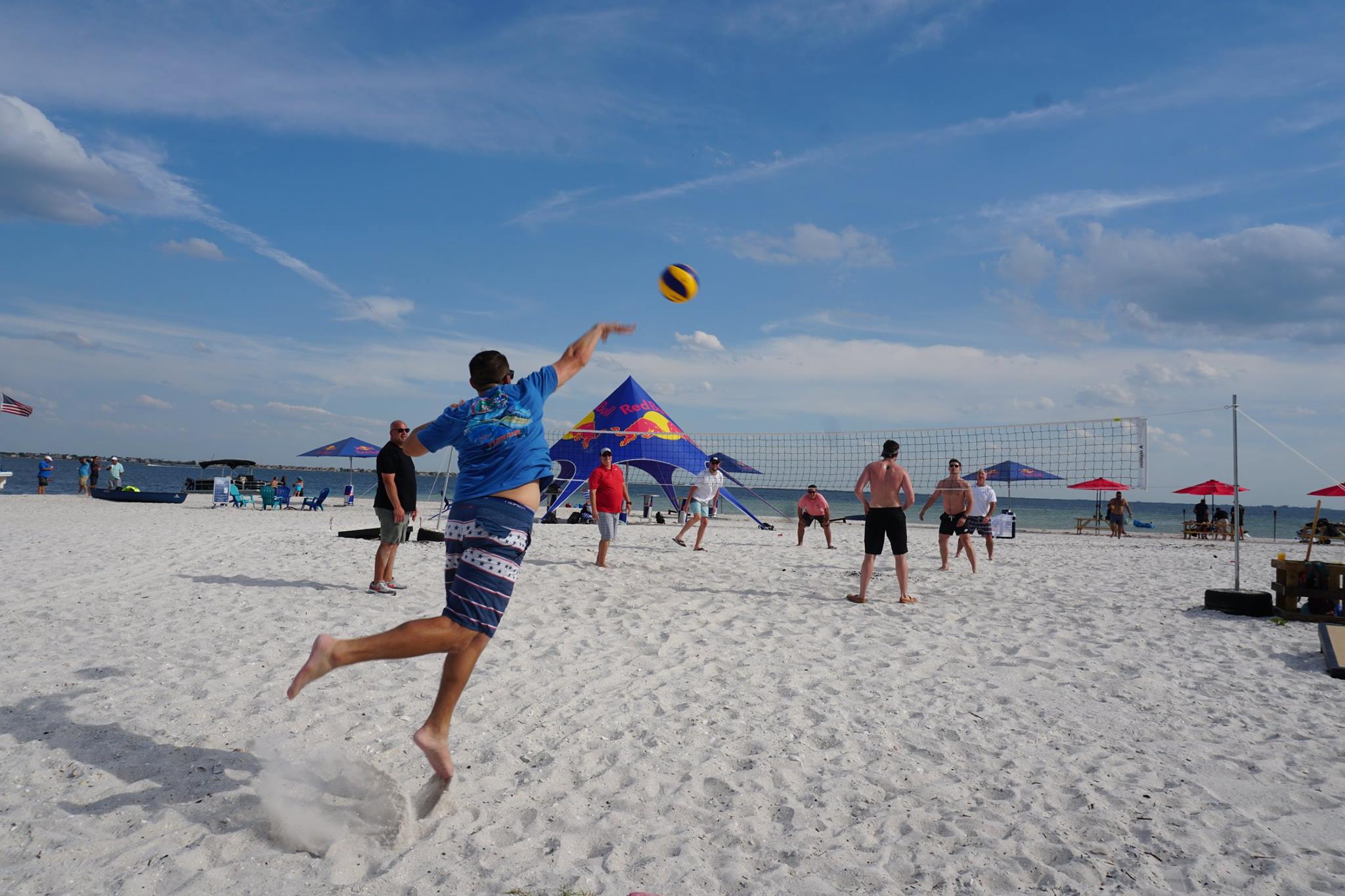 25% Discount available for Military, Fire, Police, First responders, Paramedics, Educators, 55+ and any members or employees of Non-Profit organizations.
**Please include your shipping address, we will mail your membership cards to you, if you do not give a mailing address, your cards will be sent to the island where you can pick them up at the tiki bar.
BCI is entirely funded by member investments, members dues, donations and our weekly catered events. Our effectiveness as an organization rests upon the dedication of our members and supporters. Your membership is helping us achieve a fun, safe and clean environment for family and friends to enjoy.
The proceeds of the memberships will be used for clean up, improvements and to conserve the island that we all love.
17 years old and under FREE, No pass required, All passes are valid 1 or 5 years.
Boat option: Price is based on the size of your boat, bigger boats can hold more guests.
All Boats will receive 4 member ID cards for you and your guests and a BCI flag.

Members will have an ID card issued to them from Beer Can Tampa Bay LLC and can be picked up at the Tiki Bar approximately 2 weeks after your order or IF YOU PROVIDE A MAILING ADDRESS DURING CHECKOUT, WE WILL MAIL IT TO YOU, OTHERWISE IT WILL BE AT THE TIKI BAR FOR PICKUP.
Q & A:
Q: Do I have to be a member to visit the island?
A: NO, The beach is free to use, please be respectful of others and clean up after yourself.
Q: Do I have to be a member to attend catered events?
A: Yes, which puts you on the guest list of any member catered event.
Q: When do catered events take place?
A: Every weekend, weather permitting, Beer Can Tampa Bay LLC rents the tiki bar and hires various caterers (including Tiki Bay Island LLC)... In the near future we will hire caterers during week days as well.
Q: Are your events open to the public?
A: NO, You must be a member or accompanied by a member to attend member events.
Q: Can anyone become a member?
A: NO, but the qualifications are fairly simple. If you answer "Yes" to at least 3 of the following questions you may qualify to become a BCI member.
Can you swim?
Can you travel over water without getting sea sick?
Do you enjoy fun in the sun?
Do you drink well with others?
Do you love Beer Can Island and want to help maintain the preservation and cleanliness of the island and surrounding waters?
Q: Can a non-member rent the Tiki Bar and/or hire a caterer to hold a private non-member event at Beer Can Island?
A: Yes, Anyone may rent the Tiki bar or the entire island for a special event and hire any caterer they choose. (contact us via facebook or email for details)
Q: What happens when a non-member party rents the tiki bar?
A: Members may be excluded from entry to the Tiki Bar if a private party, such as a corporate event, wedding or birthday party has exclusively rented out the entire tiki bar or a section of the deck or island, depending on the clients desire.
Q: Who do I contact if I have additional questions?
A: you can email Russ @BeerCanIsland.com (remove spaces) or Contact us via Facebook or phone.
***Please Note: Pine Key aka Beer Can Island is private property and you are our guest while on the island. Please be respectful of others, keep your music at a reasonable level, clean up after yourself, keep an eye on your kids, control your dog, under age drinking is NOT allowed, illegal drugs are not allowed, fights will not be tolerated, Hillsborough country Sheriff is just a phone call away!
We have cameras all around the island and the Tiki Bar, bad behavior will get your removed or permenately banned from the island.
Please come with good vibes and let's have some fun!
We now have an affiliate program as well, refer your friends and family to earn 10% commission on every pass sold, click this link to sign up... https://www.eventbrite.com/affiliate-register?eid=44885358315&affid=222419564
---


All visitors and guests to the island agree to the below liability waiver.
Persons 17 years of age an under will need to be accompanied by an adult, that adult will be held responsible for accompanied minors.
Activity Waiver & Release,
Rules may apply, subject to change at anytime.
IN CONSIDERATION OF the covenants and agreements contained in this Agreement and other good and valuable consideration, the receipt of which is hereby acknowledged, the parties to this Agreement agree as follows:
Consideration
Being of lawful age and in consideration of being permitted to participate in the activity described below, the Participant releases and forever discharges the Activity Provider, the Activity Provider's spouse, heirs, executors, administrators, legal representatives and assigns from all manner of actions, causes of action, debts, accounts, bonds, contracts, claims and demands for or by reason of any injury to person or property, including injury resulting in the death of the Participant, which has been or may be sustained as a consequence of the Participant's participation in the activity described below, and not withstanding that such damage, loss or injury may have been caused solely or partly by the negligence of the Activity Provider.

The Releasor understands that the Releasor would not be permitted to participate in the activity described below unless the Releasor signed this Agreement.
Details of Activity
The Participant will participate in the following activity: Catered events, camping, swimming, fitness activities, games, boat mooring, consumption of food and non-alcoholic and alcoholic beverages located on or near Pine Key, aka Beer Can Island of Tampa Bay.
Concurrent Release
The Participant acknowledges that this Agreement is given with the express intention of effecting the extinguishment of certain obligations owed to the Participant and with the intention of binding the Participant's spouse, heirs, executors, administrators, legal representatives and assigns.
Fitness to Participate
The Participant acknowledges that the Participant does not have any physical limitations, medical ailments, physical or mental disabilities that would limit or prevent the Participant from participating in the above mentioned activity. If required, the Participant will obtain a medical examination and clearance.
Full and Final Settlement
The Participant hereby acknowledges and agrees that the Participant has carefully read this Agreement, that the Participant fully understands the same, and that the Participant is freely and voluntarily executing the same.

The Participant understands that by signing this Agreement, the Participant agrees to be forever prevented from suing or otherwise claiming against the Activity Provider for any property loss or personal injury that the Participant may sustain while participating in or preparing for the above noted activity.

The Participant has been given the opportunity and has been encouraged to seek independent legal advice prior to signing this Agreement.

This Agreement contains the entire agreement between the parties to this Agreement and the terms of this Agreement are contractual and not a mere recital.
Governing Law
This Agreement will be construed in accordance with and governed by the laws of the State of Florida.