Description
Chef's Roll is throwing a BEEFSTEAK on March 21st, 2019 at FIRESIDE in Liberty Station. An all you can hold Beef & Beer event featuring 6 cuts of Brandt Beef all cooked via live fire by some of San Diego's best Chefs including Phil Esteban of Craft & Commerce, Top Chef alum Giselle Wellman, James Montejano of Huntress Steakhouse, Aaron Obregon of the Coronado Island Marriott, Chris Spayde of the Island Palms Hotel and Marina, Eric Manuel of the Dana and Billy Joyce of Surfside Cuisine!
All money raised will go to No Kid Hungry through Chefs Cycle. If you love BEEF, BEER and CHEFS this is an event you will not want to miss! This is a 21+ event!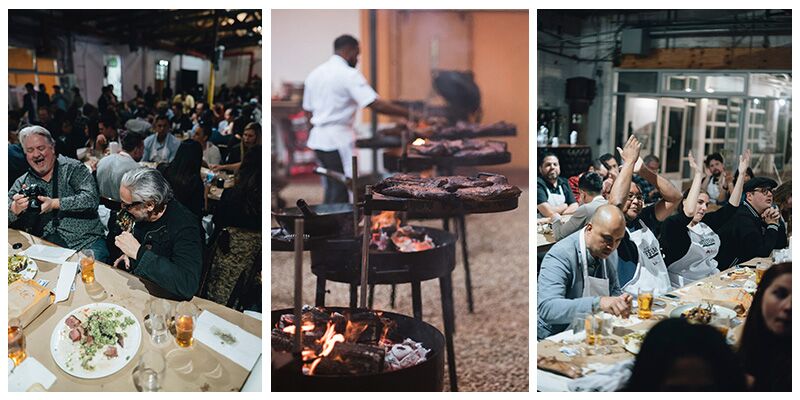 What is a Beefsteak you ask?
The New York State steak dinner, or "beefsteak," is a form of gluttony as stylized and regional as the riverbank fish fry, the hot-rock clambake, or the Texas barbeque. Some old chefs believe it had its origin sixty or seventy years ago, when butchers from the slaughterhouses on the East River would sneak choice loin cuts into the kitchens of nearby saloons, grill them over charcoal, and feast on them during their Saturday-night sprees.

Click here to read the history of Beefsteaks.
To see what you are in store for watch the recap from our last Beefsteak San Diego!

Dress casually and come ready to make some friends - this is a roll up your sleeves and eat with your hands event with food served family style - we will have a commemorative apron for you that doubles as a napkin, plenty of paper towels and wet wipes! And all the Beef & Beer you can hold of course!
Schedule:
5:30-6:30 Check-in and enjoy some 10 Barrel Beer
6:30-7:00 first course [100 lbs of beef over 2 dishes]
7:00-7:30 first intermission
7:30-8:00 second course [100 lbs of beef over 2 dishes]
8:00-8:30 second intermission
8:30-9 third course [100 lbs of beef over 2 dishes]
9:15 Underberg Toast!
Thank you to our generous sponsors that are enabling all ticket sales to go to charity:
10 Barrel Brewing Co.
Brandt Beef
Fireside
MIC Food
Specialty Produce
Jealous Devil Charcoal
Underberg