An Old West era interactive murder mystery and three course meal! YOU live the story, interrogate the suspects and SOLVE the crime!
About this event
Bed Down at the Bad Box Saloon
The irony in the town of Lawsberg is that there is no law. Settled 10 years ago in 1866 as an oasis for those looking to move to a simpler life in the not so wild west, Lawsberg has never had the need for a Sherriff, deputy, or any other police service. That is until the last few months. In three months the crime rate has skyrocketed. Livestock stolen from barns in the middle of the night, church going old ladies pick pocketed while crossing the only street in town, and rumors of a secret brothel existing in town. This peaceful mecca has been rocked to the core.
Mayor Skip Tumelew, the town's second mayor and town elder, is determined to get to the bottom of the town's change of ways. On this Founder's Day Mayor Tumelew has a special surprise for the people of Lawsberg. The entire town has been invited to the Bad Box Saloon for the annual Founder's Day feast and dance. However at this dance, the Mayor will be announcing that notorious lawman Buck Silver will be taking on the role of the town's first Sheriff in order to impose law and order once and for all.
However before Buck can be sworn into office someone is murdered in cold blood! Is it too late for this sheriff to save this town?
~~~~~~~~~~~~~~~~~~~~~~~~~~~~~~~~~~~~~~~~~~~~~~~~~~~~~~~~~~~~~~~~
Your ticket puts you in the middle of the action as this immersive mystery experiences happens all around you. You will meet the suspects, you will question each of them and you will determine whodunnit as you enjoy an amazing dinner at Bloodhound Brew Pub and Eatery.
Three course dinner includes your choice of entrée, soup or salad, and choice of dessert. Nonalcoholic beverages also included. Full bar available.
Gratuity NOT included.
Entrée choices include:
Chicken Curry - Owners recipe. Marinated chicken cooked in a spicy onion and tomato gravy. With rice, naan bread and mango pickle.
Blackened Fish - Haddock fillet, coated in house made blackening rub, served with crushed potato, spinach and creole mustard sauce
Grilled Chicken - Chicken breast coated in a house seasoning, served with crushed potato and sautéed veggies, and a lemon and herb cream sauce
Vegetarian Four Cheese Tortellini - Lightly tossed in house made marinara, spinach, topped with basil pesto.
Dessert
House Made Double Chocolate Brownie OR Mini Red Velvet Donuts
Groups are asked to please purchase tickets at one group if they wish to be seated together. We can not guarantee that multiple groups of 2 will be sat together if not purchased as one larger group.
As YOU are being transported back to 1876 for the evening we encourage you to dress in your Old West best and really get into the evening.
Large groups welcome!
Our show is rated PG-PG13 for potential adult topics and innuendo. Most of our show is improvised so you never can be sure in which direction things will go. We do promise no graphic violence, overt sexuality or excessive adult language.
Please note - ticket prices will not be refunded after 48 hours prior to showtime as food orders must be turned into the restaurant and meal prep begins. If for any reason we choose, at our discretion ,to grant a refund within 48 hours it will only be for credit to another show at the Bloodhound Brew.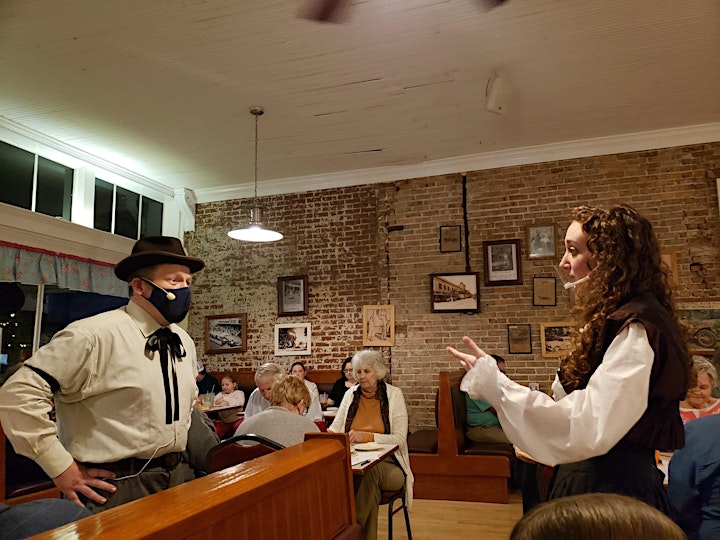 Organizer of Bed Down at the Bad Box Saloon - An Immersive Murder Mystery Dinner Event