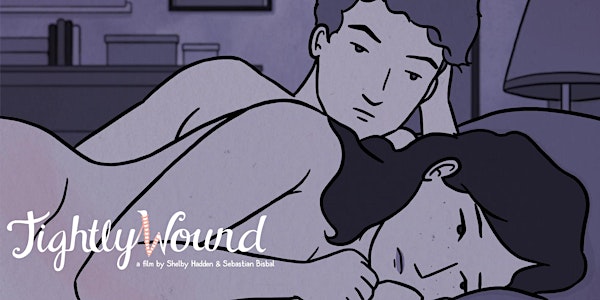 Becoming UnWOUND: A Conversation about Female Sexual Health & Pelvic Pain with Screening of Animated Short "Tightly Wound"
When and where
Location
Pelvic Health & Rehabilitation Center 11500 W. Olympic Blvd Conference Room 505, North Tower Los Angeles, CA 90064
Description
We will be screening the short animated film, Tightly Wound, about filmmaker Shelby Hadden's experience with vaginismus. Shelby with be in attendance for a Q&A and discussion about her recovery from pelvic pain with medical professionals and patients.
We are requesting a non-refundable tax-deductible donation of $25.00 (or more if you can!) in exchange for the event, 100% of the proceeds go to support Tightly Wound's distribution. Space is limited! Please RSVP to donate and reserve your spot here.
9:30 am: Doors open
10:00 am - 10:15 am: Welcome and introductions
10:15 am - 11:00 am: Shelby and Tightly Wound: movie and Q&A
11:00 am - 11:15 am: Break
11:15 am - 12:00 pm: Panel discussion on pelvic pain recovery
12:00 pm - 12:15 pm: Q&A with physical therapists & patients
12:15 pm -12:30 pm: break
12:30 pm - 1:00 pm: Maintaining sexual pleasure and intimacy with Dr. Erica Marchand

Stephanie A. Prendergast, MPT is cofounder of the Pelvic Health and Rehabilitation Center, which has 6 locations in the San Francisco Bay Area, Los Angeles, and Lexington, MA. She currently treats patients in the Los Angeles location. In 2002 Stephanie was elected to the International Pelvic Pain Society's Board of Directors and in 2013 was the first physical therapist to be President of the Society. She has authored numerous publications and regularly lectures on pelvic health related topics. She and Elizabeth Akinicilar co-authored the recently published book, Pelvic Pain Explained. You can find Stephanie on Twitter @pelvichealth and follow PHRC's award-winning blog at www.pelvicpainrehab.com/blog.
Dr. Heather Jeffcoat is the owner of Femina Physical Therapy and the author of Sex Without Pain: A Self-Treatment Guide To The Sex Life You Deserve and a recognized expert in the field of Pelvic Health Physical Therapy. She has been a featured guest on Loveline with Mike and Dr. Drew, Livestrong, Mom.me, Estrella TV with Adriana Ruggiero, L.A. Parent Magazine, ICA Update and the International Childbirth Education Association Journal, where she hosted the long-running quarterly column entitled "Perinatal Wellness". She has also been a guest blogger multiple times for the Womens Health Foundation. After receiving many emails from people around world, she noticed there was a gap in access to quality pelvic floor physical therapy providers, and women deserved answers and a treatment plan for the painful sex they were experiencing. She developed her book as a way to get her proven techniques to all who needed it.Heather received her Doctor of Physical Therapy degree from Duke University and her BS in Animal Physiology and Neuroscience from UC San Diego. Additionally, she received her Comprehensive Teacher Training Certification in Pilates from BASI and is a Certified Fascial Stretch Therapist through the Stretch to Win Institute. She is very involved with the International Pelvic Pain Society and currently sits on their Board of Directors and is their current Social Media Committee Chair.
Erica Marchand, Ph.D. is a licensed psychologist in Los Angeles specializing in sexual and relationship concerns. She started down this path as a research assistant at the University of Texas at Austin studying the role of past experiences and medications on female sexual response. During her Ph.D. in psychology at the University of Oregon, she studied the role of family and peers on sexual development and sexual behavior among teens and young adults, and accrued several thousand hours of clinical training and experience in a variety of settings. During postdoctoral training at UCLA, she focused on the impact of cancer on sexuality and helped to develop a program that addressed sexual concerns for young women recovering from breast cancer. Based on this experience, she recently co-authored a chapter titled 'Sex and Cancer' in the Textbook of Clinical Sexual Medicine published last year. Since 2013 she has been in private practice in Los Angeles working with women, men, and couples with sexual concerns and related relationship difficulties. She is a Gottman-trained couples therapist and regularly speaks to professional and community groups about sexuality and relationships. Most recently, she has developed a guided online course for women with anorgasmia to learn to have more, better, or easier orgasms. The course is in the testing phase and will be released mid-2018.

Shelby Hadden is a writer, crowdfunding manager, and documentary filmmaker whose work explores issues of gender and identity. Her films have screened at various film festivals including Annecy International Animated Film Festival, Nashville Film Festival and Sidewalk Film Festival. Her current film, Tightly Wound, is a short animated film about her personal experience with chronic pelvic pain, based on her essay that was published in BUST Magazine. She is currently a producer at the Austin-based creative agency, Bring Light & Sound, and a lecturer at Texas State University. She has also been an instructor at the University of Texas at Austin where she received her MFA in Film and Media Production.
Parking:
1. Paid parking is available two blocks east of us at 11400 W. Olympic Blvd in the Executive Tower. The cost is $2.10 per 15 minutes or $14.70 maximum. You can enter this lot off of Purdue Street between W. Olympic Blvd and Tennessee Avenue:https://en.parkopedia.com/parking/garage/executive_tower/90064/los_angeles/?country=us&arriving=201805190930&leaving=201805191330
2. On the NORTH side of Tennessee Avenue between Butler and Federal there are two blocks of metered, 10-hour parking. Be careful, the meters across the street on the south side are only two hours.
3. Unfortunately there is only 2 hour metered parking on W. Olympic Blvd, we do not advise parking here because the event is three hours and they do ticket.
4. Public Parking is NOT available at 11500 W Olympic on weekends.
Upon Arrival
Please take the North Tower elevator to floor five. Turn left upon exiting the elevator. The conference room is a few doors down on the left in Suite 505.
Restrooms
The women's bathrooms require a key to enter, the men's restrooms do not. If you need to use the restroom please come get a key from us.
Social Media Hashtags
Please use the hashtag #TightlyWoundLA and #PelvicPainAware in your posts!
Sponsors: Milli Dilator & Soul Source Therapeutic Devices
To make a tax-deductible donation toTightly Wound visit: bit.ly/tightlywounddonate